Here's a List of the NBA Records That Were Broken This Season
Don't let the unnecessary drama distract you.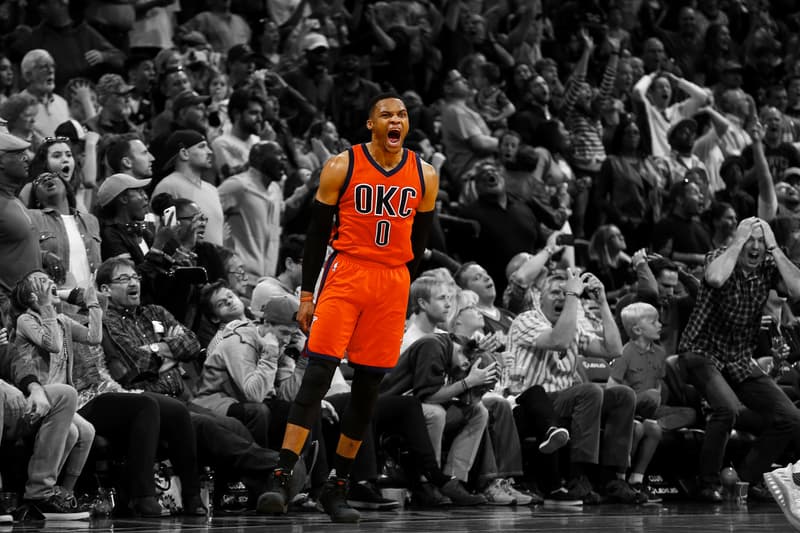 The NBA's regular season concluded last night in typical fashion: clouded by drama. The entire season has felt like a soap opera of sorts, starting with Kevin Durant joining the Warriors to the dismay of many, and ending with the Brooklyn Nets killing a tight race for the eighth seed in the Eastern Conference and subsequently the Heat's playoff birth because the last-place team opted to rest their key starters for, uh, the summer. The Knicks did Oakley like a United Airlines passenger, and if Carmelo doesn't volunteer his seat, he might get the same treatment this offseason. Shaq and Javale McGee made us cringe, LeBron had our eyes rolling into our skull, resting players became a "significant issue," and the loss of Craig Sager is still being felt. But don't let any of that (RIP Sags) distract you from one simple fact: this regular season was five-fire emojis lit.
Thanks to the power of small-ball, the 2016-17 season saw a number of records break at the hands of both players and teams, led by Russell Westbrook and his 42 triple-doubles. So with another wildly-anticipated post-season kicking off this weekend, here's a list of NBA records set during the season.

Individual Records
Most Triple-Doubles: Russell Westbrook, 42
Most Consecutive Games With at Least One Three-Pointer: Stephen Curry, 157
Most Three-Pointers in a Game: Stephen Curry, 13
Most Points Scored in 30 Minutes or Less: Klay Thompson, 60
Youngest Player to Score 60+ Points: Devin Booker, 70 at 20 years and 145 days
Youngest Player With 2,000 Points and 1,000 Rebounds: Karl-Anthony Towns
Most Points Scored in the First Quarter: Kevin Love, 34
Highest Usage Rate: Russell Westbrook, 41.8%
Most Turnovers in a Season: Harden, 460, and Westbrook, 434
Most Points in the All-Star Game: Anthony Davis, 52
Most Wins Through 300 Starts: Kawhi Leonard, 235
Most Consecutive Seasons Averaging at Least 25 Points: LeBron James, 13
Most Points Scored in a Triple-Double: Russell Westbrook, 57 points
Most Combined Rebounds and Assists in a Triple-Double: James Harden, 33
Individual Firsts:
First Player With 2,000 Points, 900 assists and 600 rebounds: James Harden
First Player to Finish Top 20 in All Five Major Statistical Categories: Giannis Antetokounmpo
First Player to Finish Top Three in Offensive and Defensive Rating: Rudy Gobert
First Player to Average 20 Points, 10 Assists, 2 Steals and 0.5 Blocks: John Wall
First Rookie to Average 20 Points, 7.5 Rebounds, 2.5 Blocks and 1 Made Three-Pointer: Joel Embiid
First Triple-Double Without Recording 10 Points: Draymond Green, 4 points, 11 rebounds, 10 assists, and 10 steals
Team Records:
Most Three-Pointers Made and Attempted in a Season: Houston Rockets, 1,181 and 3,306
Most Three-Pointers Made in a Game: Cleveland Cavaliers, 25
Most Consecutive Seasons With at Least 63 Wins: Golden State Warriors, 3
Youngest Starting Lineup: Phoenix Suns, average age of 21 years and 14 days
Most Backcourt Violations in a Season: Indiana Pacers, 13
Most Wins By a Team That Was 19 Games Under .500: Miami Heat, 41
League Records:
Most Three-Pointers Made and Attempted: 9.7 and 27.0 per game
Most Individuals With 50-point Games: 10
Most Triple-Doubles in a Season: 115
Highest Total NBA Regular-Season Attendance: 21,997,412 Fans