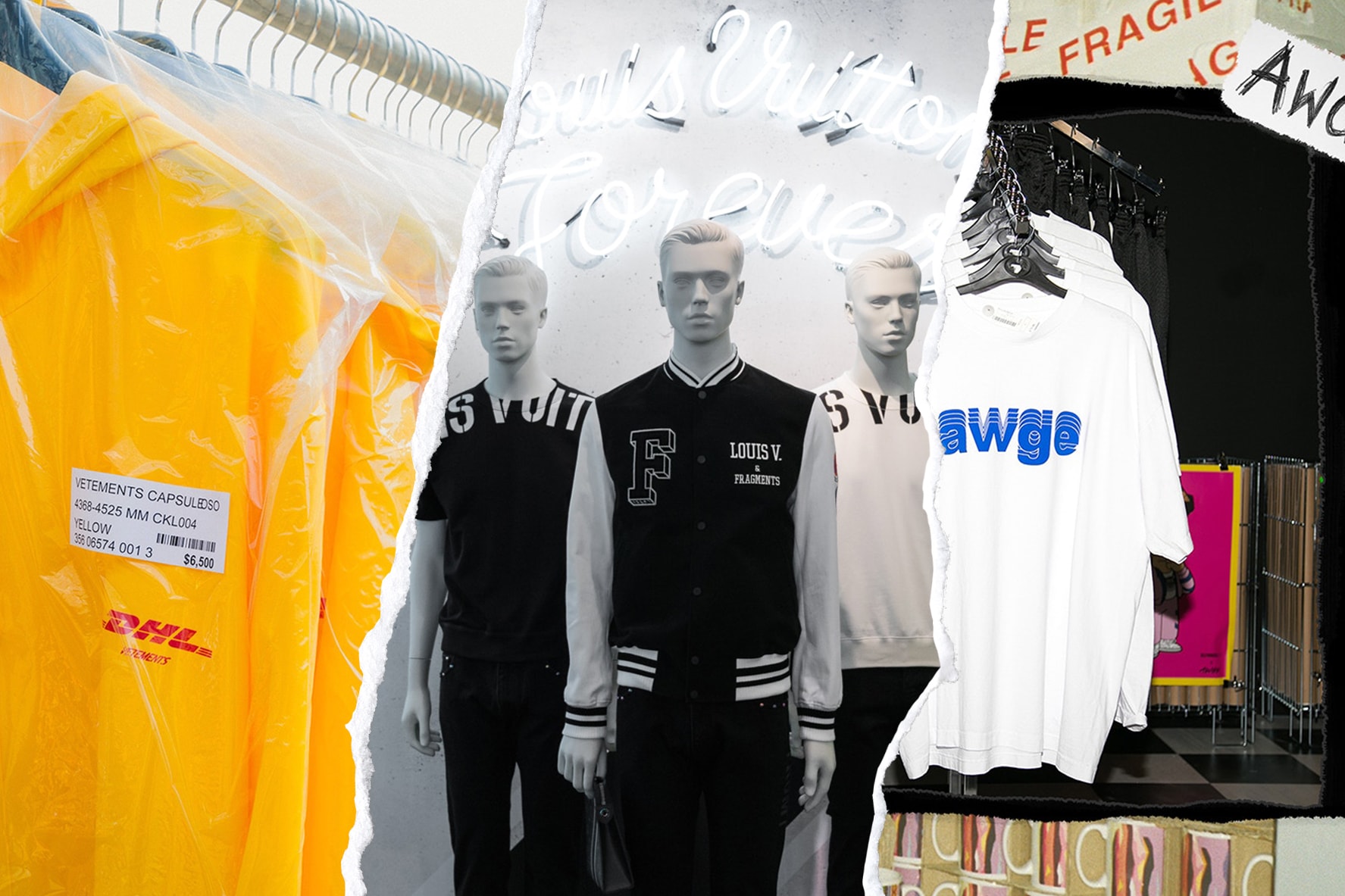 Top 10 Pop-Ups 2017
This year has been the year of the high-powered collaborations — the knock-on effect of that has been an overflow of starry pop-up shops. Whether it's Supreme x Louis Vuitton, Off-White x Nike, A$AP Rocky creating a bodega in London or Vetements hosting a high-end car boot sale in Hong Kong, there's always been something happening to draw attention to both the casual and diehard shopper that values both the experience of curation and presentation with the product itself.
These are the top 10 pop-ups of 2017, in no particular order.
1. VIRGIL ABLOH x NIKE "THE TEN"
One of the most all-encompassing pop-ups of the year, the sheer vastness of the events surrounding the most hyped sneaker release of 2017 meant that it was almost disrespectful to call "THE TEN" a pop-up. With visual, conceptual and artistic support from a plethora of the culture's biggest names — ranging from the likes of HB100 honorees Kim Jones to Martine Rose — the fact that you could buy the collaborative sneakers a few months before the wider release almost became an afterthought. This was quite possibly the only pop-up where you could go running with JME, customize a shoe with Michele Lamy, do a class with Grace Wales Bonner, and then go and buy a pair of shoes.
2. HERON PRESTON "FOR YOU, THE WORLD" TOUR
Now that everyone has cottoned onto the pop-up, the key now is how to keep the idea fresh. For Heron Preston, that meant making it larger and all-encompassing — turning it into a world tour, complete with DJ sets around the world. The goal for the tour wasn't purely to sell clothes (there was a relatively small amount of products on sale) but instead to showcase Preston's world for the consumer who's likely only come across it on Instagram. Making stops in the likes of Moscow, Tokyo, London and New York, the designer made sure everyone knew that when they bought Preston's work, they also bought into the lifestyle that surrounded the pop-up spaces.
3. A$AP ROCKY AWGE x SELFRIDGES BODEGA
A$AP Rocky's pop-up was one of the most unexpected of the year, but it was very much a pleasant surprise. No one would've anticipated that Selfridges, one of the oldest and most prestigious department stores in London, would create a Bodega but the results made us wonder it hadn't been done earlier. The main key behind the idea working was Rocky who, in an interview with HYPEBEAST said "I wanted to bring that experience overseas and make it an international thing, because that experience only exists in New York City." The space was painstakingly recreated down to the tiny details (yes, there was a bodega cat) and made what was a slightly odd idea work perfectly.
4. VETEMENTS HONG KONG
Vetements is known for its off-kilter approach to fashion and it was on full display in its Hong Kong event, which saw the fashion house stage an event that looked close to a car boot sale, albeit with high-end pricepoints. The space had staff in the infamous DHL uniforms and sold a number of the brand's collaborations alongside mugs and flowers from the literal back of a truck.
5. SUPREME X LOUIS VUITTON
Supreme x Louis Vuitton was quite possibly the most talked about collaboration in recent history and while that sounds like hyperbole, the sheer amount of interest dwarfed anything we'd seen in years gone by. Capturing the eyes of both the streetwear aficionado and the fashion darling, Supreme x Louis Vuitton led to praise, criticism and numerous people using it as an example that both brands had finally gone too far. But what happened in the end was nothing as dramatic as people had made out and, while scenes weren't exactly serene, they were decidedly calmer than pop-ups that turned up later in the year.
6. FRAGMENT DESIGN X LOUIS VUITTON
The amount of interest in Louis Vuitton's other streetwear collaboration overshadowed the fact that they'd actually collaborated with another brand relatively recently — Hiroshi Fujiwara's fragment design. The collaboration was a relatively low-key affair compared to the Supreme launch but it was still a worldwide tour pop-up shop with stops in Tokyo, London and New York.
7. UNDEFEATED x BAPE SHANGHAI
In a year where most collaborations have been a mixture of high/low or fashion/sportswear, the collaboration between two streetwear brands stood out for its straightforward-ness. Their Shanghai pop-up was a great example of just why the two labels have stuck around for so long, attracting a host of fans from both brands. We spoke to Undefeated's James Bond, who stated "[for pop-ups] to be successful and make it work, it has to be done at a certain level — since we have seen so much from the highs and lows in our industry — but in any industry, if you are going to do something, don't just do it to be that guy, it won't seem authentic."
8. MASTERMIND WORLD x THE NORTH FACE URBAN EXPLORATION
A collaboration between both mastermind WORLD and THE NORTH FACE would present its premium functionality with unrivaled attention of ultra-luxury details to outerwear fans across the world. The pop-up that accompanied the collection was a mammoth one, lasting five days and incorporating VR, human body sensors, and innovative fabrics, it was nirvana for the tech and clothing obsessed.
9. A-COLD-WALL* "ACADEMIA* CORRECTION WORKSHOP"
A-COLD-WALL* is one of London's most interesting new brands and events such as "ACADEMIA* CORRECTION WORKSHOP" showcased just why people wanted in on the label. Taking a space in East London, the brand ran a school-inspired space complete with DVDs of the label's shows and full set of pencils, notepads and rulers alongside the more expected clothing and accessories.
10. ANGELO BAQUE MIAMI SOCIAL STUDIES
Art Basel is the home of many a pop-up but the most interesting one belonged to Angelo Baque, who hosted the Social Studies workshop. A roster of collaborators included Virgil Abloh, 032c, Union Los Angeles' Chris Gibbs, Heron Preston and No Vacancy Inn amongst many more. The T-shirt workshop helped a select number of customers create logo-heavy tees that incorporated all the brand's motifs. And, to top it all off, all the proceeds went to charity.