UPDATE: Supreme x Louis Vuitton Global Launch Has Not Been Cancelled
What are you hoping to cop?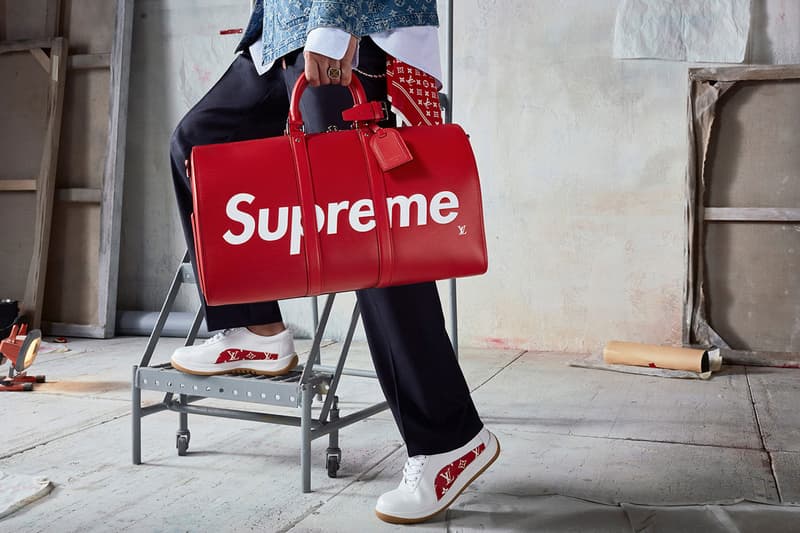 UPDATE: Louis Vuitton client services confirmed that the Supreme x Louis Vuitton collaboration "will no longer be sold in any stores or online." yesterday. However, news is now coming in from sources such as GQ that certain stores in the U.S will still be receiving the products, although they may roll out at a later date. While there are contradicting pieces of information from both news outlets and Louis Vuitton's representatives, it does appear countries outside of the U.S such as Singapore will still go ahead with the general launch of the collection on July 14. Furthermore, stores in China have opened registration channels for customers to sign up to.
Despite signs that certain launches are still happening around the globe, users on forums like PurseBlog have long been discussing how certain loyal customers (VICs) had pre-ordered their goods for the worldwide release date and general customers may not be able to purchase items. Stay tuned for further updates as they come.
Check out the line at Ion Orchard for the @LouisVuitton Supreme collaboration! #SupremeLV #supremexlv pic.twitter.com/4XmtAPzyyo

— The Straits Times (@STcom) July 13, 2017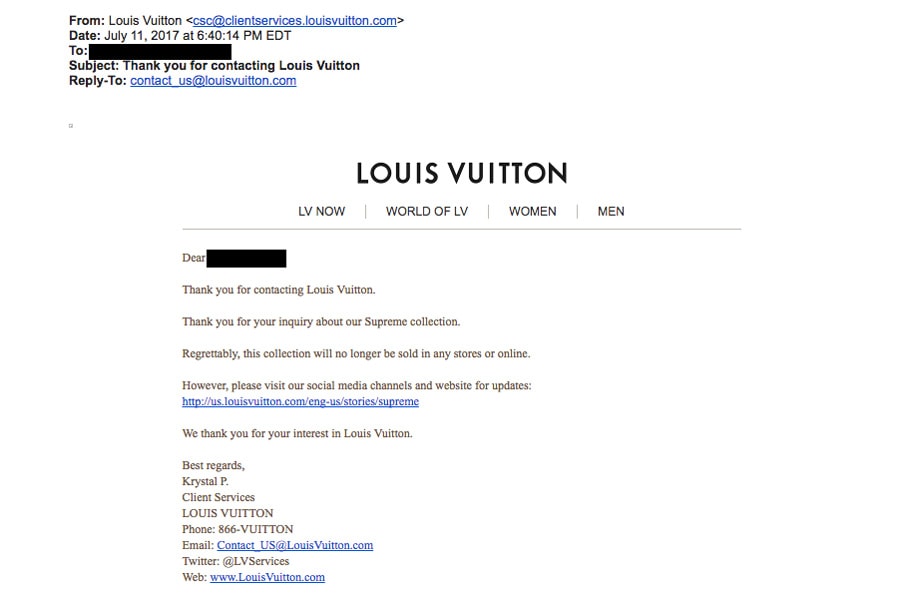 Hello. There will be no Supreme items sold or shipped to any store in the US or Canada. Best regards, Nicole.

— LouisVuittonServices (@LVServices) July 12, 2017
#BREAKING – @LouisVuitton representatives say there WILL NOT be Supreme merchandise inside @HoustonGalleria on Friday. #ABC13 #hounews pic.twitter.com/izJ3vOlV5X

— Steve Campion (@SteveABC13) July 12, 2017
According to a Louis Vuitton sales representative at the SoHo pop-up location, the Supreme x Louis Vuitton drop that is supposed to occur this Friday, July 14, has been cancelled. In addition, all U.S. pop-up locations have been cancelled moving forward.
The foreshadowing was on the wall for everyone to read when Community Board No. 2 denied Supreme its planned location back in May citing that previous Supreme releases in New York City have caused mayhem and that the brand could not "articulate how this product launch will benefit the community in any way."
While the representative and security repeatedly told all those camped outside that the pop-up was cancelled, no one wanted to believe it or hear it — after all, some have been out there for days already. Outside the store, the line which starts on the corner of Prince and Greene streets has already snaked around the block onto Mercer Street. Kids and adults of all creeds and backgrounds gathered in camp-out chairs and standing groups to chop it up and pass the hours and days until inevitable disappointment. At the time of writing, NYPD showed up to the scene as store owners in the area started expressing their concerns and frustrations with crowds blocking their storefronts.
Will you be camping outside anyways, in hopes of the line opening up, or is this the end for the high-street collaboration of our generation? To quench your Supreme x Louis Vuitton needs, take a look at this Supreme x LV Nike Air Max 1 custom.