A Technicolor Sci-Fi Dream: Raf Simons's 2018 S/S Show Channeled 'Blade Runner' & Asian Cultures
Raf's show had A$AP Rocky, Marc Jacobs, and other guests in a neon-filled haze.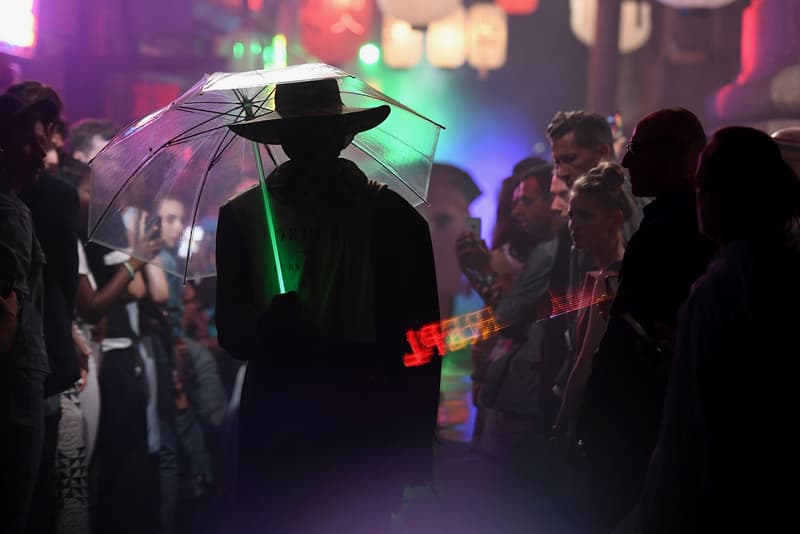 Raf Simons's second New York show proved it was the only presentation that mattered for the Big Apple's fashion week festivities. With so many other big name brands exiting "Gotham" and opting for European venues to showcase their latest collections, Simons instead took to NYC with uncanny fervor. In the heart of Chinatown, a food market was transformed into a sci-fi inspired stage filled with neon lights, glowing Chinese lanterns, and scrolling LED signs that displayed the word "Replicant." This was practically a set for Blade Runner, the movie Mr. Simons himself referenced for his collection and stage design.
At the heart of it all, however, were the clothing and they were nothing short of awe-inspiring. If 2018 spring/summer was about "movies" (Blade Runner), "Asian cultures," "new wave," and "punk" as Raf himself describes it, then his interpretation of all these things was an imaginative amalgam of a future where the actual clashing of cultures has an optimistic outcome. Models were draped in layers of striking plaid, fitted with Peter Saville's Joy Division and New Order-printed pieces, had on balaclava style caps, and carried umbrellas as well as glowed-up lanterns. There was an element of protection here, but the armor needn't be dark or dreary. The wares weren't for the apocalypse but for a futuristic city that welcomed chaos, commerce, and most importantly, art. While Blade Runner was an ominous sci-fi film about the fear of technology and humans becoming less "human," Raf Simons instead entertains the fact that films, music, and our devices are what actually urge us to evolve toward being more culturally "connected." Hence, each outfit that made its way down the runway practically resembled the one before it. With the glaring lights shining over a smiling Raf as he waved for his curtain call, one thing's for sure, the future (of humanity and the brand) is bright.
With so much buzz surrounding Raf Simons's new collection, we break down a few things you need to know about the 2018 spring/summer designs and what happened at the show.
The Collection: Blade Runner, Peter Saville, and Asian Influences
Raf Simons's 2018 spring/summer range showcased both new and vintage Raf designs. Some of the pieces recalled the days when Simons released garments bearing the album artworks of Peter Saville for Joy Division and New Order. For these pieces, we actually see the prints fused together as one collage graphic. This was nostalgia set in the future and it was a timely pairing alongside the Blade Runner influence. Long trenches referenced the popular outerwear piece worn by the protagonist Rick Deckard played by Harrison Ford. As for the Asian influence, long and draped silhouettes, as well as the wide-brimmed hats that included a face mask option, bore similarities to Chinese hanfus, Japanese kimonos, and samurai garb. Raf has even explained the Blade Runner references in an interview with the Associated Press.
Here's a video of Raf Simons explaining the Blade Runner references in his collection to the Associated Press:
Key Pieces and Accessories: Eastpak Collab and Footwear
It's a bit daunting to identify the best items from the new collection. But the ones that made the most impacting impression in terms of clothing were the Peter Saville art-printed pieces, the plaid coats, and the graphic apron-like designs. In terms of accessories, the Eastpak collaborative piqued a lot of the attendees' interest and the rain boots with functional back straps had heads turning. But a few other accessories also defined the collection, namely the patterned hats, the umbrellas, and the glowing lanterns. The lanterns could be a hot ticket item as a novelty piece if and when they are ever released.
The Location: A Food Market in NYC's Chinatown
While other brands chose to host their presentations at multi-room venues at Dune Studios, Skylight Square, and the Cadillac House, Raf went with a food market underneath a train bridge in Chinatown. Before the show even started there was fear of the event being cancelled because of firetrucks and firefighters inspecting a possible hazard next door. But the scare was eventually thwarted and the show went on even as the Q and N trains rattled the food hall-turned-runway space. As for the space itself, Bright neon lights cast a brilliant glow on everything it touched. Even the attendees looked alien-like underneath all the glare. If you're hunting for movie references, look no further than the mood and sets of Ridley Scott's Blade Runner (1982), John Carpenter's Big Trouble In Little China, Gaspar Noé's Enter the Void, and Nicolas Winding Refn's Only God Forgives.
The Attendees: A$AP Rocky, Luka Sabbat, Marc Jacobs and More
Raf Simons is never short of influencer friends as the most stylish celebs, athletes and industry personalities attended his 2018 spring/summer show. Harlem rapper A$AP Rocky, who is a loyal follower of the designer showed his support wearing a black and red ensemble. He also recently released a song called "Please Don't Touch My Raf" featuring Frank Ocean, Quavo, Playboi Carti, and Lil Uzi Vert. Also at the presentation were CK youth ambassador Ashton Sanders, designer Marc Jacobs, Luka Sabbat, Christian Slater, Humberto Leon of Opening Ceremony, Jake Gyllenhaal, Julianne Moore as well as artists Sterling Ruby and Peter Saville. NBA athletes Andre Iguodala, Serge Ibaka, and Washington Wizards player Kelly Oubre Jr. also showed up to catch a glimpse of the designer's newest range.
To find out more about Raf's 2018 spring/summer collection, check out the entire line and the full backstage view.