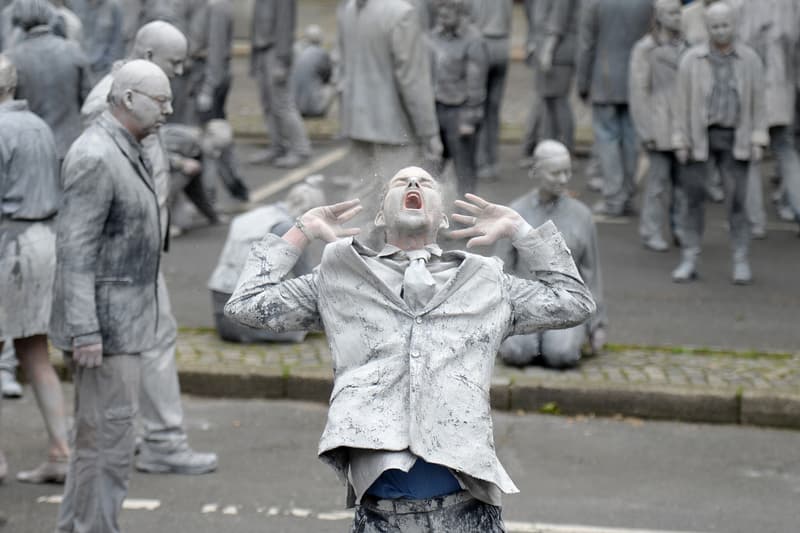 Zombie Performance Art, the Museum of Broken Relationships & Spellbinding Artwork You Need to See
A NSFW photo book & a psychedelic fish aquarium are also in the mix.
---
The last installment of our weekly art roundup showcased a handful of enthralling stories such as Salvador Dalí's body slated to be dug up in Spain to an entire exhibit dedicated to fashion goddess, Kate Moss. This time around, we're spotlighting an equally diverse batch of artwork from different locations across the globe. From a protest art performance in Hamburg to a presentation dedicated to analyzing failed relationships in New York City, here's a list of current exhibits and projects that you should totally have on your radar.
1000 GESTALTEN Protest Performance Art at G20 Summit in Hamburg, Germany
Hundreds of grey zombie-like figures had recently taken over the streets of Hamburg in protest for the G20 Summit. The art performance called 1000 GESTALTEN aimed to raise awareness for more political participation in society. "Change doesn't come from above, but from each and every individual," said the organizer in a statement. According to designboom: "the dusty clay shells evoke a society that has lost its sense of solidarity, ultimately contaminating itself with the taste of selfishness and nonacceptance." The performance concluded with the participants dramatically freeing themselves from the "clay shells" or the "rigid ideological structures."
Head over to 1000 GESTALTEN's official website to learn more about the project.
The Museum of Broken Relationships in New York City
The traveling Museum of Broken Relationships is slated to open in New York City. The project has already landed in Zagreb, Croatia as well as Los Angeles. The Big Apple event will take place over the course of two days in a pop-up aptly called "The EX-hibition." Visitors will be able to peruse artifacts alongside documents of failed relationships. Interested folks will need to head over to the Flatiron Plaza in New York City on July 16-17 to view the presentation.
Flatiron Plaza
E 23rd St.
New York, NY
10010
Hidetomo Kimura's Psychedelic "Art Aquarium" Exhibition in Tokyo
Japanese artist Hidetomo Kimura continues to stun audiences with his annual "Art Aquarium" exhibitions. This year's installment is comprised of approximately 8,000 sea creatures encased in customized tanks that look similar to traditional Japanese lanterns. The elaborate tanks are also fitted with a concave and convex lens that distorts the appearance of fish creating a super trippy effect. Head over to Art Aquarium's official website to learn more. The exhibit is on view up until September 24.
Nihonbashi Mitsui Hall
Muromachi 1, 4F
2-2-1 Nihonbashi Muromachi
Chuou-ku, Tokyo
The World's Largest Street Art Mural in Russia
Russian graffiti artist Misha Most has created the world's largest wall-painted mural located in Vyksa, Russia. Dubbed Evolution-2, the monumental piece is an homage to the 260th anniversary of the engineering plant, United Metallurgical Company (OMK). It took approximately 35 days for Misha and five assistants to complete the artwork.
Deanna Templeton's "The Swimming Pool" Photo Series
Deanna Templeton has memorialized her latest photo series called "The Swimming Pool" in a new book. The project features nude models, friends as well as her husband/prominent contemporary artist, Ed Templeton, swimming in the photographer's pool. Templeton plays with lights, shadows, and reflections from the pool to create otherworldly visuals that are breathtaking to observe. The book is available to purchase for approximately $50 USD at Um Yea Arts' official website.