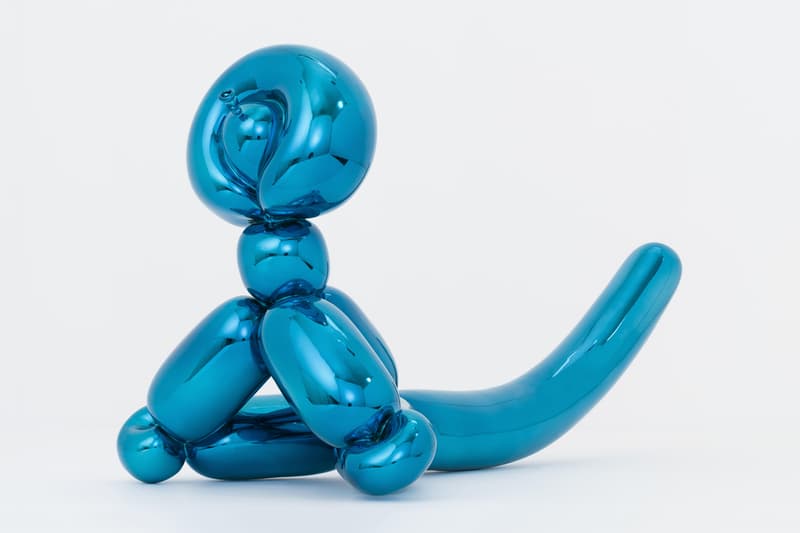 Best New Art: Jeff Koons, Rick Owens, Amar'e Stoudemire & More
Including a massive Christie's auction that could fetch $650 million USD.
---
You don't necessarily have to have a Ph.D. in art history to be an expert. Take, for instance, retired NBA player Amar'e Stoudemire. The basketball star first kicked off collecting art back in 2007 when he received an artwork from a friend for his 27th birthday. The piece is a large-scale painting of Stoudemire himself, measuring 6'11" and brandishing a menorah, a Bible, and of course, a basketball. Since then, Ama're has accrued over 70 artworks including one of Rob Pruitt's iconic panda paintings. Sotheby's even named him an ambassador earlier this year.
Recently, the six-time NBA All-Star curated an art show for SCOPE Miami Beach which features his own collection dubbed The Melech Collection. Learn more by checking out our weekly list below of all the best new art, installations, exhibits and more.
Christie's David Rockefeller Auction Could Fetch $650 Million USD
Christie's is set to auction the late David Rockefeller's massive art collection in spring of 2018. According to Vanity Fair, the sale of The Collection of Peggy and David Rockefeller could fetch upwards of $650 million USD. If so, it will make it "the highest-grossing auction in history," reported the website. Highlights from the collection include works by Picasso, Manet, Monet, Derain, and more Old Masters. Additionally, a slew of decorative and fine art spanning Impressionist, Post-Impressionist, and modern paintings will be on auction as well.
The auction will take place at Christie's Rockefeller Center Galleries in New York City. Visit Christie's official website to learn more.
Rick Owens Launches "SUBHUMAN INHUMAN SUPERHUMAN" Retrospective
Rick Owens has opened the doors to his retrospective located at the Triennale Di Milano in Milan, Italy. Titled "SUBHUMAN INHUMAN SUPERHUMAN," the extensive presentation spotlights a bevy of archival furniture, film and art objects culled from the renowned designer's portfolio. Additionally, visitors will encounter a large sculptural installation mounted on the ceiling which is made of concrete lily blossoms.
Visit Triennale di Milano's official website to learn more and find the address to "SUBHUMAN INHUMAN SUPERHUMAN" below.
Triennale di Milano

Viale Emilio Alemagna, 6
20121 Milano MI
Italy
Ama're Stoudemire Curates SCOPE Miami Beach Art Show
Amar'e Stoudemire recently curated an art show for SCOPE Miami Beach. The presentation spotlighted artworks from the former NBA player's The Melech Collection that included a 45-foot installation made by Brooklyn painter, Steven Cogle. "The Melech Collection provides a platform to expose emerging artists to new collectors," said SCOPE in a statement. Another highlight includes Cogle's 25-foot triptych on display at the space, boasting multiple layers of color fields juxtaposed with "deliberate splashes of blood," the organization added. The artwork behind Ama're in the photo above was made by Brazilian-American visual artist, Jonni Cheatwood.
Visit SCOPE Miami Beach's official website to learn more about Amar'e Stoudemire's art collection.
Jeff Koons Erects Enormous Monkey Balloon Animal Sculpture at LACMA
Courtesy of Jeff Koons, the LA County Museum of Art has a giant monkey balloon sculpture sitting in the middle of its Los Angeles Times Central Court. The sculpture measures roughly 12-and-a-half feet long and weighs a whopping five tons. Additionally, it's made up of mirror-polished stainless steel which has become ubiquitous with the renowned artist's previous artworks of balloon animals. Catch the monkey next time you're in LA or if you're in the area by visiting the address below.
Los Angeles County Museum of Art
5905 Wilshire Boulevard
Los Angeles, California
Hidari Zingaro Hosts "Konbini Na Onna (Convenience Girl)" Exhibit
Takashi Murakami's Hidari Zingaro Gallery in Tokyo has recently launched an exhibit with Fxxking Rabbits' founder Ryo Ishikawa. Dubbed "Konbini na Onna (Convenience Girl)," the gallery is transformed into a convenience store with a slew of vintage porn magazines placed throughout the space alongside photos from Fxxking Rabbits affiliates. Moreover, limited edition merchandise by the duo are available for purchase exclusively at Hidari Zingaro Gallery.
"Konbini na Onna (Convenience Girl)" is currently open to the public up until December 28, 2017. Visit Hidari Zingaro's official website to learn more.
Hidari Zingaro
3F, 5 Chome-52-15 Nakano
Tokyo 164-0001
Japan