Errolson Hugh Dissects the Emotional and Technical Aspects of NikeLab ACG
The interview delves also into why functionality is key and the difficulties inherent within.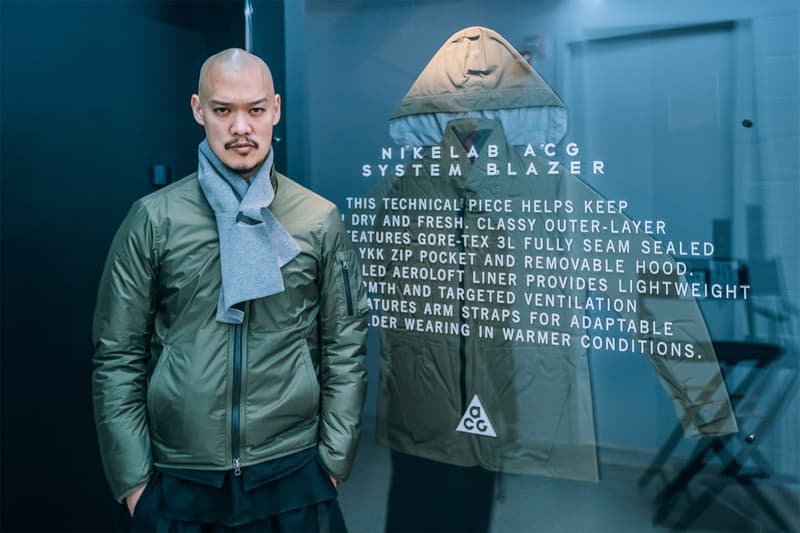 Two years ago, Nike set out to redefine and revamp the ACG line through the direction of their NikeLab branch. In searching to unify some of the elements of the past with minimalism and functionality, Nike sought the design involvement of Errolson Hugh, co-founder of ACRONYM.
The results have been a complete rethinking of All Conditions Gear. This year's winter line is a prime example of just how far they've come in such a short period of time, as the apparel features such adaptable elements like interior strap systems and adjustable collars, offering versatility without losing any of the protection from the harshest of outdoor elements.
 
Hugh was on-hand for the NikeLab's CHI store opening and we took the opportunity to get his thoughts on the new collection, the inspiration and process that went into it, along with some hints on what we can expect from next seasons collections.
 
With a focus of comfort, versatility and weather protection, what challenges did you guys face with combining those elements seamlessly into the product we see today?
The real thing is, on the technical level. That's all one area of development. They're usually all related, so you can design something quite easily. The trick comes in when you try to make it also aesthetic. It has to be culturally relevant and needs to look good in multiple situations. You ask yourself who's going to wear it and where are they going to be, and doing that with making it technical, that's where it gets tricky. Sometimes we say that we start where other people finish because usually when you have something that looks good, your job is done. When we work, that's our starting point. It either works technically and we make it aesthetically valid, or it looks cool and we have to make it protective and make it function.
 
Out of this new collection, what would you say your favorite piece is?
 
Definitely the Alpine Jacket. We had the benefit this season of basically two years of experience working with the teams at Nike, so they know how we work, we know how they work and on top of that, we had all the patterns and research that we've done in the previous four seasons. With that as the background, we could push forward and the Alpine Jacket is definitely the piece where you can see that most evidently with the evolution. We couldn't have done that the first time around.
Do you guys start with a vision in mind on the aesthetic side of a particular piece, or does the design process start first with what you want to accomplish from a functionality standpoint?
 
Both. It depends on what it is. Sometimes, we know exactly what we want and we know how to do it. Then, we'll just iterate it, make prototypes to get it right. Other times, we'll know the area that we want to go in but we don't know the shape of what it's going to look like. So it's a case-by-case thing.
"For us, it's not always about technology, per se, but more about quality. It's 'How do we make the best possible thing and make it what it's supposed to be?'"
I'm sure work has already begun for the next two seasons. What's the challenge in not only working towards the future in bringing new functionality, but also having to predict where style might be moving?
 
The lucky thing for us is that because we've been doing it now for quite awhile, you kind of get into your own rhythm. So for me, even though the line has just come out, we're already past it. While we're working on things – because the timeline is always so difficult – there's always stuff you don't get to finish. You try something out and it didn't work; it's terrible and doesn't function. But next time, you'll have another two prototypes and we'll get it. So there's always stuff you already know. 'We want to work on this or try this.' That's the beauty of working on stuff in the iterative process because there's always ways you can make it better.
For you, is there ever an emotional attachment to each piece in knowing that each piece will be either purchased or judged?
Absolutely! That was a huge thing because in the beginning when we first got briefed for ACG two years ago, Mark Parker was like "No color, no retro, not outdoors and in the city." So basically you couldn't reference any of the existing stuff. We were like "Oh great" (Laughs). So we had to really look at it and see what exactly makes ACG. It's not those details, it's not those colors. We decided that it's definitely Nike. It's the athlete and also, ACG has that crazy swagger, aggression and the kind of unexpected. So we had to ask ourselves 'How do we do that in a different way without the products to reference?' So then it's the silhouettes, the shapes and the graphics were a huge part of that. So without the emotional aspect, it's not ACG. It's not Nike. The emotional part is equally important for us. 
 
They talk to us about the technical stuff the most, but I think that's because it's more unusual because it's less people doing it and there's a lot of questions there. For us, when we're working, the emotional part is equally important, or more important than the functionality and the high-tech material. For us, it's not always about technology, per se, but more about quality. It's 'How do we make the best possible thing and make it what it's supposed to be?' If that means technical materials, then we use that. If that means it's a cotton t-shirt, then we'll do that. Technology is for its own sake.
 
And then because we're 15-20 years of technical design, we kind f know how that works. In some cases, we spend more time looking at the so called emotional side like 'What do we want to express?' 'How are you going to be perceived when you wear it?' 'What does the silhouette of this pant really mean, culturally now?' Those discussions can actually take a lot longer than 'How do we make it water resistant,' because we're pretty good at that aspect.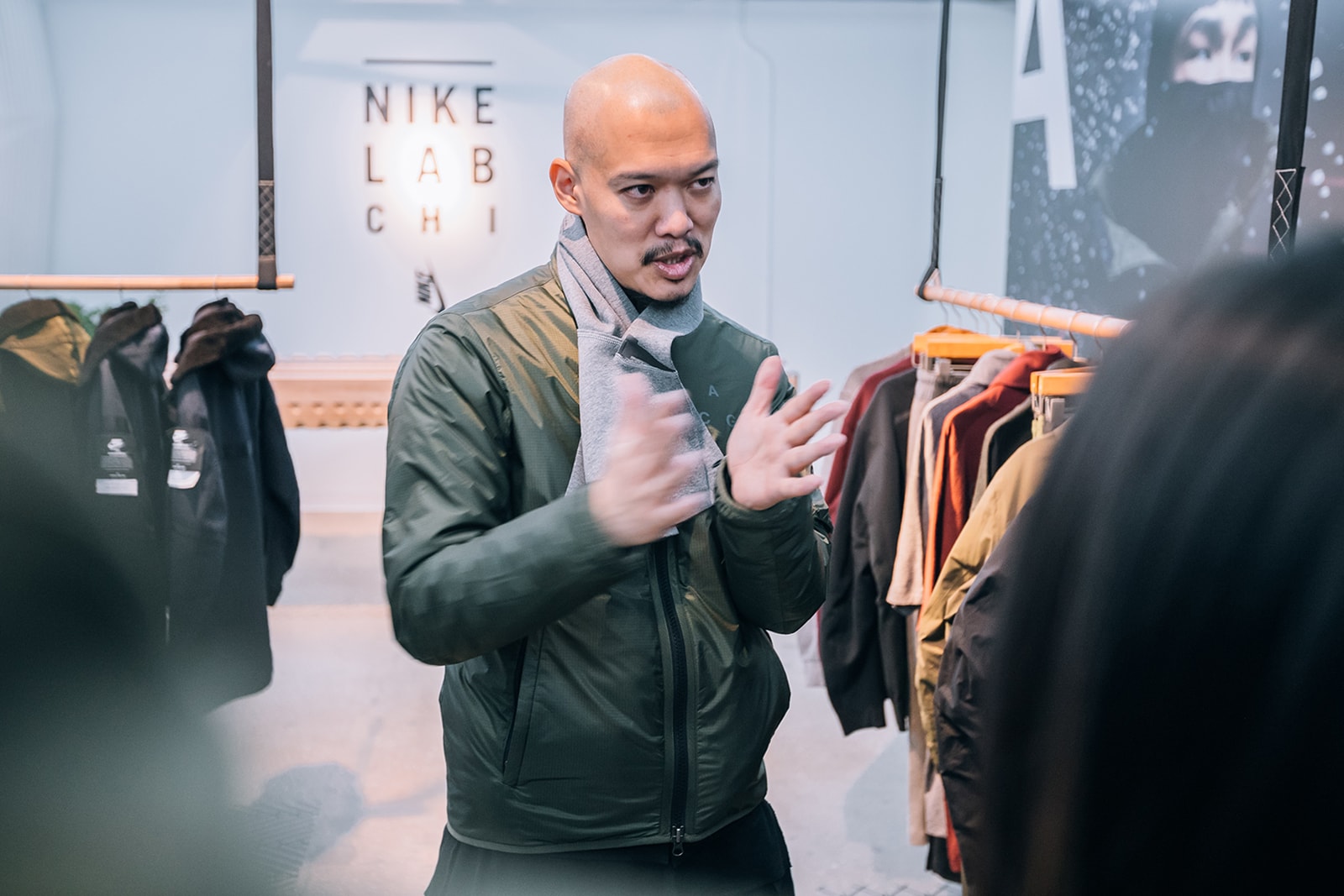 When creating for ACG now that it isn't so geared towards being so rugged, is there a specific part of everyday life you're looking at as the base before moving to the design process?
 
We try to look at everything. We're constantly asking people how do they do things and what do they carry everyday and we're just observing all the time. It's not something that we just turn on and investigate, but it's all the time. When I'm talking to my friends, I'm observing what they're wearing and I'm patting them down and seeing how the fabrics move with their motion. With this collection in particular, with ACG being from Nike and Nike always being about the athlete, that really went into the fit. So we came up with this idea of All Conditions Fit, which on one hand to be fully articulated, so there are no restrictions on movement. You can basically do anything in any of this stuff physically. And then there's the silhouette and aesthetically how it works because most patterns are cut on a static body, a person standing still. Instead of doing that, we decided to cut it on an athletic, ready stance.
 
If you're playing basketball, tennis or doing martial arts, your knees are always bent. You're crouched over and your elbows are bent. You're in sort of a position to where you can uncoil and extend. So we cut the patterns like that in these three-dimensional shapes rather than being flat. That helps with the articulation, the movement area and it also gives the sleeves, the legs of the pants and the back of the jacket a predetermined shape, which affects the way it falls and the way it looks. That's kind of the subtle thing about ACG. Even with the pants, they're plain and there's nothing on it, but you can sort of see that this isn't a normal pant.
 
How is the working relationship been with Nike?
 
It's super intense (laughs). I'm sure we're the smallest company making outerwear in the world probably. There's like six of us and I'm sure Nike is the biggest (laughs). So that's probably the most challenging and also the most interesting part because we get to see how things get done on the opposite side of the spectrum and I say the most fun part is when we get to do things like this (Unveiling of the NikeLab Chicago store) because Nike is just not a company, it's the biggest brand in the world. It means so much to so many people. It's so amazing to take an idea that's so abstract that by the time it's finished, it's like pop-culture. It's really tangible and as a designer that's what you want. You want this stuff to actually reach people and mean something to them. There's not a better partner for that.
 
It seems you guys are about 10 years ahead of everyone else with functionality. With always looking to push and innovate, do you see there being any limitations on what you can create?
Because we're always making stuff and always looking at everything, you look at the collection and you see the pieces that are there and you see the details that worked. But for every one of those details that worked, there are another 10 that didn't work. So we got all that stuff in the studio still. Even with the next two seasons, we've got some really good developments with pants with venting for the summer. Next winter, there's also some super cool stuff, too. I don't know how much more I can say, but it will be pretty good. There's always something we can try and right now, there's so many materials coming online and you can always explore that.