Everything We Know About Travis Scott's 'Utopia'
The rapper's long-awaited fourth album is expected to drop this summer.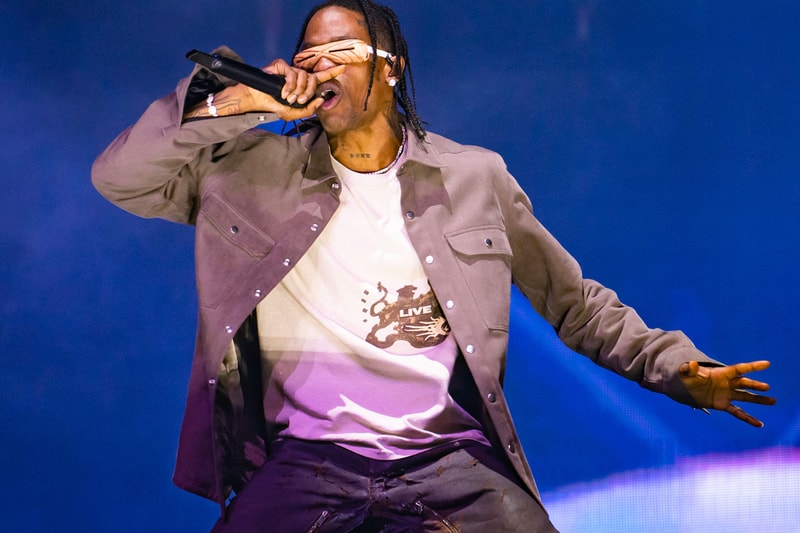 Travis Scott has been teasing Utopia for years. The rapper first gave word of the follow-up to 2018's Astroworld in July 2020 with an Instagram post simply captioned "Utopia." Three years later, fans have seemingly gotten a boatload of teasers, yet no actual music from the inscrutable artist.
Scott went on hiatus following the tragic deaths of 10 Astroworld festival attendees in 2021, however, he returned to the limelight quickly – even with approximately $750 million USD in lawsuits filed still pending trial. In September 2022, the "SICKO MODE" rapper began a Las Vegas nightclub residency entitled "Road to Utopia." In the eight months since then, Utopia is still nowhere to be found.
Recently, however, Scott has been amping up his efforts to keep fans on the hook for his fourth studio LP with even more hints about when we can finally expect the long-awaited Utopia and who will be featured on it. Here's everything we know so far:
Travis Scott enlisted his bodyguard to carry a Utopia briefcase
At the end of May, Scott began enlisting his bodyguard to carry around a briefcase painted with a Utopia graphic. For an added dose of security, the briefcase was handcuffed to the bodyguard's wrist. The paparazzi-baiting setup implies that the masters of Utopia are inside the briefcase … and that only Scott has the key.
Travis Scott is back with the "UTOPIA" briefcase in Paris ???‼️ pic.twitter.com/74vMpFWIYj

— TRAVIS SCOTT FANS ? (@LaflameScott) May 25, 2023
The Weeknd likely has a guest feature on the LP
In a similar fashion to Scott, The Weeknd had a bodyguard of his own also sporting a Utopia briefcase. The singer shared photos of his Instagram, picturing him getting out of a black car in Cannes while his bodyguard idles nearby with the briefcase. Unless The Weeknd is simply promoting Scott's album out of goodwill, signs point to a collaboration between Scott and the R&B crooner.
View this post on Instagram
Just a few days ago, Scott took over a club in Monaco to play an unreleased collaboration with Bad Bunny. It seems the rapper has an appreciation for the work of the Puerto Rican superstar, as Bunny was also listed as a headliner for 2021's Astroworld. Scott didn't confirm that the track is on Utopia but left fans speculating amid all of the other rollout efforts.
Travis Scott played a new song featuring Bad Bunny ? pic.twitter.com/B2uHEzf1vL

— TRAVIS SCOTT FAN PAGE (@RodeoTheAlbum) May 29, 2023
Prior to the Astroworld tragedies, Mike Dean and Scott had been photographed hitting the studio together. Like Scott, the producer also hails from Houston and boasts production and engineering credits on the namesake Astroworld LP, so it's not surprising to hear that he's involved in the making of Utopia.
In response to inquiries about the album from fans on Twitter, Dean wrote in a since-deleted tweet that "UTOPIA will be done with when Trav and I say its done. Let us cook." This doesn't give much to go off of, but may mean that Dean will have the final say on the finished version.
Mike Dean speaks on the completion status of Travis Scott's "UTOPIA" ?

"LET US COOK" pic.twitter.com/rIoWdUxZb3

— Kurrco (@Kurrco) May 24, 2023
Utopia may see Scott lean into a "psychedelic rock" sound
Utopia's sonic palette is still undetermined, but in a June 2021 interview with WWD, Scott mentioned that "psychedelic rock" was a major influence. "I'm in this new album mode where it's like psychedelic rock," he explained. "So even just like the field of cactuses and mushrooms, you might get tripped out." Of course, two years has passed since then and Scott/Dean may well have taken the album in a different direction.
The rapper is waiting for his signees to drop their projects first
Fans have been waiting five years for Utopia, but Scott isn't opposed to making them wait a little longer. In February, the rapper popped out as a surprise guest during Cactus Jack signee Sheck Wes's NBA All-Star Weekend set in Salt Lake City. In the middle of a performance of his own, Scott revealed that Utopia would be dropping after a few of his Cactus Jack artists put out their respective projects, namely Wes and Sofaygo.
"Sheck Wes, you know The Scotts is on the way," Scott began. "We got Faygo about to put out a little EP that's on the way. And right after that Utopia is [dropping]," he added, as the crowd roared with delight at the news.
Signs currently point to Utopia releasing in June
While the artist himself still hasn't confirmed an official date, Epic Records CEO Sylvia Rhone told Billboard that Utopia "[was] expected to [release] in June." And in May, Scott played the album for the Houston Astros ahead of a game against the Chicago Cubs. During that locker room session, the rapper turned to a camera and slyly stated "It's on the way now."
Travis Scott (@trvisXX) at Minute Maid Park pic.twitter.com/qmqcw08WfI

— Mark Berman (@MarkBermanFox26) May 15, 2023