It's Prime Time for the Nike Zoom Vomero 5
Evaluating how the Swoosh's footwear silhouette has evolved from a running staple to a lifestyle mainstay.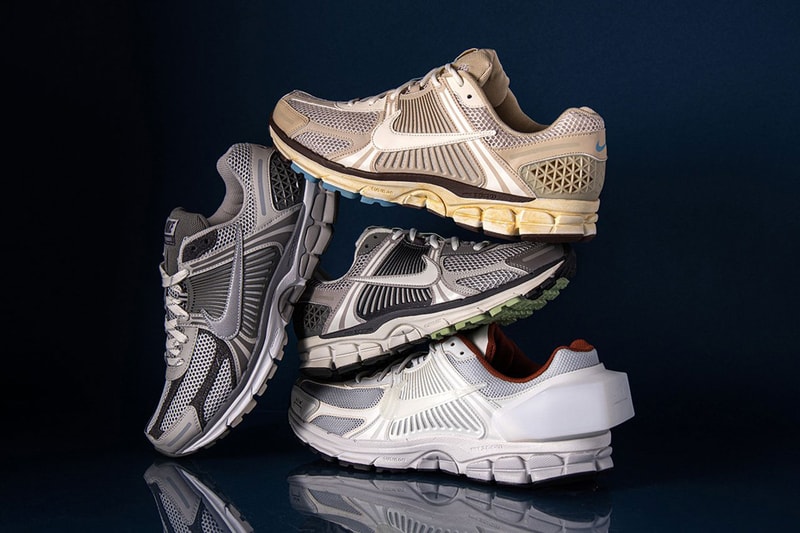 While the Zoom Vomero 5 has been around for 12 years, it's only now starting to receive the recognition it deserves. Originally positioned by Nike as a running sneaker when it debuted in 2011, the model amassed wide acclaim as athletes swore by its sleek aesthetic and responsive cushioning system that combined Cushlon foam with Zoom Air units. But in 2019, the narrative around the Vomero started to shift as the silhouette transitioned into the lifestyle limelight thanks to co-signs from fashion tastemakers and a collaborative endeavor with Samuel Ross' A-COLD-WALL*.
Now, in 2023, the Vomero 5 has been cemented as a staple of modern sneaker culture. The Swoosh-branded runner has stole the hearts of gorpcore fanatics, savvy creatives whose beanie folds rest just above their ears, avid gym goers and TikTok fashion content creators alike. Shifts in consumers' tastes have carved out a lane for the inline silhouette to flourish, so we're examining all of the factors that have contributed to its success.
Timely Design
'90s and early '00s silhouettes are Nike Sportswear's bread and butter. And while the Vomero 5 wasn't released until the early 2010s, its design adheres to the semi-chunky, sporty and Y2K-esque look that today's sneaker generation has an appetite for.
Its upper build features a myriad of striking materials and details like the mesh bases, leather overlays, reflective hits, rear cage units and ribbed quarter panels. A vast array of textures and patterns are baked into its construction, but a majority of its colorways have allowed these elements to flow together seamlessly, so much in fact, that it rivals other sought-after retro runners like the ASICS GEL-KAYANO 14, Salomon XT-6 and New Balance 1906R. "The sneaker audience is gravitating more towards lifestyle running silhouettes," Derek Curry, founder of Sneaker Politics, tells Hypebeast. "It's where the market is right now and that's why the revival of this model makes perfect sense."
Another of the silhouette's key strengths is its wardrobe adaptability. The Vomero 5 is loaded up with substantial cushioning to keep you comfy for casual commutes and intense workouts, but it doesn't compromise in style. "In regards to female customers that are coming in and asking for the model, they're able to successfully style them with skirts, shorts and wide leg pants," said Julie Hogg, Co-CEO of Wish Atlanta. "They want a sneaker that can complement their streetwear outfits but also fits well into whatever they're doing that day, whether it be errands, working out or having a casual hangout with friends."
Accessible Appeal
When examining the various launches of the Vomero 5 over the last year and a half, it's worth noting that the silhouette's smorgasbord of colorways have been readily available. They're stocked via the SNKRS app as well as through a substantial number of boutiques across the US, Asia and Europe which significantly increases a consumer's opportunities to buy a pair. Even though more coveted options like the "Oatmeal" and "Metallic Silver" colorways sold out instantly, they don't resell for more than $100 over their MSRP. "It's refreshing to be able to get a sneaker without jumping through too many hoops," says Marco Henry Negrete, VP of Content and Communications at SoleSavy. "It's very rare for a brand to have a shoe out that everyone wants and is readily available."
No Collabs? No Problem
Unlike most silhouette's in today's market, the Nike Vomero 5 stands out as a model that doesn't rely heavily on collaborations to make noise. Travis Scott hasn't flipped the Swoosh logos on them yet, Off-White™ hasn't printed any Helvetica branding on its medial side and Chitose Abe hasn't been tapped to double-up its layers. When its team-up with A-COLD-WALL* landed in 2018, people weren't as familiar with the model, and the added heel clip was a tad aggressive for the mainstream crowd to buy into. Many buyers also went so far at to chop it off and regretted it. Now that the Vomero 5 has had a few years to breathe, there's a spectrum-wide familiarity with the silhouette. Between 2022 and 2023, the Swoosh has offered it in a wealth of inline colorways and in a large production run, which has naturally discouraged resellers from hiking up the prices as supply is in line with demand. During a time when exclusivity is starting to lose its allure, the runner serves as a symbol of comfort and style, satisfying the demands of sneaker aficionados who prioritize wearability and aesthetics over limited availability.
Colorways are constantly flowing in, and they're never backed by any huge campaigns. The silhouette was also part of the 2023 Nike Doernbecher Freestyle XVIII Collection and hooked attention from a specific crowd that may not have noticed the Vomero otherwise. But other than that, it's unlikely that the brand would ever host a SNKRS Live session or record a "Behind the Design" episode about the Vomero, which leaves room for them to sit on shelves without being criticized. It's unlike Nike to not go over the top with its marketing for such a popular shoe, but in this instance it works to its advantage.
Get 'Em While They're Hot
It's impossible to predict how long the Nike Vomero 5 will continue to thrive within the modern sneaker zeitgeist, but one thing is certain: Nike will continue to capitalize on its momentum during its third life cycle. The colorways, old and new alike, can seamlessly integrate it into your wardrobe, a quality that the most versatile and functional fashion pieces carry. Earlier this year, secondary sneaker retailer Stadium Goods commented on the sneaker's uprise by saying, "Judging by the positive response the Vomero 5 has been receiving, we don't think the shoe will be going anywhere anytime soon. Which means if you're thinking about adding it to your collection, now would be a good time to do so." Fans continue to invest in kicks that follow the performance runner to dad shoe to retro runner silhouette evolution, and right now the model is experiencing its prime. Make sure you hop on the train before they reach Vomero 5 mainstream status.
Select colorways of the Nike Vomero 5 will be available via HBX in the coming months.