Hot Toys Celebrates 'Guardians of the Galaxy 3' With Screen-Accurate Groot Collectible
The final installment in the franchise premieres this weekend.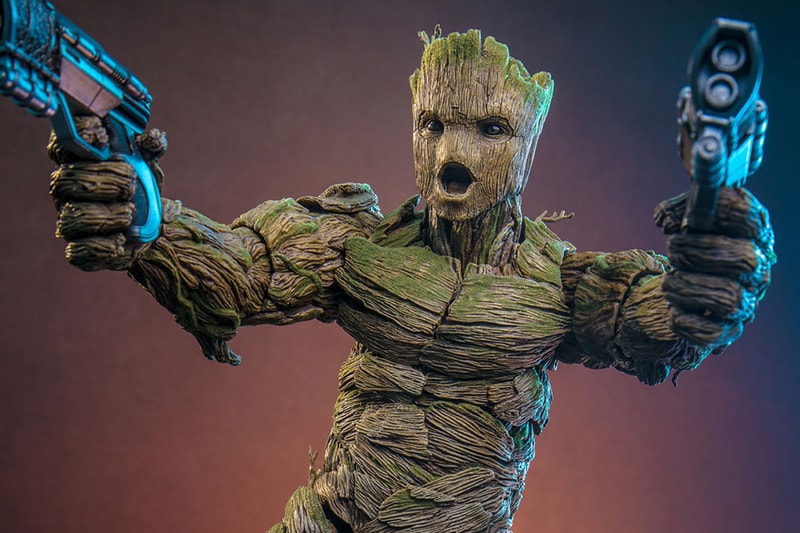 Hot Toys is gearing up for this weekend's Guardians of the Galaxy 3 premiere with a new collectible. Joining the brand's wide-spanning Movie Masterpiece Series is a detailed figurine of a fan-favorite character, Groot.
For the third and final installment of the franchise, Groot has buffed up a little to help the Guardians in their endeavors. While bigger and stronger, Groot (voiced by Vin Diesel) is still the same, short-spoken tree monster everyone knows and loves.
The screen-accurate collectible comes with an intricate head sculpt with three interchangeable expressions. A distinct body doesn't skimp on Groot's moss and fine-line tree bark texture. As for accessories, Groot has two pistols, a detonator and sprouts that can be attached to his body for added accuracy.
For the most dedicated Groot fans, Hot Toys has also unveiled a deluxe version of the collectible with more accessories and options for personalization. This Groot comes with more pistols and interchangeable tree-textured torso, as well as posable limbs.
Available now, Hot Toys' standard Groot retails for $285 USD, while the deluxe edition goes for $350 USD.
In other toy news, Tamashii Nations' 15th anniversary "World Tour" stops in NYC With a duo of pop-ups.