Cecilie Bahnsen Is Turning ASICS Into Art
Ahead of the Danish designer's ASICS GEL-NYC collaboration, Hypebeast finds out how she's turning sneakers into "everyday couture."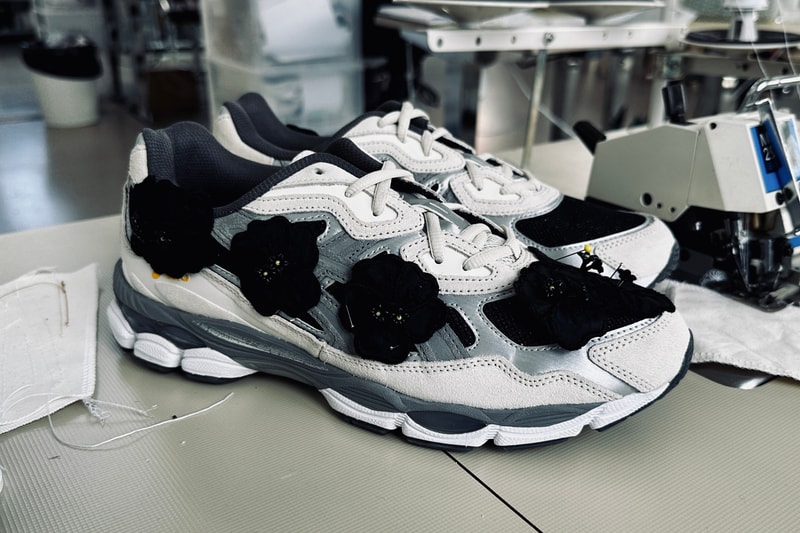 1 of 2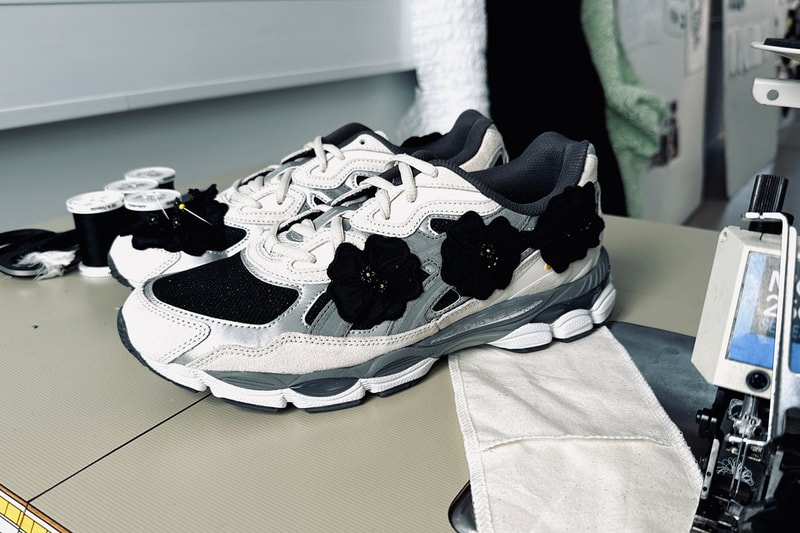 2 of 2
Sneaker collaborations are a dime a dozen. So, how does one stand out in this saturated industry? Copenhagen's Cecilie Bahsen has the answer. 
According to Bahnsen, her work "operates at the intersection of couture and ready-to-wear to create luxury clothing with a relaxed, timeless style." For those unfamiliar, Bahnsen's work is predominantly feminine; with empire waistlines, puffy sleeves, and intricate floral embroidery flowing throughout her designs.
Times are changing for the designer and the industry, as she translates her aesthetic onto the ASICS GEL-NYC sneaker for all to wear. 
Exclusively debuting on May 10 as part of Dover Street Market London's Photo London activation, the designer explores the technical and sporty underpinnings of sneakers while sewing in her own design codes. The results are three sneakers, coming in either a blue, silver, or black-centric color palette that are all limited to just 50 units per style. 
Not only are the numbers of couture nature, but the entire process is also a true masterclass in craftsmanship. Bahnsen prides herself on "everyday couture," and now aims to start showing us how we can all wear a slice of sublime yet subtle sophistication, even when it comes to our feet. 
For a world that's often criticized for its male-dominated ways, sneakers are without a doubt one of the best canvases for creativity to flourish; Bahnsen is shifting the norm with her feminine touch, updating men's shoes with a sensitive, emotional edge.
To find out more about Cecilie Bahnsen's artistic process, Hypebeast visited the designer in her hometown of Copenhagen to watch how the ASICS GEL-NYC blossoms into another one of the designer's beautifully delicate wearable pieces of art. 
Hypebeast: What is "everyday couture?"
Cecilie Bahnsen: The inspiration comes from how the girls in the studio wear our collections and make it a part of their everyday. It's partly about their creativity of how they throw it on, style things together, and tie the bows when they're going on a bike. They live in it; despite the pieces taking so much time and having so much craft, you just put it on, feel comfortable, and make it part of your life. To me, that is important: it needs to be a dream, but it needs to be loved and enjoyed. This is the constant balance when making the collection. 
How is this translated into your work with ASICS?
Working with ASICS was a natural add-on to the brand. We've never paired heels with the collections, we've always done flats. We've worked around that without having the perfect partner. But working with ASICS has been the perfect match and is exactly what we've been looking for to tell the story of sound, body, and mind. 
For me, embroidery is like therapy. The movement of the collection… you need to feel good when you have it on. When we put ASICS with the collection, we could see the reaction during the show and suddenly it was really easy to read: of course, this is how it should be done.
We took it to an extreme with the beading on the shoes the first time around, this needs to be a couture trainer but it needs to be wearable, while really, fully embroidered. Each shoe took about a week to make, and now we are translating it into a small capsule. We are combining craftsmanship with the wearability of ASICS.
Is this level of craft, and the aesthetic, particularly Danish?
There's an ease to it. This Danish or Copenhagen kind of way of dressing is effortless. You just put it on and go out. Whatever you are doing you don't want to change what you are wearing, so you just style it up for whatever makes it possible to get out of the house that day. That's what I like about layering, whether it's putting a jumper over the dress or flat shoes and jeans underneath. 
And you show this through your collections, particularly with ASICS sneakers on foot. What was the reception to this? 
It was really well-received. We're seen as a "dress brand," so it was interesting to see people see us as more than dresses. More a lifestyle. To wear it as a feeling, a trance, an attitude that comes with how we, ourselves, wear the collection in the studio. 
We also showed outside in Paris, which also felt very Scandinavian. We took the chance and weren't bothered by the rain. That way, I can play with the natural light and the combination of all the components coming together gave the collection that right electricity and attitude. 
How has that informed the ASICS collaboration?
The collaboration has many layers to it. There's the craftsmanship of how they get made, which has the same love and passion of how we make the dresses. We take it from the first pencil sketch to embroidering the flowers to attaching it to the shoes and fully working with transforming the shoe into something new, and at the same time, there's a lifestyle to the way of wearing it. It's very fashionable but very easy, and then you can find your own balance. 
People really wear ASICS in their own way and that is super exciting and inspiring. It feeds a lot into how we see the collection, so it goes both ways. 
Because your brands are inherently worlds apart?
Exactly. But we've added our DNA to it. 
How did you land on the ASICS GEL-NYC?
ASICS supplies the sneaker, it chooses [the style]. It has its limits and its beauties, which is why there are only 50 of each colorway, or last time there were only five per color. And that's also why they are all different. 
But that is part of the creative challenge of working with something and adding your DNA and code to it, but making sure there is the perfect balance between the two brands.
When you get the shoes, they arrive blank. How do you start to break the shoe down in order to add your touch?
On the upcycled ones, we worked in a 3D way. We put it on with tape and pins and we test out what would look nicest, really building up the design until we think it's right. Or when we do it from scratch, we're working from sketches and working closely with ASICS' team and learning a lot about how to make shoes. It's two very different approaches. 
Starting with the upcycled collection, before this "proper" launch, we learned so much about how to do it our way. There are so many collaborations out there, so what is going to be your take on it? How is it going to be Cecilie Bahnsen x ASICS? For me, it has to be touch-of-hand and tangible, and that's really about being able to work with the fabrics and materials. It has informed so much about what we're going to launch later on, because we're going to have a very 3D design approach. 
The design approach is very delicate, then…
I think the design is therapeutic. For me, there's a ritual to it. Some people do yoga, I do beading. I used to knit with my grandma as a kid and that kind of quiet time was really important to me. There's always a piece of the collection that is quite complex, and right now that is the ASICS for us, where we get to drift and dream in the time it takes to create the product. 
So what exactly goes into creating the Cecilie Bahnsen x ASICS GEL-NYC?
We work with the different designs that we have in the collection and drape it on the shoe. From that, we start to draw out the flowers by hand and send them to Italy, [where a factory] embroiders them onto a nylon fabric and laser-cuts the edges, before sending them back to us. We then add 3D acrylic flower beading to these, and then stitch them onto the shoe. 
Everything is applied by hand, and you're really trying to form a shape – you're working with the movement of the shoe so that it still has that give when you wear them. It needs to be workable. 
Sneakers are seldom hand-finished or handmade. So by doing so, are you turning the sneaker into something other than a wearable?
You're definitely adding a touch-of-hand and an extra element of something that's part of our universe. 
We're making them more of an object rather than a sneaker; I feel like you could put it on a shelf or you could wear it on its own or with the collection. There's a method to creating each and every one of them to make each their own. We're adding to them to make them collectible items and one-of-a-kind. 
We're taking some of the functionality away, I am not going to deny that, but they are still created so you can wear them. They're just a little bit more feminine. 
Is there a space for couture-ified sneakers?
I definitely think there is. There's also a space to push it and push the codes of what a trainer is, to add the details and to see how feminine it is. 
We've talked a lot about how sneakers for females are always in pastel colors, but how can we play with all-black florals and textures? How can you add femininity and couturity but in an unexpected way where you still keep the rawness, the sporty elements, and the masculinity of the shoes?
And furthermore, we've briefly touched on your thoughts about collaborations. Dare to expand?
Whenever we look at collaborations, whether it's with ASICS or Mackintosh, it has to be a friendship collaboration. We need to share certain codes: craftsmanship, wearability, or sustainability. We need to have some of the same values for it to be right, but we also need to learn from each other. 
With ASICS, we have learned so much about shoes. It's such a technical product and so different from dresses; the development line is so long. Learning from one of the best has been brilliant, and it adds something to our universe. 
What have you learned?
With the collection, we get to design to nearly the moment before it goes on the runway. Whereas with ASICS, you have seven or eight weeks per prototype before you arrive [at the end product]. There's almost a year before the actual collection [is produced]. You have to design in a timeless manner, you have to design a shoe that you are going to love with any collection that you put out there, and then it will land when it lands. 
For me, collections are designed as an evolution to the one before, instead of turning it all on its head. Working with ASICS on a longer process has added a lot. There's a unison of wearing [the sneakers] with a dress from one season, or the next, and it's timeless yet seasonal somehow. 
Timelessness is a great word because collaborations can often feel "of the moment." 
I want people to wear and love the collaboration, but also cherish and look after it. Maybe they'll wear it one week, and then maybe they'll wear it again in half a year. I want to prolong not just the hype, but the history of the brand and your way of dressing. Wear it when it feels right for the moment. 
And with that in mind, why is it important to wear what you want? As a predominantly womenswear brand, how do you see these shoes targeting the menswear crowd? 
We have a few menswear customers, but it's nice to be able to offer shoes for them as well. It broadens things and it's exciting to see how they are going to style it. 
It's been interesting to see how the design [changes] through sizes and figuring out how to make it work. You have to think about the construction and development in a different way; it's nice to see how you can push the universe and how the codes can develop – the masculine can contrast the feminine. Everybody is quite excited about the product because it is combined, and it does tap into something different. 
What is that "something different?"
We're trying it with denim. We're doing more utilitarian categories with a feminine take on them. How can we have the classic trouser and the classic dress? We're adding to it to have different lines. It's about pushing to have a universe that's less small and more inclusive. 
Sneaker collaborations are, quite often, geared toward male consumers because of the inherently masculine industry. Do you think this collaboration can change perceptions?
I hope so! It's fun to see [how people wear it]. I'm wearing it without a sock, my friend wore it with his neon green socks that shone through. These contrasts and plays are what inspire me.  The personal style is so much more interesting, it's like a language between who wears it and [how it's worn].
So is the collaboration more about encouraging individuality?
Yes, I think so. We're learning as we're going, and we're pushing our codes and ASICS'. The first [collection] was about me taking this craft and working it into something super wearable, super technical that has to live up to a lot of standards, but take a couture approach into something quite utilitarian and sporty. We want to make sure it can be worn, it can live, and it can last.
---
The Cecilie Bahnsen x ASICS GEL-NYC collaboration will be available in-store at Dover Street Market London and via the DSML E-Shop from May 10. A total of 150 pairs, across all colors and sizes, are available.