Steven Guo and the Nike Air Force 1 "Mark Smith Laser" for Hypebeast's Sole Mates
The Beijing-based porcelain sneaker artist reflects on his love for old Michael Jordan and Spike Lee commercials and the connections he draws between art and sneakers.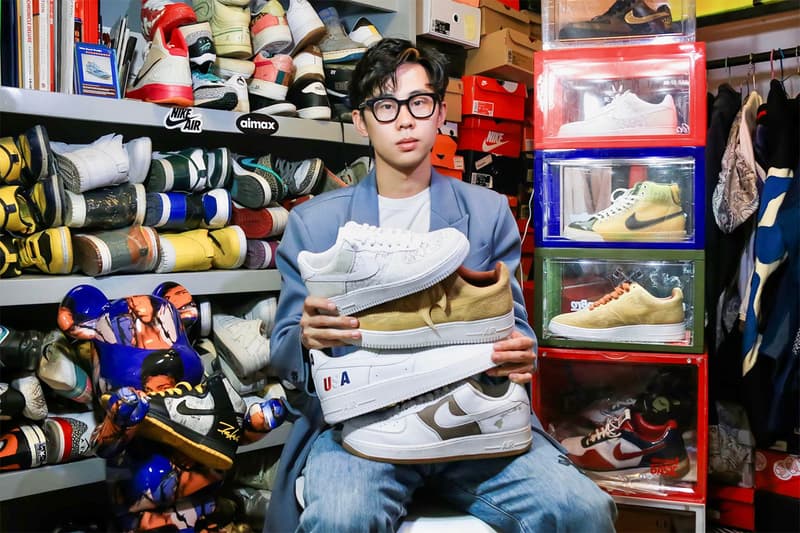 Steven Guo — an artist from Beijing, China — expresses his affinity for sneakers and their ever-evolving culture through his art. He's made a name for himself by reinterpreting classic Nike and Jordan Brand silhouettes through porcelain sculptures that he pieces together with intricate details, vivid colors and playful shapes. His talents have captured the attention of everyone from Nike — who he teamed up with to host a porcelain workshop centered around the Nike Blazer — to Sean Wotherspoon and Nike Basketball designer Ben Nethongkome, both of whom he's crafted custom pieces for.
Guo has amassed an impressive range of sneakers since he started getting serious about collecting in junior high school, but one pair that he always turns to is the Nike Air Force 1 Low "Mark Smith Laser." Captivated by the sneaker's striking lasered uppers and clean color-blocking, Guo was inspired to purchase laser machines and sewing machines of his own so he could remix various kicks himself.
For his Sole Mates installment, Guo discusses his favorite pairs in his collection, the genesis of his creative journey and the parallels he draws between art and sneakers.
"I look at sneakers as more than just products, they're attitudes towards life."
What got you into sneakers?
Since I was a student-athlete through junior high school I, always needed new performance sneakers, and that led me to falli in love with shoes like the Nike Air Zoom Victory that I'd use for track training. From there, I remember gradually doing more research about different silhouettes and colorways. I look at sneakers as more than just products, they're attitudes towards life. Additionally, Michael Jordan is my favorite athlete. I'm sad I couldn't witness his dominance first-hand, but I've always been inspired by his documentaries and all of the commercials he did with Spike Lee.
Do you recall the first "memorable" pair of sneakers that you owned?
It was a pair of Air Jordan 1 Mids, which I got from a local Nike store when I was in junior high school. I vividly remember that I didn't know the difference between an Air Jordan 1 High and an Air Jordan 1 Mid, but I still begged my mom to buy me a new pair of shoes. She ended up going with the Mids because they were cheaper.
When did you start to get serious about collecting?
Growing up, my family didn't have much money so I didn't have many sneakers as a young child. Collecting started to really pick up in high school. I would browse through different blogs and websites domestic and foreign where people were trading and do research on the rarest Nike styles every day.
You chose to highlight the Nike Air Force 1 Low "Mark Smith" for your Sole Mates selection. What about this shoe resonates with you?
In the summer of 2019, I picked up a pair of the Air Force 1 "Sakura Ueno," which came lasered with floral patterns. After conducting some research, I found out what it was [current Nike VP of Innovation and Special Projects] Mark Smith who contributed to Nike's lasered sneakers movement in the '00s, and one of the pairs that best represented that was his eponymous Air Force 1 Low. I love how he was able to keep the silhouette's classic look and shape but put his own personal flair on them. I also really love the hang tag on them and "ghost pattern" on the heel. It was because of this pair that I bought a laser machine for myself and attempted to try various patterns with different sneakers.
How many pairs of Air Force 1s are in your personal stash?
I have about 30 pairs. Some of my special ones include the Air Force 1 "Pro Bowl 2008 F&F" — a special edition sneaker created by Nike for the Pro Bowl that was only given out to players and various VIPs. I love the Hawaiian islands laser patterns on the heels.
Another pair that stands out in my collection is the Air Force 1 "Celux," which is a limited ID version of the high-end club Celux under the LVMH umbrella. It's one of the earliest and rarest collaborations between a luxury label and Nike.
What connections do you see between sneakers and art?
In many cases, art can inspire sneakers and sneakers can inspire art. Sneakers are more than just products: there's cultural relevance to them that artists can reference to create other things such as porcelain figures, clothing pieces, prints and so much more.
Out of your sneaker art projects, which one stands out to you the most and why?
One of my most memorable experiences was working alongside Ben Nethongkome — the Nike designer responsible for designing Kyrie Irving and Ja Morant's signature shoes — to craft a metallic silver Air Max 1 "Balloon" piece that I made from porcelain. It was an honor to have my work recognized by someone with that talent.
Since you grew up in the modern age of sneakers, what do you want to see more of from the culture?
For those of us that were born after 2000, I hope that we can innovate more from inspiration and ideas for the culture from a design standpoint. I'm very grateful to have forged friendships and bonds with sneaker OGs who are willing to educate me on the history of sneaker culture and are willing to listen to the new concepts that I want to bring to the table.
What's next for Steven Guo?
I still want to continue making sneaker-related artworks, so you can definitely see more of those down the road. I'm also striving to take steps to become a footwear designer. I've always looked up to someone like Tinker Hatfield, and would love to reach that level one day.