5 Big Menswear Trends From New York Fashion Week FW23
Here's what American designers forecast for men's style next season.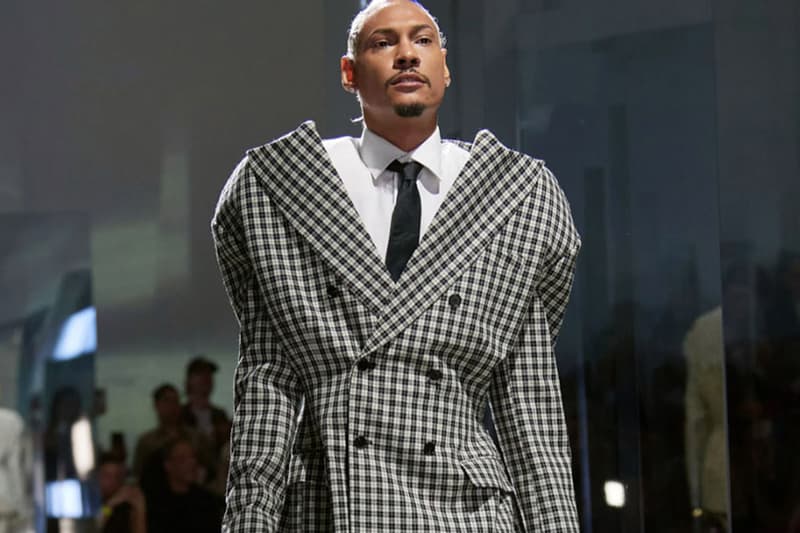 New York Fashion Week's Fall/Winter 2023 shows have officially concluded, and globe-trotting showgoers have already landed in London for the English city's turn. With shows and presentations from over 75 designers, spanning mainstays Willy Chavarria, Coach and Eckhaus Latta to newcomers Head of State and AKNVAS, the American leg of the fashion tour had much to showcase for the forthcoming season.
For FW23, New York designers pushed the limit on what's expected from menswear. Skirts appeared on the runways of Who Decides War, Thom Browne and LUAR, among others, while visionaries Dion Lee and LaQuan Smith made a case for bold cuts on luxury clubwear. Shoulders shot to new heights in a bevy of looks from Chavarria, and Head of State's Taofeek Abijako subverted traditional tailoring in men's formalwear. Heron Preston, meanwhile, embraced high and low street styles in a manner that let his signature workwear prevail once again.
Below, Hypebeast rounded up five of the biggest menswear trends from New York Fashion Week FW23.
Men in Skirts
In menswear, skirts have long fought for a place, and this season's runways proved that they've finally won. Thom Browne might be the first to thank for jumpstarting the movement for men in skirts, after debuting the daring silhouette on his runway many seasons ago and dressing an army of famous men in them since. For Fall/Winter 2023, he debuted a fresh selection of them in his signature tweed textiles and classic striped iconography.
Skirts are expected on Browne's runway, but they weren't on many others. Willy Chavarria debuted several iterations that appeared elegant and refined. Among them, the designer offered a high-waisted, silk take on the traditionally feminine silhouette as well as multiple billowing, pleated designs. All of them looked regal, when set against the gaudy backdrop of the Cooper Hewitt, Smithsonian Design Museum.
Streetwear label Who Decides War presented pocket-packed versions and graphic-covered designs made from canvas-like materials. With an emphasis on utility, the designs were experimental but still masculine, especially when paired with oversized, layered tops. Meanwhile, Coach sent men down the runway in denim styles that paired with matching, cropped coats. Here, designer Stuart Vevers favored feminine tailoring. On LUAR's runway, black sequin skirts were layered over wide-legged trousers, pumping personality into an otherwise business-ready look with textural dimension.
Clubwear
Designers oftentimes throw massive after-parties for their fashion-week shows, and this season, many of their models looked like they were heading straight to them from the runway. Dress codes had free spirits, perhaps ones still longing to make up for lost time during COVID lockdowns, and tailoring let loose. Overall, designers wanted to have a good time.
Dion Lee, arguably the purveyor of high-end clubwear among downtowners, debuted a party-ready collection inspired by a reptile's "second skin." Diamond hardware with "scale eyeleting" dressed up classic harnessing, while reptile skins were etched into leather boots and oversized accessories. Base-layer silhouettes were deconstructed and battered, mimicking the process of shedding — or, more specifically, ecdysis. Hosiery was hand distressed and so was denim. Both were done dramatically, leaving skin exposed in just the right places.
On Private Policy's runway, fashion was inspired by party animals without being literal. Distressed purple-orange knit accomplished the label's goal, letting holes, tears and fringe articulate nature's imperfections. Meanwhile, faux fur harnesses expressed a similar untamed sentiment, while a selection of balaclavas masked the human form. It was the ideal genderless club uniform.
LaQuan Smith had an elevated take, with glamorous silhouettes sure to grab a bouncer's attention. Eckhaus Latta, on the other hand, wanted a Brooklyn rave. Mesh tank tops and shimmering pants met cropped knit iterations and corduroy button-up pants in what can only be described as chaotic clubwear.
The Shrug
On several runways, shoulders were blown up to astronomical proportions, reshaping classic menswear suiting with dramatic flair. Some reached high and mighty, others extended far and wide, and all were anything but inconspicuous. In fact, each had an expression of nonchalance. Is the "shrug" in? Apparently so.
Thom Browne presented a legion of double-breasted tweed coats that let their shoulders extend far beyond their wearer's means. Dressed over vests, buttoned shirts and skirts alike, the sharply-cornered designs were large and in charge, commanding each silhouette with a larger-than-life aura. With that control, Browne's coats made each look boxy and square on top, before returning to more traditional proportions down below.
LUAR opted for elevation; designer Raul Lopez raised the shoulders on blazers and coats, letting models appear submerged in his designs. A black-and-white checkered coat floated above a model's underneath layers, almost like magic. A black version did the same, with nothing but a gold necklace on display inside.
Willy Chavarria's designs, meanwhile, were regal. The designer pumped up the shoulders on several of his looks with ruffled detailing. They were pointy but not aggressive, and ultimately, they fueled the line's overarching elegance.
Subverted Tailoring
For centuries tailored garments have been a design mainstay for not just American style, but global style. Through the mold of time, its demand and subsequent evolution have ebbed and flowed, especially when the pandemic started – fostering a heightened celebration of comfortable and easy dressing. But over the past few seasons, tailoring has steadily made its way back into the limelight with both classic and contemporary notions of what the designs can be.
This past New York Fashion Week for the Fall/Winter 2023 season once again saw an increased observance of tailored garments. But what has made the focus particularly exciting is the caliber of reworked elements, novelty design details and forward-facing silhouettes that thrust these styles into a completely different territory.
Building on its SS23 LA ALTA GAMA collection, Luar's latest for the FW23 season once again posited courageous tailoring. This time, the subversion came was showcased by top-heavy overcoats, double-breasted blazers converted into floor-length dresses, pinstripe wool fabrics forming into asymmetrically wrapped skirts, dynamic sculptural layered skirts and suiting being complete with tight Luar-detailed belts.
Willy Chavarria came into the mix with a powerful display of just how daring the color black can be. The strength in Chavarria's latest is that the use of one focal color offered greater attention to form and fabric – perfectly displaying the collection's theme of protection. Fusing classic and contemporary designs, Chavarria's debut foray into eveningwear presented several overcoats complete with striking shoulders, large lapels and cinched waists, relaxed silk suit pants, floor-length pleated skirts and streamlined dresses. 
Quintessentially modern, Head of State's vision of tailoring offered a dynamic fused two-toned blue suit with a warped fused corset blazer and front slit pants, a black suit with line detailing at the waist and a series of subtle yet sexy cutouts strewn throughout other suits. Other tailored highlights included curved and elongated jackets with shortened cape-like shoulder detailing and diamond cutouts.
High and Low Street Styles
Since its inception and well before it was a luxury mainstay, streetwear has always illustrated the most organic blends of varied styles. Whether it be crossing hip-hop styles with workwear or skater-chic with utilitarianism, anything works with streetwear and that's what makes it special. This season saw streetwear's continued fusion of high and low to not just present an entirely different look, but evolving the mood of everyday dressing. 
With Heron Preston's debut NYFW show, the designer presented a little bit of everything. Of course, the collection harbored Preston's signature mix of utilitarian and workwear styles, this time the San Francisco-born designer took it a step forward by just looking at people around him to make something new. Preston's combination of street, motocross and security styles was enhanced with eye-catching textures like furry black thigh-high boots, ankle-length fur coats and sharp chainmail pieces. Highlights ranged from a rugged black padded suit and motocross shirts to a silver chainmail dress and a deep blue and black cropped coordinating leather set. 
Although a simpler collection according to designer Ev Bravado and Téla D'Amore, Who Decides War's FW23 collection found the balance between remaining true to its design core while also expanding its streetwear cadence. Striking a balance between street and Saville Row flare, tailoring was a first for the brand – showcased by elongated pinstriped blazers, soft wool overcoats laden with WDW graphic elements and street-savvy tailored trousers. 
But the blended magic took place because tailored pieces were styled with the brand's signature relaxed denim with distressed, embroidered and rhinestone detailing alongside added fanciful attachments like tulle to traditional casual garments. The same extends to overcoats that were outfitted with the brand's stained glass motif and paired with calm tees or elaborately destroyed denim.