Canelo Álvarez and the Dior x Air Jordan 1 for HYPEBEAST's Sole Mates
The super middleweight boxing champion shares his love for the iconic designer collaboration.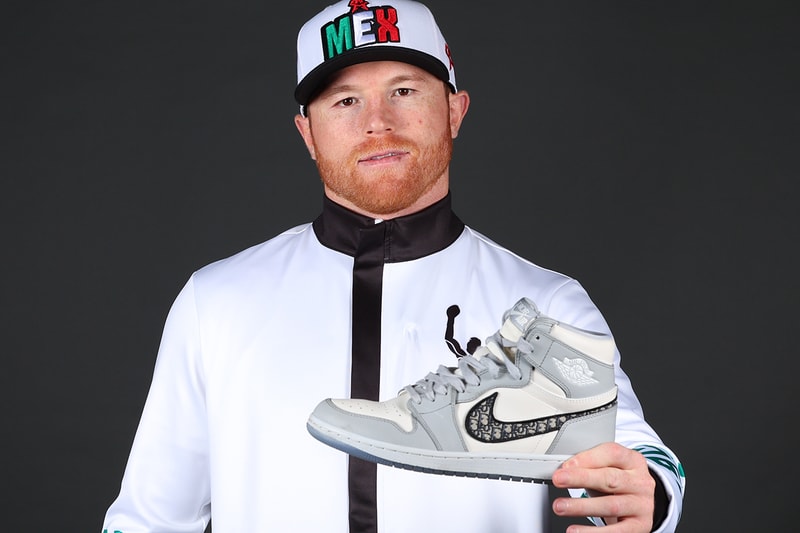 Canelo Álvarez is one of the top-ranked attractions in boxing today . Having been a professional fighter since the age of 15, he's climbed the ranks and earned championship titles across four different weight classes by terrorizing opponents with his vicious haymakers and rib-rattling body jabs. Through 61 bouts, the Mexican warrior has racked up a commendable 57 wins, 39 of them ending by way of knockout.
Before becoming one of the greatest pound-for-pound boxers to step foot in the ring, Alvarez was just a kid with a dream who spent his upbringing on a farm in Guadalajara, Jalisco — the youngest of seven brothers who all went on to fight professionally.
If you encounter Canelo today, it's clear that he enjoys the spoils of his success in the ring. The 32-year-old super middleweight champion owns an assortment of enviable supercars and is often decked out in luxury labels from head to toe. His lifestyle now is nothing short of lavish, so it only makes sense that for his Sole Mates feature, he would elect to highlight the iconic Dior x Air Jordan 1 High collaboration.
Ahead of Canelo's third (and likely final) match of his long-running duel with Gennadiy Golovkin aka "GGG", Hypebeast had the opportunity to sit down with the decorated boxer. The champion is a man of few words who prefers to let his actions speak in the ring, but he gave us insight into his style necessities, his special boots for fight night and more.
When did you first start loving sneakers?
Ever since I was a kid, I've always had a love for sneakers. When I was growing up in Guadalajara, Jalisco, I owned a lot. Back then K-Swiss was my favorite brand because that was the most affordable for me.
For your Sole Mates selection you decided to go with the super rare Dior x Air Jordan 1s. How did you obtain your pair?
I ended up buying those through a resale outlet online. I'm not going to lie, they were very expensive, but I absolutely love them.
"When it comes to crossover collabs, I really love the versatility that they bring. I can dress these up with a casual outfit or I can wear these with a suit."
What are your favorite design details on the Dior x Air Jordan 1?
First and foremost, I'm a huge fan of the color palette. The monogram pattern and the neutral go so well together that I'm able to wear them with anything. They're also really comfortable, which is important for me.
Have you always been a fan of Dior?
Yes, I've always really loved Dior, it's definitely one of my favorite designer brands. I will say, sometimes some of the Dior-designed pieces are really busy, but I do own a lot of items from the brand.
What is it about luxury and streetwear crossover collaborations that you love?
When it comes to crossover collabs, I really love the versatility that they bring. I can dress these up with a casual outfit or I can wear these with a suit.
What are the most important qualities that Canelo Alvarez looks for in a sneaker?
Definitely comfort. If the shoes aren't comfortable then I'm not going to rock them in the streets or in the ring.
Does your high-fashion street style translate over to your style in the boxing ring?
I wouldn't say that it does. I keep them pretty separate. In the ring, I definitely feel a bit more flashy and like to match my entire outfit with my sneakers. Outside of the ring, I definitely stick to luxury brands and cleaner looks.
Do you have any special plans for the footwear that you're rocking on fight night?
Against "GGG", my boxing boots are going to be a love letter to Mexico. They're made by Mizuno — one of the most comfortable shoe brands for fighting — and they come covered with red, green and white colors to match my country's flag. They're also going to feature special details throughout.
I heard you also have a special pair of Dolce & Gabana sneakers for your daughter that you wanted to touch on. What's the story behind those?
Dolce & Gabana has been a consistent partner that makes clothes and shoes for me, and the designers there were kind enough to also make special sneakers for my daughter. They feature my signature "CA" logo, the date of the fight and nods to Mexico and Las Vegas.
Tune in to the Canelo vs GGG fight live on September 17, 2022 on DAZN PPV at 8pm ET.