Super Bowl LVI Was a Cultural Milestone
HYPEBEAST attended the game in Los Angeles' SoFi Stadium and experienced the home-field advantage firsthand.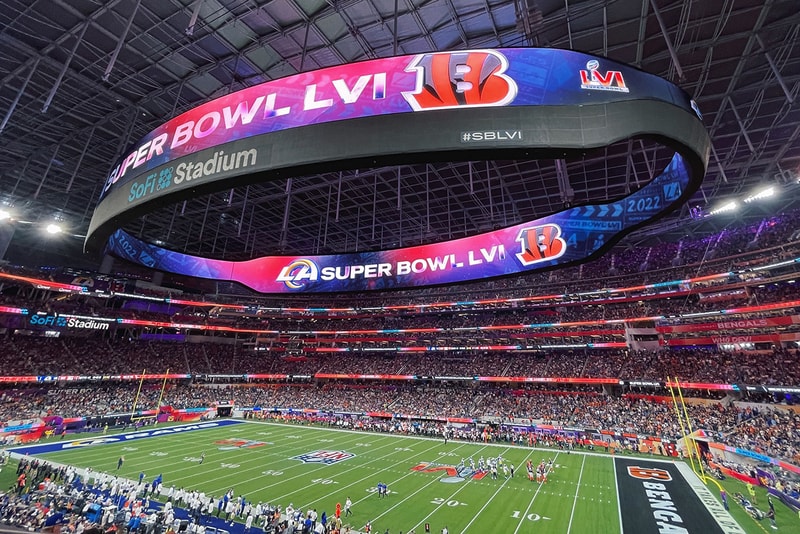 While the Super Bowl is an emblem of American sport and culture every year, this year's event in Los Angeles' SoFi Stadium featured even more over-the-top performances, noteworthy commercials and star-studded appearances than in recent years. On Sunday, over 70,000 fans packed into the award-winning, $5 billion USD football stadium, which opened to the public in 2020. The 3.1-million-square-foot Inglewood facility is home to both the Los Angeles Chargers and the Rams – this year's Super Bowl champions.
Experiencing the Super Bowl is incredible, no matter where it's held, though experiencing the extravagant sporting event in the winning team's hometown is an even more incredible – and rare – phenomenon. In the Super Bowl's 56 year history, only two teams – the Tampa Bay Buccaneers in 2021 and the Los Angeles Rams in 2022 – have ever played in their hometown stadium for the big game. HYPEBEAST attended Super Bowl LVI and experienced the electricity of having home-field advantage, as local fans and celebrities cheered on their team to victory against the Cincinnati Bengals.
Even before the game began, the energy surrounding the event was palpable. Music meant to hype up the crowd pulsed through the speakers surrounding the venue, and various stages, bars and food vendors were set up for fans to indulge in. A manmade lake served as the backdrop to a giant Super Bowl LVI sign positioned just before the entrance to the stadium, where thousands snapped up souvenir photos before heading inside.
Kickoff began at around 3:30 p.m. local time. Section 250, where we were seated, allowed a clear and close-up view into the right corner of the Bengals' end zone — the area where Rams wide receiver Cooper Kupp went on to score the game-winning touchdown. Both Rams and Bengals fans dotted the stadium's seating, where Pepsi-branded light-up necklaces were provided to add ambiance to the Halftime Show festivities.
Being in Los Angeles, fans were on alert for celebrity appearances and performances. R&B singer and L.A. native Jhené Aiko sang an emotional rendition of "America the Beautiful" while country music artist Mickey Guyton performed the national anthem to booming applause. The NFL tapped Dwyane "The Rock" Johnson to introduce both teams prior to the coin toss, showing off his signature eyebrow raise from his WWE past. JAY-Z, The Weeknd, Kanye West, Doja Cat, Jennifer Lopez, Drake, Megan Thee Stallion, Kendall Jenner, Justin and Hailey Bieber, LeBron James and others also cheered from the stands.
While many tuned into the Super Bowl for the sports, even more people tuned in for the highly-anticipated Halftime Show, which brought together hip-hop icons Dr. Dre, Snoop Dogg, Eminem, Mary J. Blige and Kendrick Lamar. As soon as the stadium lights went dim, the venue was solely illuminated by the stage designed to look like the streets of L.A. West Coast legends Dr. Dre and Snoop Dogg began the Halftime Show set – watched by about 103 million people at home – with classics like "The Next Episode," "California Love" and "Still D.R.E." 50 Cent then made a surprise appearance in an upside-down reenactment of his "In Da Club" music video from 2009 ahead of Mary J. Blige's high-energy performance. Later, Compton native Kendrick Lamar served up back-to-back hits with "M.A.A.D City" and "Alright" before Eminem rose from the left side of the stage to sing "Forgot About Dre" and "Lose Yourself" while Anderson .Paak made a cameo on the drums.
The celebrity talent also provided several noteworthy fashion moments. Eminem danced around the stage in Air Jordan 3 PEs that were customized with "Fire Red" inspired color-blocking and a heel tag that fittingly read "Hi My Name is Slim Shady," and Kendrick Lamar rocked an all-black Louis Vuitton suit from Virgil Abloh's final Fall 2022 menswear collection. Meanwhile, Odell Beckham Jr. — who was sidelined due to a non-contact knee injury with just under four minutes to play in the second quarter — was spotted wearing Shoe Surgeon-designed cleats adorned with 1,494 diamonds, while Cooper Kupp was fitted with Nike cleats inspired by Off-White™ x Nike Dunk Lows.
Bengals' players Joe Burrow and Ja'Marr Chase exhibited an impressive amount of skill in their first Super Bowl game, while L.A.'s key players Matt Stafford, Cooper Kupp and Aaron Donald made game-changing plays, propelling the Rams to their second Super Bowl victory in the franchise's history.
As part of the Vince Lombardi trophy ceremony, blue, white and yellow confetti catapulted into the air as NFL commissioner Roger Goodell awarded the championship prize to Rams' owner Stan Kroenke. Head coach Sean McVay was also invited up to the podium to reflect on his team's perseverance all-season long, and Cooper Kupp — who was crowned with Super Bowl MVP honors — praised his family and teammates who have helped him along his football journey.
As the night wound down, there was undeniable electricity felt in the air in the City of Angels. Next year's Super Bowl will take place on February 12 in Arizona's State Farm Stadium – and we're hoping it can top this year's exhibition of sporting prowess, celebrity talent and cultural significance.
In other sports news, Daniel Arsham has unveiled a Tiffany & Co. Basketball for NBA All-Star Weekend.