LeBron James Officially Breaks Kareem Abdul-Jabbar's Most NBA Points Record
Becoming the all-time leading scorer in the league.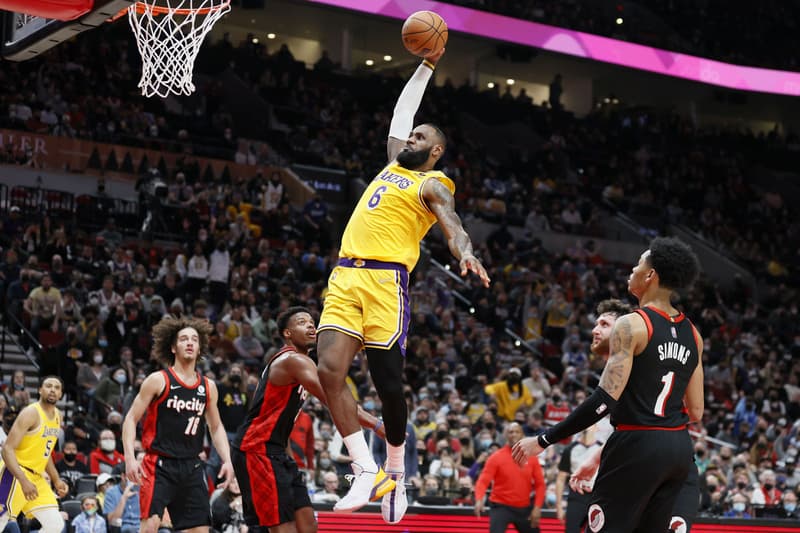 LeBron James has officially become the NBA's all-time top scorer. This past weekend, the Los Angeles Lakers star went into the game against the Golden State Warriors needing only 19 points to surpass Kareem Abdul-Jabbar. With less than five minutes in the second half of the game, James scored a three-pointer that gave him 21 points fo the game and a total of 44,152 points. Throughout his time in the NBA, the Hall of Fame capped his professional basketball career with 44,149 combined points. King James has hit a milestone, breaking Abdul-Jabbar's record and cementing himself as the player with the most points in the history of the league.
Despite a great personal game for James, the Lakers lost to the Warriors. James shot one for 10 in the fourth quarter and went on to miss the first of three of his free throws in the final 2.4 seconds of the game. Had he made all three, the Lakers would have tied the Warriors. The Warriors won 117-115. James finished with 26 points, 15 rebounds and eight assists on Saturday night. In terms of his accomplishments becoming the all-time points leader in the NBA, James said, "Been appreciative of the opportunity to play this game at the highest level. I love the game of basketball. I love being a part of the NBA and being able to inspire so many different sets of generations. I guess, it's a pretty big deal."
Steph Curry congratulated the King and said, "It's wild to think about how many games he's played, how long he's been doing it. The longevity of it all is legendary. To be in that position where you've played that many games, you've been in so many different playoff runs, won championships and done it year after year, there is no real end in sight. That's a pretty special accomplishment. He's probably got his eyes set on the 'real' scoring title. It's crazy to think about." Klay Thompson also chimed in and added, "I don't know how much longer he has, maybe it's two years, maybe it's three. But NBA fans should appreciate it while they're watching such an amazing player."
Greatness.

Give it up for the new All-Time Leading Regular Season and Playoffs Scorer, LeBron James ? pic.twitter.com/zPlGGRhGXs

— Los Angeles Lakers (@Lakers) February 13, 2022
View this post on Instagram
In other sports news, Israel Adesanya retains the middleweight championship against Robert Whittaker at UFC 271