Sole Mates: Nikko Ramos and the TITAN x Air Jordan 23
TITAN's brand director sheds light on the boutique's Jordan collabs and the Philippines' bustling sneaker culture.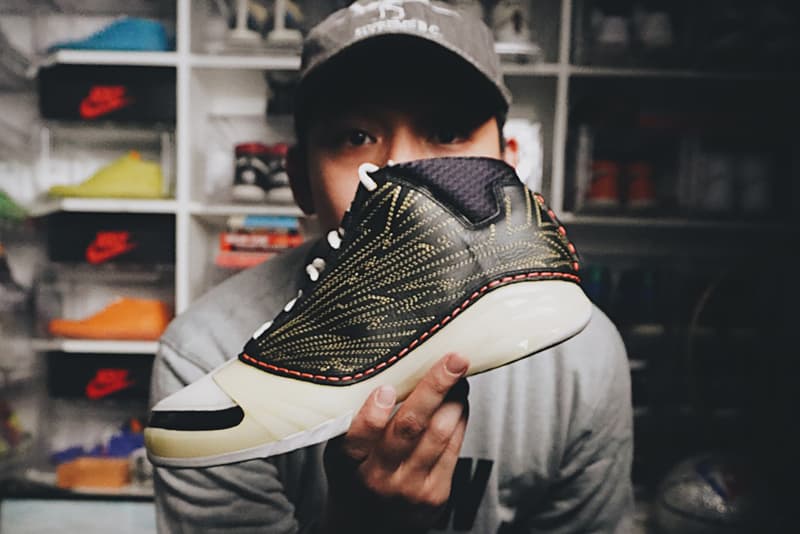 Saying that the people of the Philippines have a love for basketball would be a gargantuan understatement. It's more than just a pastime or a game that they'll stay up during the wee-hours of the morning to watch their favorite NBA teams and players. The sport is so deeply ingrained in their lifestyle that if you ever find yourself roaming through the Southeast Asia archipelago, you'll notice countless numbers of basketball courts and jerseys present in all areas whether it be the villages, beaches and even the churches.
Of course, this element of Filipino culture can only be taught to the rest of the world if communicated and highlighted the right way, and that's where Nikko Ramos and his crew over at TITAN have stepped up to the plate. TITAN is a hoops-focused concept store in the Philippines that has been serving the community with performance products, highly-coveted footwear collaborations and more since 2010, and it's become a haven for those who share an obsession over basketball. Their impact has been so profound in this corner of the globe, that brands such as Nike and Jordan Brand have already come knocking on their door to align on collaborative projects.
Ramos — who currently sits as the imprint's Senior Brand Director — realizes the magnitude of his position and is striving everyday to showcase that it's time for the Philippines to make its mark on basketball culture now and in the years ahead. We caught up with the Manila-based creative to discuss TITAN's Air Jordan 23 collaboration, how access to sneakers in the Philippines has evolved over time and more.
HYPEBEAST: Who or what got you into sneakers?
NR: I distinctly remember everybody in school having Nike Air More Uptempos because they would rock them on Fridays for gym day. I was fascinated by the big Air branding on the side and that was the first time I saw a sneaker and really wanted it. I asked my parents to get me a pair. My dad did the Filipino thing where he measured my foot by putting my foot on a piece of legal paper and traced around it to find my size. He went to the mall and came back and he said, "Look, I saw the shoes that you wanted but while I was in the store two other dads came in with their sons and bought that shoe and I thought to myself, maybe you don't want to be just like everybody else you might want to stand out so I asked the guy at the at the shop like what else he had." He ended up getting me a pair of FILAS. And no disrespect to FILA but when you're a kid wanting some Uptempos, you don't want a generic inline sneaker. So I didn't get a pair until last year and that's when everything came full circle, but that's when it really started.
It's no secret that you're a basketball fan, but when did you start getting into the sport and when did that correlate with your love for sneakers?
It's interesting because I'd say it was the last Bulls three-peat when I was really starting to understand basketball. When I was much much younger in LA, my uncle would play me the same game tape from the 1985 finals. I'm a Lakers fan because growing up I thought they were the best team because — not knowing it was a tape — I'd be watching them win the championship every time. However, around the time that MJ won his last three-peat, that's when I started to gather that MJ had a privilege to wear special shoes. Everybody else was wearing some basic New Balances or whatever because they weren't as skilled. I thought to myself that if you're the MVP, then you get to wear cool shoes.
Do you remember the first pair that you copped?
It was the Jordan Spiz'ikes, the black, red and cement ones. I think it'd be cool right now if I was just out rocking it because it'd be so counterculture and anti-hype, but really, the honest truth is that I didn't know any better. At the time, I was broke and they were on clearance, and I had to beg the guy at the store to hold them until the weekend. I just thought that shoe looked really cool and it looked like the Jordan models that I really wanted but weren't being sold anymore since retros weren't readily available in the Philippines back then. Once I learned they were associated with Spike Lee, I knew I was a fan of his movies so I decided to cop them and I still have the pair today. If they ever retro that colorway I'm buying every pair, I don't care how whack they are.
Describe how sneaker culture has changed in the Philippines in terms of now actually having access to the biggest drops.
Access is king. People don't even want the opportunity to get free sneakers, they just want the opportunity to spend money on them. I think access to the product is really the one thing that's kept the sneaker mainstream consciousness here in the Philippines from starting a whole lot earlier because access to information or pop culture has never been a problem in the Philippines. We'll find ways to listen to NBA games from well-off folks who had landlines and we'd literally be telling each other the score. The same goes for sneakers. The true OGs here in the Philippines who were really into sneakers had to have access to someone in the US to get their pairs.
As the world opened up through the internet and we were able to consume pop culture everywhere, the appreciation for them grew at a really rapid pace and eventually the product started landing here. When TITAN first opened in 2010, I remember falling in line to cop a Jordan 11 or Kobes or waking up at five in the morning because I wanted to get in line to get the Air Jordan 7 "Bordeaux.". It was still super surreal because we finally got our moment.
"I know how discerning those eyes are and if you don't do a good job, the one thing that sneaker culture will do is let you know. It warms my heart but I'm also terribly frightened because we have to keep this up."
The Philippines is gradually starting to become more visible and amplified in the streetwear and footwear scene. What does that mean to you personally?
I like to always think of myself as a consumer and a fan. So from that lens it's always such a heartwarming feeling to see our culture being represented at that scale with product. You understand more why New Yorkers are so protective of Timbs and why certain Air Force 1 colorways are so important to certain cities in the US. When there's a shoe out there and it's done well and the storytelling is organic to your people, when it's your culture, you know that's ours. Sometimes I don't even have to own a pair, if I see someone else rocking it, I know that's part mine too. I'm always so floored by that feeling, it never gets old.
When I look at it from a job standpoint, I understand the scale of it. I think that many consumers think colorways are made so easily, but it's an 18 to 24 month process. It goes through 75 different layers, 100 people collaborating on it and factories and supply chains from seven different countries just to get something sampled, so you appreciate it even more. But I also feel a tremendous amount of pressure, because we've gotten opportunities to do that with our collabs. I know how it's going to hit for kids like me, those that understand the business and OGs because we have such a high bar that you always have to meet. I know how discerning those eyes are and if you don't do a good job, the one thing that sneaker culture will do is let you know. It warms my heart but I'm also terribly frightened because we have to keep this up.
You've now got two LeBron projects under your belt and a collaboration with Jordan Brand. Is this partnership something that we're going to see continue in the future?
The guys at Nike, whether it's the conversations we have at a regional level, on a local level or at the global level, they've really been able to appreciate TITAN's role in the community and our ability to storytell with a unique perspective. It's been a great partnership. One of my teammates at work always saysthata the reward for good work is more work and that's what we operate under. We're always under the impression that we try our best not to look ahead, because nothing's promised. It's not like an NBA deal where you get a guaranteed five years. Maybe the folks over at fragment design have that deal or Virgil [Abloh] — may he rest in peace — had a deal like that. But when we get those opportunities to do a collab, we're always under the impression that if this is the last one, let's kill it.
Talk to me a little about your journey and how you got to your current Brand Director position with TITAN.
I did radio for 10 years and sportscasting right out of college. I was commentating games for the PBA (Philippine Basketball Association) before I eventually moved to a different network. I would host events, produce and do some things for TV and on the side, I was hustling and writing for SLAM Philippines — which is owned and operated by TITAN. Then one year I went to China for one of the NBA offseason games and Dennis Tan — TITAN's CEO — essentially gave me this expansive week long job interview because when we came back, he sat me down and told me that TITAN was re-thinking its approach as a brand and really wanted to devote time, effort, resources and personnel towards content. So he asked me if I wanted to jump on board as the Director of Content. I work closer to basketball now working at TITAN than I did even when I was covering actual basketball games, cause at the end of the day, basketball is in our boutique's DNA.
You're a man of Filipino descent, born in the US and you're not a nurse. How'd your parents react to that?
I'm not gonna say I wasn't tempted, because there was a time I was trying out radio and seeing how much people were getting paid and thought of just flying back to the states and becoming a nurse. But even my parents saw that content was the one thing I was good at and they supported me.
You chose to speak on the TITAN x Air Jordan 23 collaboration. First off, how did this project come about? Walk me through the details of the shoes and what does it mean to you?
​​It was always in the plan of plans to achieve smaller things first and then make a pitch to Jordan Brand for a collaboration when we were in a position to execute a project. You don't want to be that brand at pitches and they say no to. You don't want to have visitors over when the backroom is still being renovated. And when the opportunity came about, right off the bat we asked to do an Air Jordan 23. It was challenging because at the time, the mold for the 23 didn't exist anymore so they had to dig into the archives and get the shape as true as possible. Then they pitched the idea of also doing an Air Jordan 35 to go along with it and we were all in.​​ The guys at Jordan really supported our vision for it and really understood where we wanted to take it. It pretty much almost looks like what we first drew up, and that's not very common, but the experience has been incredible.
We connected with one of Jordan's key designers JP Managa — who's a Filipino himself — and it was just easy. We spoke in Tagalog at the meetings and he understood us because a lot of his experiences were our experiences since he spent time growing up in the Philippines before his family migrated over to the US, so creating the shoes was a movie.
What were your biggest takeaways from working on high-level projects with Nike and Jordan?
The one thing that I've learned the most is to not limit what you can expect. When I first started working in sneakers, I was just so happy to be here. Our CEO Dennis has always approached projects with a very realistic-yet-ambitious mentality and that's been super valuable to me. If we're going to do something, let's do what's natural to us, tell the story we want to tell, but let's also do it at the most appropriate scale for the story. It's important to say what you want and what you need so that each party can figure it out. No one had made Air Jordan 23s in a long time but if that's where our story lives, then that's what we're going to do. When you're going to collaborate with a brand, that's exactly what they're doing. They're partnering up with you and elevating your story. If you're going to be bashful about it, it defeats the purpose.
"The puzzle that we're trying to put together is that we know that people know about TITAN, how it's a basketball-born brand in Manila and how we've taken big first steps, but let's show them the value of family and how the love for family and love for basketball aren't mutually exclusive things."
What other aspects of Filipino culture is TITAN still looking to push forward through your brand and your future collaborations?
The world understands that the Philippines is a basketball crazy country, but when they hear that they kind of just think about this photo of kids knee-deep in floods still shooting a basketball through a hoop. And while that is true, and while the passion is strong, even in the worst physical circumstances here in the Philippines, it's such a nuanced relationship with a game, it's something that gets passed down from generation to generation. The puzzle that we're trying to put together is that we know that people know about TITAN, how it's a basketball-born brand in Manila and how we've taken big first steps, but let's show them the value of family and how the love for family and love for basketball aren't mutually exclusive things.
Why are sneakers and the stories they hold important to you?
I think that they're time capsules. I think the Spiz'ikes I showed you earlier are representative of me begging someone to hold a pair that was already on clearance because I didn't have money. It grounds and reminds me of the person I was 10, 11 years ago. We picked the Air Jordan 23 because it was the first shoe that dropped in the Philippines even before TITAN opened its doors, and it was the first mainstream hype release in the country. It's watching our design director Allyn draw up the lightning shards and us talking about creating the collab in our conference room. It's the pair of signed Kobes from when I met him that are super special to me and the Kobe 5s I asked my friend to turn into dress shoes for me to wear at my wedding. They're all laced with memories and the more you can have those memories around, the more you can have reminders of them.