Essentials: JJ Lin
The music artist and SMG founder shares his go-to audio equipment and accessories.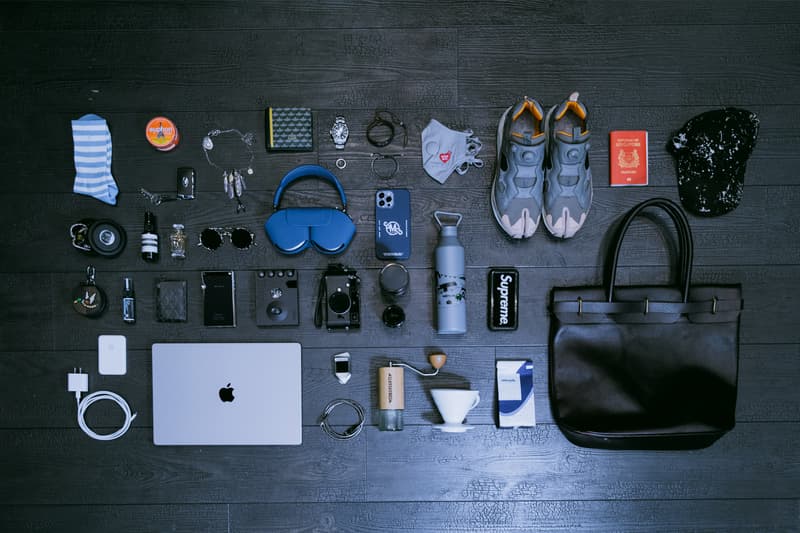 Singaporean music artist JJ Lin joins us for the latest installment of Essentials. Solidified as a household name in the mandarin pop scene with more than 120 billion streams on music platforms worldwide, JJ Lin continues to push the boundaries through collaborative tracks with artists around the world such as Hiroshi Fujiwara, Steve Aoki, Hans Zimmer and more. JJ was also recently featured on the official soundtrack for Marvel Studios' Shang-Chi,  releasing a song titled Lose Control.
Outside of singing and producing, JJ has a number of ventures including his music production company JFJ Productions, cutting-edge studio JFJ Sanctuary, artisanal coffee brand Miracle Coffee, apparel brand SMG (Still Moving Under Gunfire), and ESports organization Team SMG. SMG has done several collaborations over the years with the likes of Reebok, GORE-TEX, New Era, Herschel, G-Shock, and more.
For his Essentials picks, JJ shows us an array of items including his on-the-go audio gear and tech, rare accessories, customs, and collaboration items from his brands. His spread includes a Leica M-P Correspondent Camera by Lenny Kravitz,  HUGO2 portable amplifier, custom qdc in-ears, Tiffany Rolex Submariner, GRAY crypto hardware wallet, and more. Follow us below as we dive into his picks.
We spot the Leica film camera, are you big into photography?
I'm kind of a Leica fan. I've been collecting a lot of the M series. M6, M8, all the way to now M10, and M10P. This one is a piece I really like because it's a Lenny Kravitz limited edition, and the way he made it kind of vintage and glossy at the same time in a very minimalistic approach. I've been a photography fan for some time now and my favorite lens is still the 50 mm.
What do you use the CHORD HUGO2 device used for?
I do a lot of DST music which is high-fidelity music. For DST files you need to have a DST player to be able to listen to that format, unlike our usual phone or computer, you actually need a proper DAC converter for DST. The Hugo 2 is kind of a headphone amplifier that provides more detail in the music. It's something a little more personal and unique that fewer people would normally use. I'm a gadget guy so I like to play around with different things.
Is there a story behind the JFJ Productions earbuds?
That's kind of my bread and butter for shows. As a singer and artist, you have to have your go-to monitor earphones in-ears and I've been using a lot of different models and different brands for some time, searching for the best one, most suited for myself. I've tried all different brands from Ultimate Ears to west tone to JH. All the different brands I've really tried them and enjoyed them, but one day before I was starting my previous tour, I was introduced to this brand called qdc based in Shenzhen, China by this guru of Chinese live music called Jin Shaogang. He's like the legend in terms of live concert sound. He shared with me this brand that his friend set up and he actually helped me tune and engineer the whole in-ears and it blew me away. That was when I told myself, Woah, I actually prefer these, and I started customizing my own in-ears with qdc.
I think it's really important to find something you can rely on. I've recommended it to a lot of my other peers and sent a pair for each of our staff at JFJ so that we can all kind of listen to music in the clearest and most direct way. I still depend on AirPods Pros for convenience, but because nowadays we have different forms of music such as Dolby Atmos and surround, the qdc's act as a reference for me. We have different formats for different platforms so I want to make sure that our music sounds good on every different kind of speaker or headphones.
Could you share the story behind starting SMG and your vision for the brand?
We started the brand in 2009, so it's been 12 years. It started off as a very military-inspired apparel brand. In Singapore where I grew up, we had to go through military service, so that military element has always stayed in me and something that I think is very significant in terms of attitude and way of living and how you mind yourself in times of difficulty. Figuratively, SMG encourages people to keep moving through the gunfire instead of taking cover. Of course, it's kind of a play on words, in the army context, when you're in battle, you're literally taught to take cover, but life is about facing reality and moving through and embracing what it has in store for you, good and bad alike, so that was the essence of the whole label up until now.
The brand has evolved a lot from a very military-inspired style to exploring different forms and aesthetically also quite experimental now with a lot more collaborations. We're taking a step further by expanding the brand into a lot of different areas such as Esports with Team SMG.
We noticed the Tabi split-toe on the Reebok x Team SMG Pumps, are they customs?
We recently did that collaboration with Reebok with SMG, and that one that I took a picture of was a recent custom with a guy named Frank under Rifare. He's a really talented artist. So good in terms of how he uses material and cut and sew. It's that style that I really like so I thought to actually custom a pair of shoes for myself. He did a few New Balance and even bags. My partner from SMG actually introduced his friend to me and showed me some of his stuff and I was really impressed. I'm always about customization and doing something that is more unique and combining different elements to create something new.
What do you look for in a fragrance, and what led you to Henry Jacques?
Uniqueness I guess because there are so many. You want to be a little different from the mass. I'm a fragrance guy. I really love different colognes and fragrances. I use HJ because they use less alcohol content so that matters to me because my skin tends to get sensitive so I do appreciate that they don't have that alcohol content which most other perfumes have.
When were you first introduced to Goro's jewelry?
I first came across Goro's in 2010 I believe. I used to go to Japan a lot back and forth and every time I pass that orange building, I was like what's going on, I've always been curious. In 2010, when I met my partner for SMG, Bruce, he was wearing a lot of Goro's and I asked him about it and learned more about the culture and history of it, and the art and soul behind it. It was really impressive. It wasn't until 2014 where I started my first collection which was not jewelry. It was actually the guitar, a Martin, Eric Clapton, and Goro's, three-way collab. I got my hands on one of the guitars and that kind of started me going because it started from music. It was a relic piece, and I was like wow. So that was the first time I stepped into Goros.
I later had the opportunity to get to know Rui he was from Goros before and so we became friends and one day we met up in Japan and he brought me up and I really got to start my collection from there, I got really lucky.  I really appreciate the whole culture behind it, the very unique story, and all the hard work that's put behind it. I think that sets them apart.
What drew you to the Tiffany Rolex Submariner?
For me, the collection of watches started with vintage ones. It grew with the vintage ones, with the Paul Newman, and when I got my hands on the 5513 Tiffany Sub I just felt that it's very lowkey and classic. It's the most recognizable Rolex of all time, the Submarine, and I think that collaboration with Tiffany makes it even more unique and collectible. It's an old piece, 1977, and it feels really different. I really enjoy the vintage stuff because those are the things that give me the emotions and chills. You imagine the predecessors, the owners before you and you appreciate a little bit more when it comes to that. Every piece has its own meaning to yourself. When you look at it and hold it in your hands, you think about the moment when you first saw it and why it drew you to that piece. It's like artwork.
We see you have the GRAY Trezor wallet, are you big into crypto?
It's a gift from Kevin Wu actually. I've been very open to meeting new friends from anywhere and hearing different stories and ideas which definitely inspires me to create differently and to blend everything together. The world is different now than it was 6 months ago, and I'm always excited to live in a constantly changing and evolving environment because I think the more change that takes place, the more potential for good and things to happen. Always trying to stay positive, you know.
Do you think there'll be the same emotional attachment that people get to NFT's compared to physical items?
I do believe so, I think it's human nature to want to cherish to want to keep things close to their heart. I think that's something that drives us all. I feel NFTs open up for a lot of different things, but not necessarily the best. It's really just tech that can be used either way, so I feel we need to take more caution for how we see this whole movement because I do feel that though ownership is crucial and it's valuable in terms of the whole blockchain concept,  I also feel that it cannot become like a bubble and overhyped. The prices are a little crazy right now.
We need to find a balance, pull back, and educate people because everyone is in it for a different reason. For me it's really about content creation, and how we can help contribute and continue our art and build our craft with this technology to help people value creative works. That's my ultimate goal and the reason I'm finding out more about how we can weave these things and elements together.
Take a look at JJ Lin's product spread above and stay tuned for more Essentials pieces in the coming weeks.
In the meantime, we recently featured Girls Don't Cry and Wasted Youth artist VERDY.