Essentials: VERDY
The artist behind Girls Don't Cry and Wasted Youth shares his daily necessities.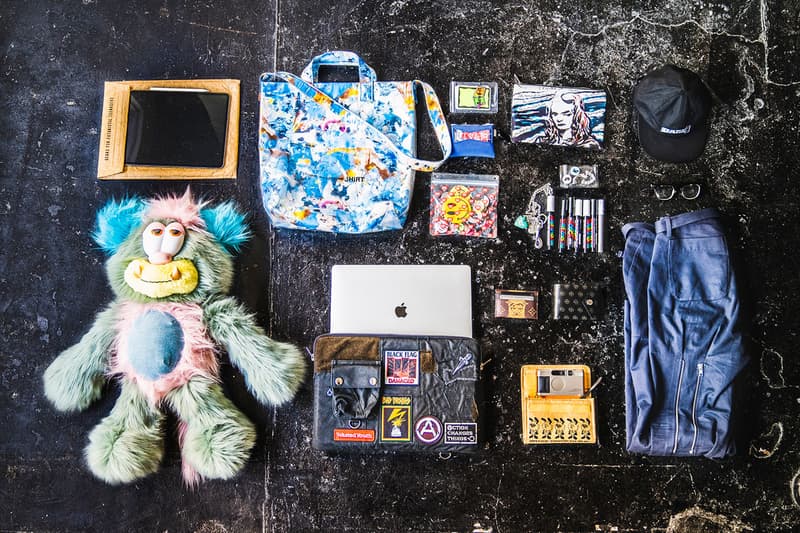 VERDY, the multifaceted creator and artist behind streetwear labels Girls Don't Cry and Wasted Youth, recently sat down with HYPEBEAST Japan for a special installment of Essentials.
The Japanese artist has been busy this year releasing special collaborative collections with the likes of Levi's, Dover Street Market, Nike SB, NIGO, and more while finding time to launch his solo exhibition titled Rise Above earlier this year featuring his alter ego characters VICK and VISTY. Recognizing his unique and undeniable contributions to the world of fashion and art, VERDY was selected for the 2021 HB100 list.
For his Essentials picks, VERDY displays an assortment of colorful and graphic-heavy pieces representative of his craft and character. Take a look below as he explains the stories behind his picks.
PHINGERIN Bondage Pants
PHINGERIN's Bondage Pants carry a lot of the brand's punk roots. These have a loose silhouette which is rare for Bondage Pants. There was a time where I wore these less frequently, but I recently bought three in bulk.
CONTAX Camera, JINS & SUN Lens Pouch
This is the same CONTAX camera that my friend Paulo Calle often uses. I bought it about half a year ago to shoot my own lookbooks, and I carried it with me on the daily. Since the size fits just right, I use the glasses case from JINS & SUN for storage.
Off-White™️ Wallet, Louis Vuitton Card Case
The Off-White™️ wallet was the first time I ordered anything at a brand fashion show in Paris, France. I stored it for a while after I bought it, but I started using it again recently. The cardholder is the second product of the LV² series created by NIGO®️ and Louis Vuitton.
Alex Moss Jewelry
The jewelry was outsourced to Alex Moss New York. Created with the theme "things that are unique to you," they are all unique custom pieces that include tin badges, marker caps, and shoelace belts.
ACT Laptop Bag
The Macbook Pro is housed in a DIY product made by Osaka brand ACT. Described as "the world's most punk laptop bag," it has an oil-processed durable body and VERDY custom badges.
Apple iPad Pro, Apple Pencil, Human Made PC Bag
The Apple iPad Pro and Apple Pencil are indispensable for me. I used to use my favorite pen to draw illustrations but bought the iPad 4 to 5 years ago because I was going abroad more often and risked losing my pen or running out of ink. There are also Apple Stores in the major cities where you travel, so it's convenient to deal with emergencies. The pouch is a Human Made PC bag with cushioned quilted material inside.
POSCA Marker Pen, Aevil Label Sticker, DIOR Pouch
The Dior bag contains the markers previously launched by Wasted Youth in collaboration with POSCA. The bag was used as an invitation for the release of the Dior 2019 Fall/Winter series that collaborated with the contemporary artist Raymond Pettibon which I've always liked.
Button Badges
A large number of tin badges, featuring homemade styles and styles of other artists and brands, are stored in zipper bags created by Human Made x Pake.
THISWAY Pouches, Stickers
I store stickers in the THISWAY pouch, but it can also be used to store coins.
COMME des GARÇONS SHIRT x Futura Tote Bag
Many of the items mentioned above are contained in the COMME des GARÇONS SHIRT x Futura tote bag sold back in 2020. COMME des GARÇONS is one of my favorite brands, and I bought this bag when I passed by DOVER STREET MARKET GINZA.
VISTY Soft Toy
This character, VISTY, was featured extensively in my recent solo exhibition "Rise Above."
Take a look at VERDY's product spread above and stay tuned for more Essentials features in the coming weeks.
For more Essentials pieces, we recently spoke with solebox's GM Aljoscha Kondratiew.