A Bundle of 101 Bored Ape NFTs Sold for $24.4 Million USD
The company's cartoon dog NFTs also sold for $1.8 million USD.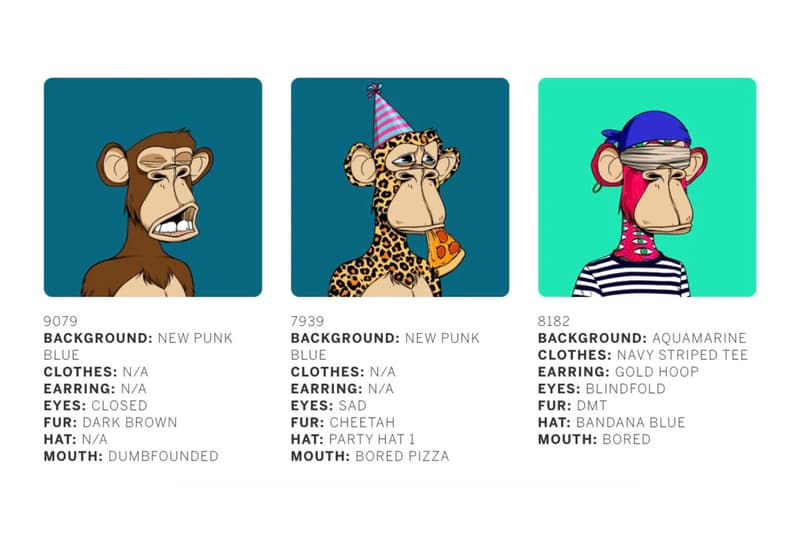 A set of 101 non-fungible tokens (NFTs) depicting cartoon apes from Bored Ape Yacht Club just sold for $24.4 million USD at Sotheby's on Thursday, according to Reuters.
The images are part of Bored Ape's wide-spanning collection of NFTs, which is comprised of 10,000 computer-generated, animated apes, crafted by US-based company Yuga Labs. While the blockchain-backed assets can be viewed by anyone, the NFTs belong to the official buyer, who also becomes a member of an exclusive online club that provides access to various benefits. (To date, those perks have included exclusive merch drops, bonus NFTs and access to an online graffiti board.)
The bundle included 101 iterations of the company's digitized apes, each fitted in various outfits, accessories and facial expressions for their own unique appearance. Each NFT is listed with their clothing, earring, hat and fur style, as well as their eye and mouth emotions. In addition to the sizable collection, the buyer now has the option to generate six additional "mutant" ape NFTs.
Aside from the monkey NFTs, Sotheby's auction also included 101 Bored Ape Kennel Club NFTs, which resemble cartoon dogs that the company markets as pets for the aforementioned apes. Those NFTs sold for $1.8 million USD, raking in a grand total of $26.2 million USD.
Buyers were able to bid using cryptocurrencies including Bitcoin, Ether and USDC, along with standard government-issued currency.
Elsewhere, an NFT of a handwritten graphic reading "Test" sold for $270,000 USD.