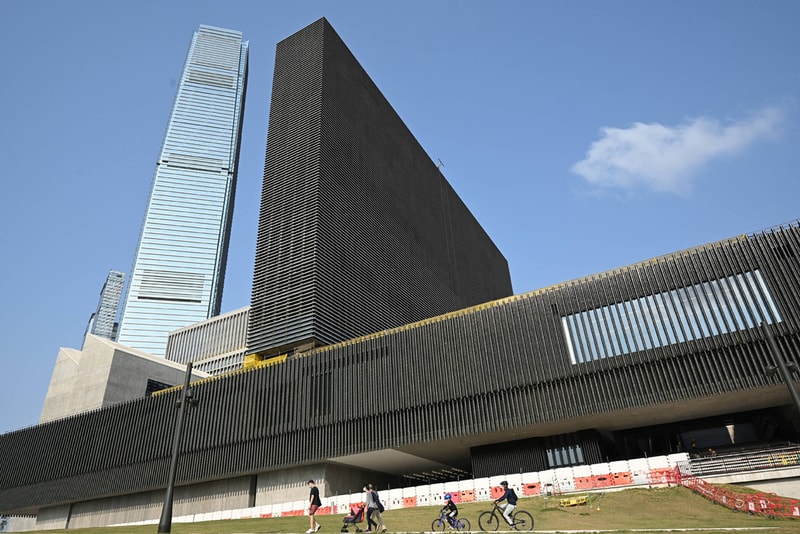 Hong Kong's M+ Museum Will Finally Open Doors In November
A new visual culture center that has been in the works since 2014.
---
Hong Kong's long-awaited M+ Museum will finally open to the public on November 12. The new center of visual culture has been in development since 2014 and has encountered a series of delays and controversies along the way. Nonetheless, the museum will be free for the first year for all Hong Kong residents.
Housed in the West Kowloon Cultural District, the building was designed by Herzog & de Meuron in partnership with TFP Farrells and ARUP. The building is defined by an expansive podium that is juxtaposed to a long slender tower — creating an upside-down 'T' silhouette. The center contains 17,000 meters of exhibition space that includes 33 galleries, three cinemas, a learning hub, and a rooftop garden with incredible views of the Victoria harbor.
One of the institution's first major exhibitions will be "Hong Kong: Here and Beyond," an exploration into the many disparate disciplines and forces that have shaped the city over the years. On view is a large collection of work donated by the entrepreneur, Uli Sigg, who is widely considered as one of preeminent collectors of contemporary Chinese art.
Despite the buzz around this new cultural gem, M+ has certainly experienced its share of hurdles. The museum's original director, Lars Nittve, resigned in 2015 and the main contractor working on the site was fired three years later. Additionally, M+ and its chief executive parted ways just last year.
Another area of concern has been whether the museum will showcase artwork that is in any way critical of the Chinese government. As reported by Artnet News, several of Ai Weiwei's work, including the 1997 photograph, Study of Perspective: Tian'anmen, which shows the artist sticking the middle finger to Tiananmen Square, has since been removed from the M+ website. In response to the censorship, the museum stated, "M+ is reviewing the treatment of certain images of works having regard to the advice obtained from relevant authorities including the Office for Film, Newspaper and Article Administration."
M+ will open its door on November 12. To see more info on the museum and member prices, please visit here.
Also in the news, past meets present in a new auction called "Eye of the Collector."
M+ Museum
West Kowloon Cultural District,
Hong Kong