Lil Nas X Reveals Heavenly 'Montero' Album Cover
Inspired by "Genesis II" by John Stephens.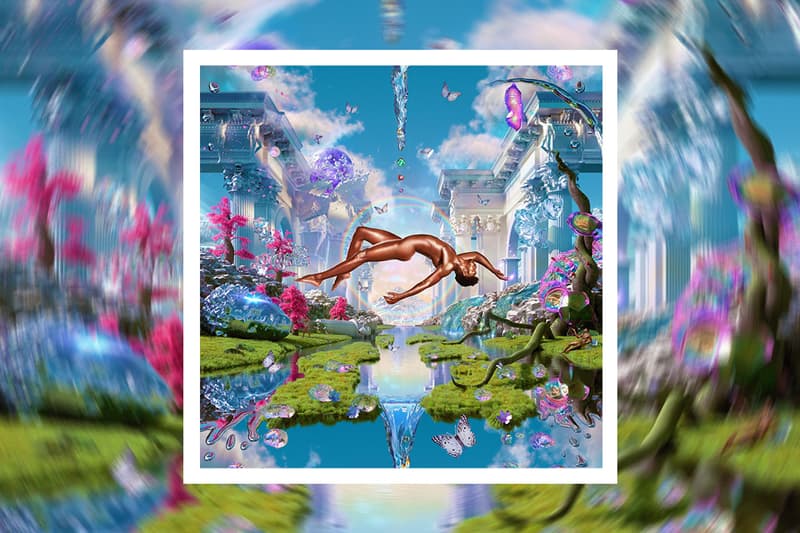 Lil Nas X has revealed the official cover for his upcoming album Montero. The highly visual artwork is saturated with deep colors in its depiction of Heaven with Lil Nas X floating in the center.
INSPIRATION BEHIND
"MONTERO" ??
ALBUM ART:

ARTISTS: John Stephens
ART: (Genesis II)

"Thus the heavens and the earth were completed in all their vast array. By the seventh day God had finished the work he had been doing; so on the seventh day he rested from all his work" pic.twitter.com/0Ba9SJ6m2a

— MONTERO ? (@LilNasX) August 31, 2021
The album cover was inspired by "Genesis II" by John Stephens, who is known for his fantastical realist paintings. Stephens' website details what the "Genesis II" illustrates: "From the apse of Saint Chapelle in Paris to the Baroque Columns of Santa Maria in Campitelli in Rome, to the mountain lakes of the Sierra Nevada Mountains, the water carries a continuity through various dimensions all the way down to the Spiral Nebulae."
For Montero, Lil Nas X took the ethos of what Stephens conveyed and transformed it to fit his personal narrative of growth and self-acceptance. As the artist floats completely naked in the artwork, he is surrounded by a luminescent double rainbow halo. In the bottom right of the artwork, Lil Nas X is seen again laying on the grass in what appears to be a homage to "The Creation of Adam" by Michelangelo.
Other elements in the artwork include vibrantly colored butterflies, fuchsia-colored trees, Greco-Roman architecture a mountain that rests in the distant background and more. Yesterday, Lil Nas X poked fun at Drake's Certified Lover Boy album cover by making his own version of the colorway spread of pregnant man emojis.
Montero is set to release on September 17.
In related news, Lil Uzi Vert shares an update on The Pink Tape.