For Nicole McLaughlin, Upcycling is a Fine Art
The creative — and first-ever Arc'teryx design ambassador — on turning trash into treasure.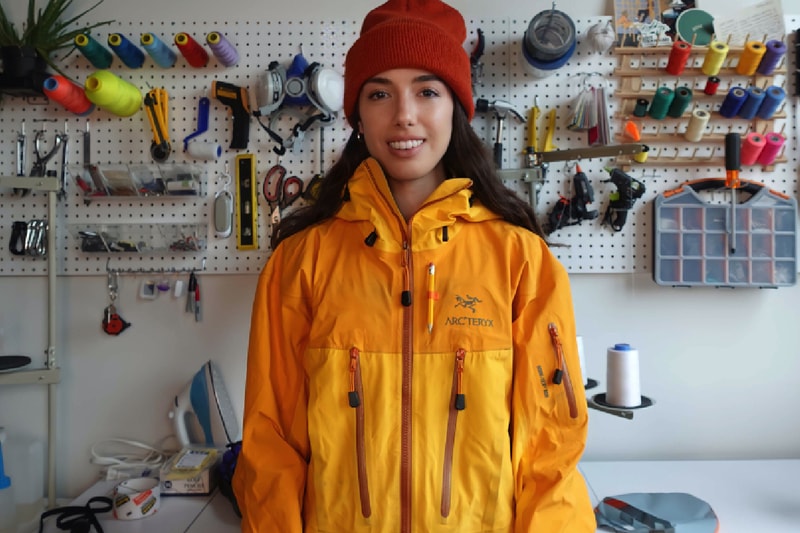 For those unfamiliar with Nicole McLaughlin, the popular fashion podcast Throwing Fits perfectly described the New York designer as the "the sultan of the upcycle", "the duchess of deconstruction" and "the governess of gorp".
Since HYPEBEAST spoke to McLaughlin in 2019, her reputation for creating unique and functional garments from thrifted apparel and everyday household items has seen her Instagram following grow to almost 640,000, at the time of writing. From a bra made from croissants and shoes from shuttlecocks, to sliders with USB cables for straps and nail files for earrings, the former graphic designer's astronomical rise in the world of design was only a matter of time.
Earlier this year — and prior to recent and ongoing murmurs of an impending collaboration alongside Dior (which she has neither confirmed or denied) — McLaughlin was announced as Arc'teryx's first-ever design ambassador in an appointment she describes as "a literal dream come true".
This followed a string of successful collaborative releases with the likes of Crocs and Russell Athletic, as well as a handful of more recent solo projects that saw McLaughlin raffle one-off pieces to raise money for various charities and organizations.
Now, fully bedded in her new role with Arc'teryx, HYPEBEAST sits down with "the superintendent of scraps" (another Throwing Fits superlative) for a chat about how her love for upcycling began, what her role with the Canadian outerwear brand entails, and how her love for rock climbing and the outdoors continues to anchor every piece she creates.
HYPEBEAST: How and when did you first get into upcycling?
Nicole McLaughlin: I have been doing this for a couple of years now. I used to work for Reebok as a graphic designer and it was then that I started to see the bad side of fashion in the amount of samples and piles of products that surrounded me. It made me start to think about how much stuff the brand was making, but also about what happened to the leftovers after.
So one day I was sitting at my desk and thought about cutting pieces up and messing around with them for my own sort of personal project. As a designer I was always curious about how things were made, so I started to take things apart and remake them differently.
Soon after that I began thrifting and looking for second-hand things I could rework too. I was super new so I didn't want to start ordering brand new rolls of fabric, so I was trying to find things that had stains or holes in them at thrift stores.
What was the first thing you ever upcycled?
I definitely have some prototypes that have never seen the light of day, but a very early one was when I took tissue paper from a Dover Street Market bag and turned it into a not so wearable button down shirt. I didn't know how to sew back then, so I was kind of stapling everything together. Back then it was more about seeing how things were constructed and getting my pieces to a point where they were at least functional, if not wearable.
Have you ever had an idea that really hasn't come off?
It happens quite a bit actually. It's funny because a lot of the ideas I've had happen to, but I never fully give up. I often put it to one side and often revisit it in a few weeks, months or even years later with a fresh headspace and usually better creative skills too.
"I don't think anything is impossible. So when I'm looking at a fabric or an item to rework, I always leave it very open".
What's the creative process behind your pieces?
I don't think anything is impossible. So when I'm looking at a fabric or an item to rework, I always leave it very open. A lot of the time I put the pieces in front of me and sit there and just day dream a little bit. It happens a lot before I fall asleep. Pre-pandemic I used to like going blindly into thrift stores or charity shops and getting a feel for materials and items which can spark inspiration too. Leaving it open-ended when I start a creative process is essential for me.
Many of your pieces are often super functional, even if it could sometimes come as a bit of a surprise. How important is functionality to you?
It's very important. It might sometimes not even seem like certain things I make are functional, but they are. Storage is massively important to me and one of the main reasons I started putting secret pockets on strange garments. I started doing it subconsciously really. When I was at Reebok and they were looking to save money, they'd often take out pockets for time-saving. So as a kind of "F U" to the industry I started putting as many pockets on my pieces as I could. There have been so many times when I've seen someone take a pocket off a windbreaker or a back pocket off a pair of pants to save money and I just think we need to keep them on. We need them.
What makes a good garment to upcycle? What do you look for?
I love trims. That's one of my favorite things. Everytime I go thrifting I'm looking for something different, maybe one day it's a color, the next a fleece material or something. I'm always on the lookout for a jacket or an item that has the most I can work with, that being a lot of pockets, reflective taping, zippers, pullers etc. The more it has on it the more I can pull from. Even if it's not all for one project, I can use it for other things. I definitely try and get the most out of my buck when I'm in a thrift store.
I always look for strange things too. Things people wouldn't tend to pick up in a thrift store. I try to be mindful that I'm not taking pieces that could be other people's first pick that they might actually need. So I look for things that have very visible wear. Hats and beanies are good too, some people think that's a little gross, but I'll use it for a shoe or something like that.
What's your favourite piece you've made?
The volleyball shoe. I'll always say that's one of my favourites. It was one of the first times I ever took a three-dimensional spherical object that has one use, and decided to turn it into a shoe. It was at that moment I realised I could do anything, and everything could be reworked. The way the volleyball brought comfort, shape and structure to the shoe, it just ticked so many boxes.
So was that a sort of eureka moment for you?
For sure. It was early on too. It was in 2018 and it was then realised I could make good things and push boundaries. A lot of the time my stuff can be considered memeable and funny, but I am a problem solver at the end of the day and I'm trying to find those things we didn't know we needed. I hope these conversation-started pieces can maybe give inspiration to other designers too.
You often cite climbing as a big inspiration and even have a climbing wall in your studio. What is it about the sport that you love and how do you go about translating that into your work?
I love rock climbing. It's such an amazing sport. I grew up playing sports and all my work is now rooted in my love for sports and the outdoors. Rock climbing is such a personal best type of sport where you're trying to improve your own performance. It's such a good problem-solving sport in the sense that you don't even realise you're working out, you're on the wall and you're using all of your energy to stay on it. I find it so stimulating and helpful mentally, especially when I'm stuck in a project too.
The gear that goes with it plays a big part too. I love the outdoors, I love hiking and that kind of stuff, and that's really where my love for functional wear started. I went to school in a very mountainous area, so I always needed the right gear to succeed. I now reference things I've needed throughout my life in my work now for sure.
"A lot of the time my stuff can be considered memeable and funny, but I am a problem solver at the end of the day and I'm trying to find those things we didn't know we needed".
Earlier this year you became Arc'teryx's first ever design ambassador. How did it come about and what does the role entail?
It's a literal dream come true. As a person who loves the outdoors and appreciates technical clothing, to partner with Arc'teryx is incredible. I've always been a fan of the brand and last year I had the chance to work with them on some pieces to help raise money for #BlackLivesMatter. The success of that turned into a wider conversation about how we could work together long-term, which soon moved into collaborating on new ways of working, figuring out a system for the circular model of their jackets and the life span of them. I now have such a great team of people from their side supporting me, whether it's sending me gear or different things to keep me inspired.
What are your earliest memories of Arc'teryx as a consumer?
They opened up a store on Newbury Street, Boston, in around 2016. I kept passing it and the merchandising always caught my eye. Something about it made me want to go in, maybe it was the natural element of it. I was familiar with the logo, but I'd never really fully grasped what it was. The store impressed me so much that soon after that I went in search of thrifting Arc'teryx pieces.
What advice would you give to someone looking to start upcycling?
A lot of young people have ideas they think they can't explore because they don't have the proper tools, degree or the knowledge, but my best advice is to try your best to work through that and make things happen. If you don't have the technical skills you can work on the creative aspect, even if you make something with paper or cardboard, the idea side of things is the most important. The technicalities and skills can be taught through time, through YouTube and so many other resources. Be open for feedback and don't be afraid to share your work either, anything could happen.