A Beginner's Guide to Some of Rolex's Most Intriguing Submariner Variants Pt. 2
From "COMEX," "Milsub," and "Serti."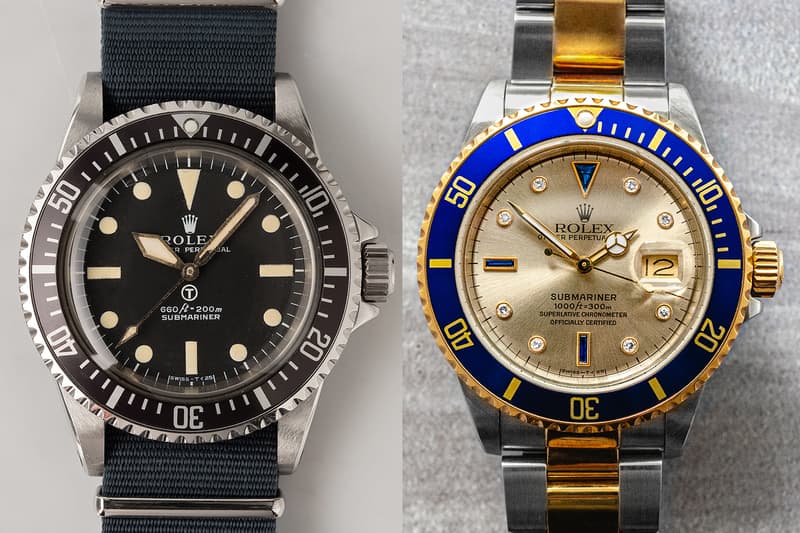 The Rolex Submariner has been a mainstay in Rolex's repertoire of watch models for decades. One of the most faked models, and with scary accuracy, the Submariner has appeared in numerous variants from more dressy 18K gold versions to understated stainless steel timekeepers for daily wear.
Remaining as a robust tool watch at its core, there have been so many subtle tweaks done to the Sub over the years that many new watch enthusiasts easily get lost in the deep dive. Cementing itself as a wristwatch legend, which is explained in our ICONS Submariner piece, the Submariner can either be an entry point into watch collecting or a grail depending on the reference.
Following up from Part 1 of our beginner's guide to Rolex Submariner variants, Part 2 delivers some new intriguing versions of the Submariner and their origins, and of course, some juicy watch shots for your viewing pleasure. With the help of Paul Altieri of Bob's Watches once again, here are some more intriguing Submariners that you may not have known about.
5513 "Underline Explorer Dial"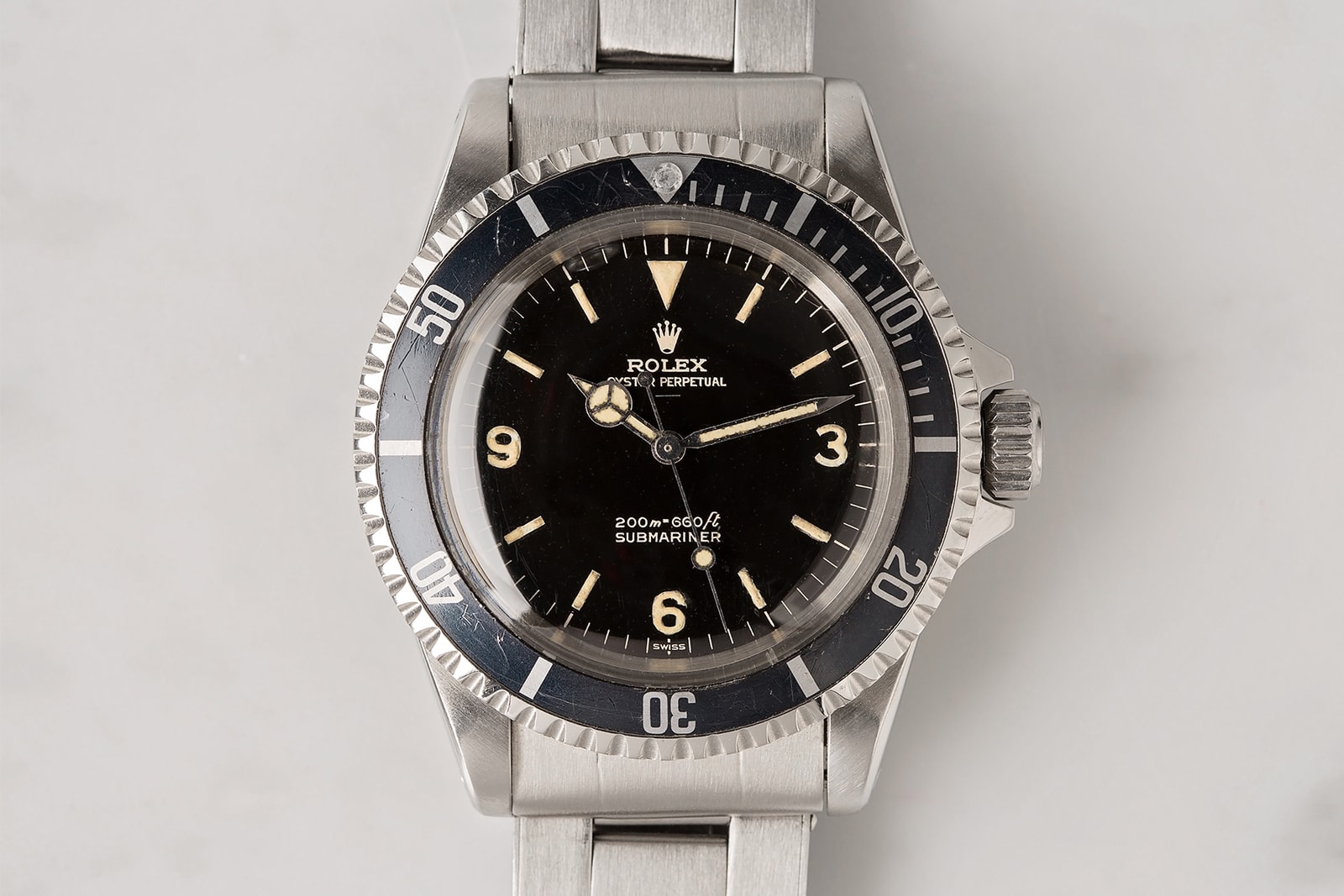 Among all of the various dials that were fitted to reference 5513 Submariner watches during the model's 27-year production run, the Explorer-style dial is easily one of the rarest and most collectible. Only fitted to Submariner 5513 watches during the first few years of the model's existence during the early/mid-1960s, these glossy gilt dials feature large 3-6-9 Arabic numerals and slim luminous batons – just like the iconic dial of the Rolex Explorer. Additionally, the dial text is smaller on these "Explorer dial" ref. 5513 watches in order to give the markers more space and improve legibility. This particular example is also an "underline dial" (characterized by the small horizontal line that appears under the words "Oyster Perpetual"). Underline dials are only found on Rolex watches from around 1962 to 1964 and it is believed that this marking was used to signify the use of less-radioactive tritium instead of radium for the hour markers.
16610 "Comex"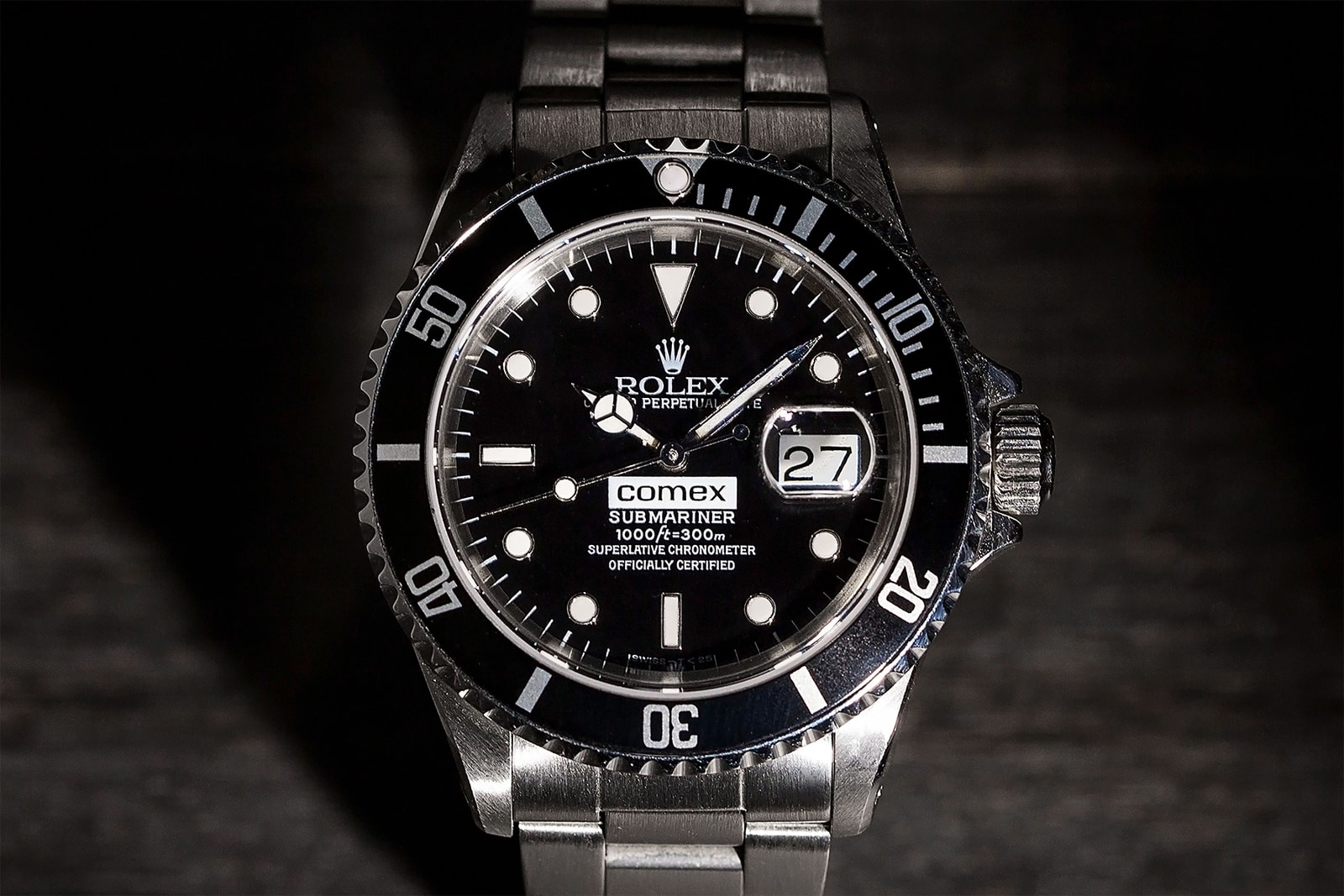 As a way to obtain real-world testing data on its watches, Rolex partnered with the French deep-sea diving company COMEX in 1970. The partnership between the two brands lasted until 1997 and during that time, Rolex supplied Submariner and Sea-Dweller watches to COMEX divers who would report back regarding various aspects of performance. Some of the watches were prototypes used to test new technologies, while others were awarded to high-ranking COMEX employees. The most desirable and collectible examples feature the COMEX logo on their dials, along with caseback engravings that have their COMEX-issued numbers. This particular COMEX Submariner is from the 1990s and reference 16610 holds the distinction of being the last Submariner model supplied to the legendary deep-sea diving company. It is estimated that in total, there are only a couple hundred COMEX Submariner 16610 watches in existence, making each one a true 'grail watch' for many Rolex collectors.
6538 "Two Line Tropical Dial"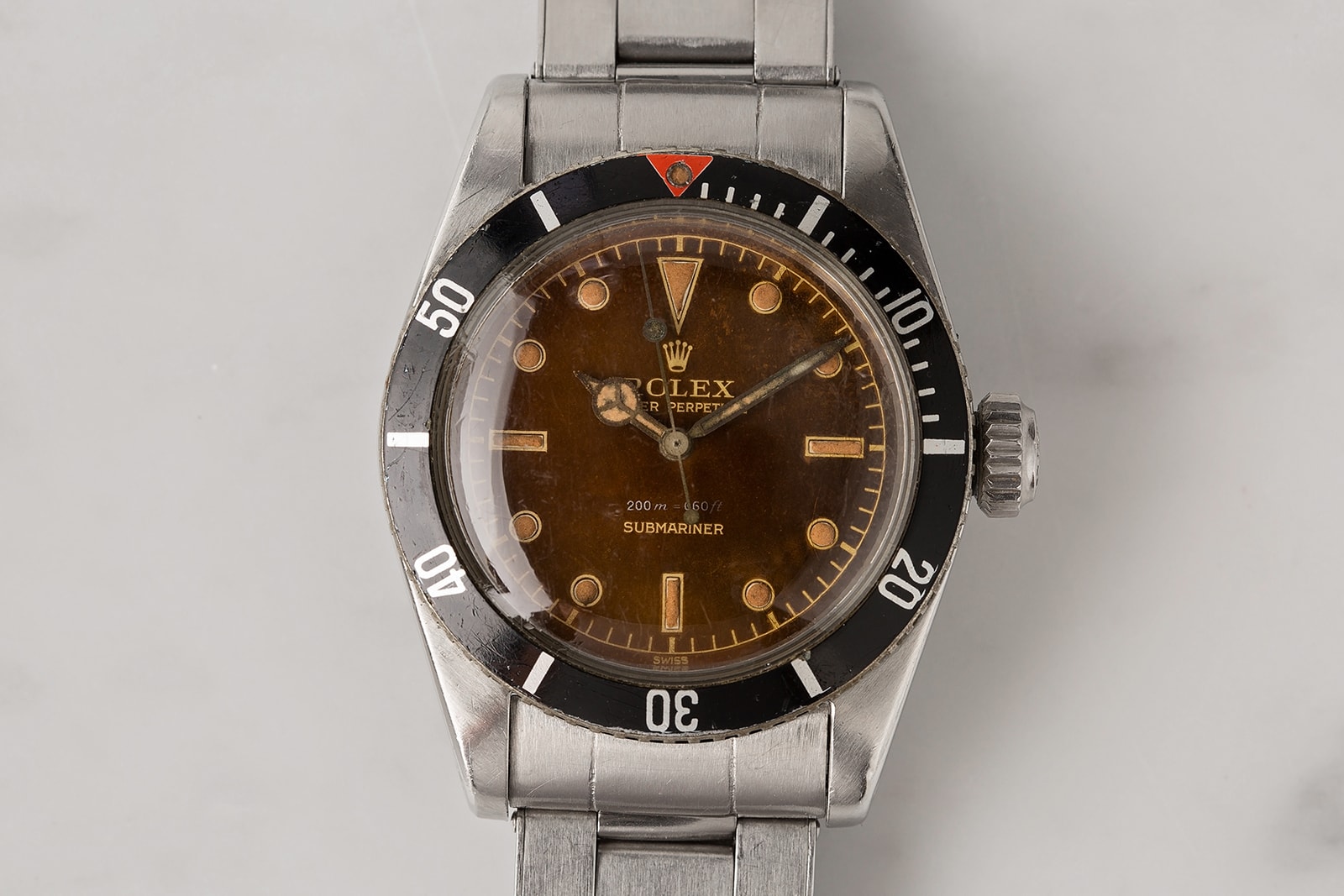 These days, James Bond may wear Omega timepieces but for many people, a Rolex Submariner will always be the original Bond watch. When Sean Connery appeared as Agent 007 in the very first Bond films, it was a "Big Crown" Rolex Submariner reference 6538 with a two-line dial that was strapped to his wrist. Only produced during the second half of the 1950s, the ref. 6538 is immediately identifiable due to its case without crown guards and oversized 8mm winding crown. Although Submariner 6538 watches can either be fitted with two-line or four-line gilt dials (depending on whether or not they were chronometer-certified), all of them were originally gloss black when they left the factory. However, due to minor imperfections in the surface finish, along with exposure to just the right conditions over many years, a small number have naturally faded to a rich brown color. Known as "tropical" dials, no two examples are the exact same and they are prized items among many vintage watch collectors.
5517 "Milsub"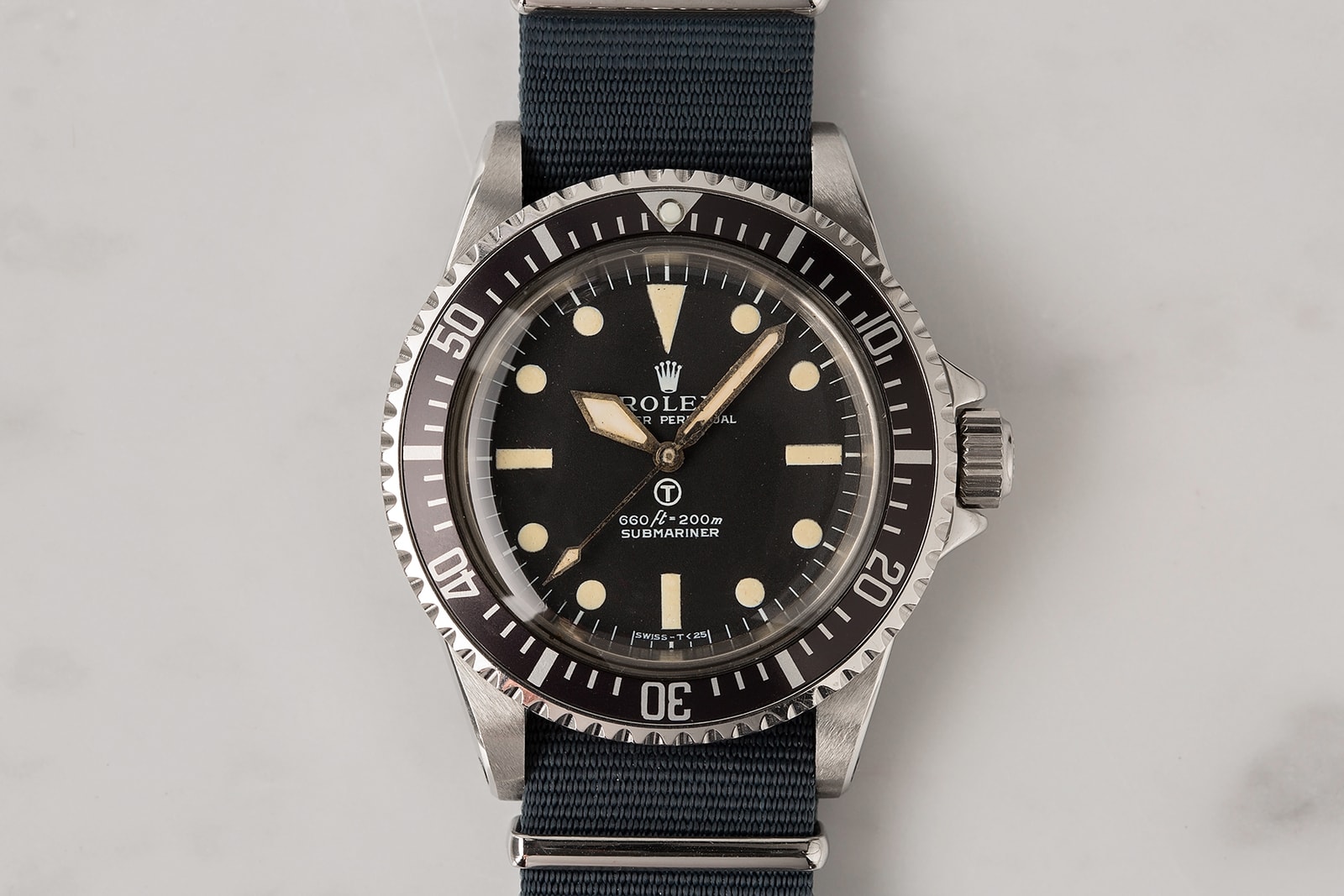 Long before Rolex was the world's most famous luxury brand, the company built its reputation by producing tough and reliable tool watches. Many of Rolex's iconic sports models were previously worn by explorers and military personnel, and some branches even supplied special Rolex watches to their service members. In the early 1970s, Britain's Ministry of Defence ordered special Rolex Submariner watches with the following list of additions: sword-shaped hands, fixed bars at the lugs, fully-demarcated bezel inserts, and a circled 'T' on the dial to denote the use of tritium for the luminescence. These military-issued Rolex Submariner models are known as "MilSub" watches and were produced with 5513, 5517, or double-stamped 5513/5517 reference numbers, with the latter two being exclusive to military-issued Submariner watches. Since these MilSubs were produced in small numbers, never sold to the public, and all saw active use, only a small handful have managed to survive to this day, and they are easily among the most valuable and collectible Submariner watches in existence.
6204 "Split Logo OCC Dial"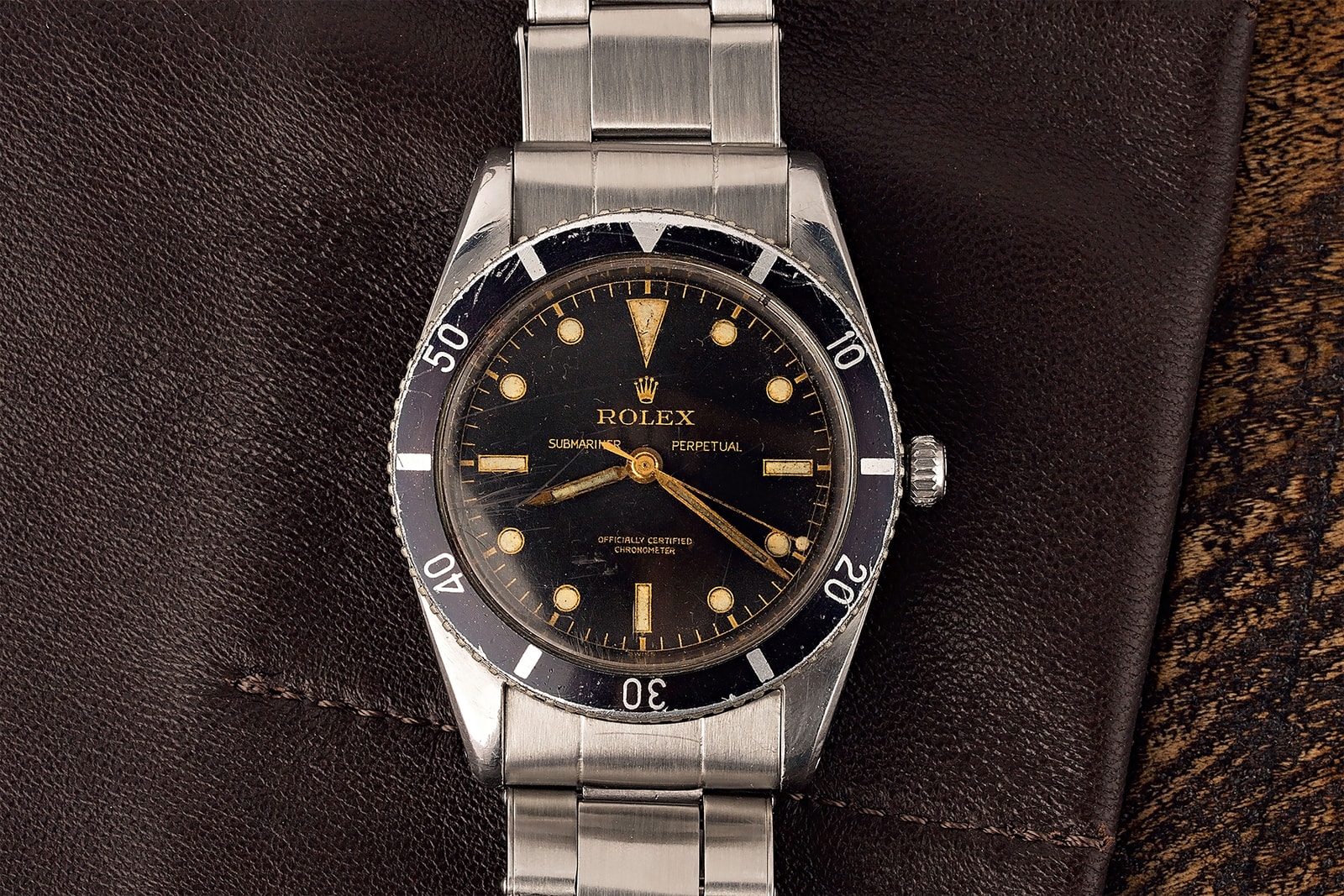 The reference 6204 is the very first Submariner that Rolex produced, and it possesses a number of unique traits that separate it from subsequent models such as its pencil-style hands, lollipop seconds hand, and small 5.3mm winding crown. Although the ref. 6204 was only produced for less than one year, surviving examples can be found with a surprising range of dial variations. This particular example has an unusual version of the "split logo" dial, where the words 'Submariner' and 'Perpetual' are separated by a wide space and printed on either side of the center hole where the hands are mounted. Additionally, unlike most Submariner 6204 watches, this one has the words "Officially Certified Chronometer' printed on the lower half of its dial, which signifies that its movement was submitted for independent chronometer testing.
16803 "Serti"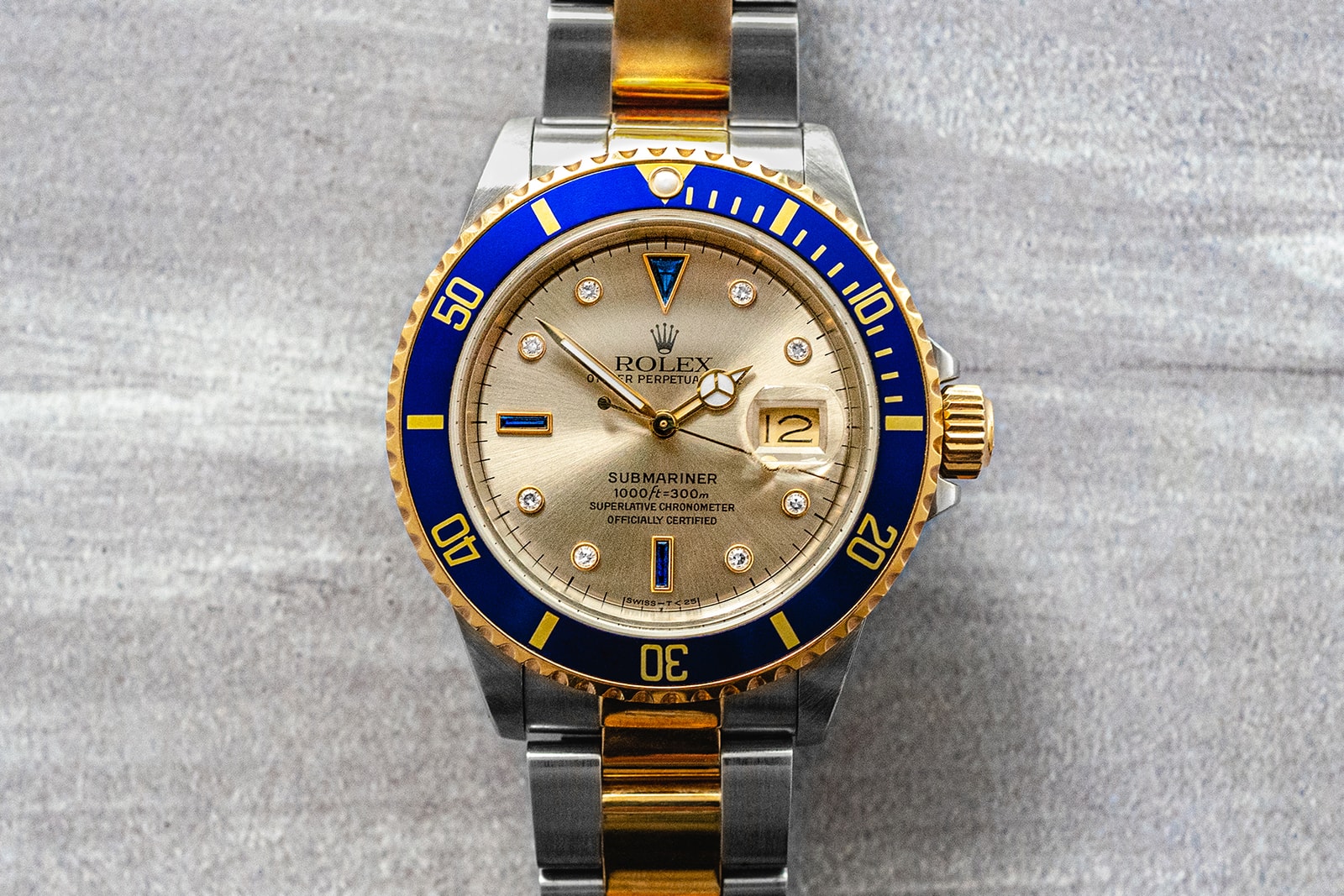 Rolex, at the end of the day is a luxury brand, and to really emphasize that notion of a premium product, they not only incorporated 18K into their watches but at some point in the early '80s they started adding precious stones to its sports range. Not to be confused with aftermarket bezels and dials set with diamonds, these "Serti" dials (French for "sertissage" or "to set") saw elevated champagne, mother of pearl, and slate dials each factory set with diamonds, rubies, and sapphires. While the "Serti" treatment did make its way to models like the GMT-Master and the Yacht-Master, the Submariner is the watch that comes to mind when thinking of a Rolex "Serti," with its eight diamond hour markers and 6, 9, 12 blue gemstone-set dial. This two-tone transitional 16803 Sub really pops with its vivid blue bezel, aging silver dial, and precious stones. Hard to believe this reference was only around for four years.
In other watch news, Giannis Antetokounmpo wears a Rolex Sky-Dweller to Championship parade.