Lando Norris Leads the McLaren Charge Into the Monaco Grand Prix
The Formula 1 prodigy talks to HYPEBEAST about his relationship with Daniel Ricciardo, the track limits controversy, and the fantastic Gulf livery for the upcoming weekend.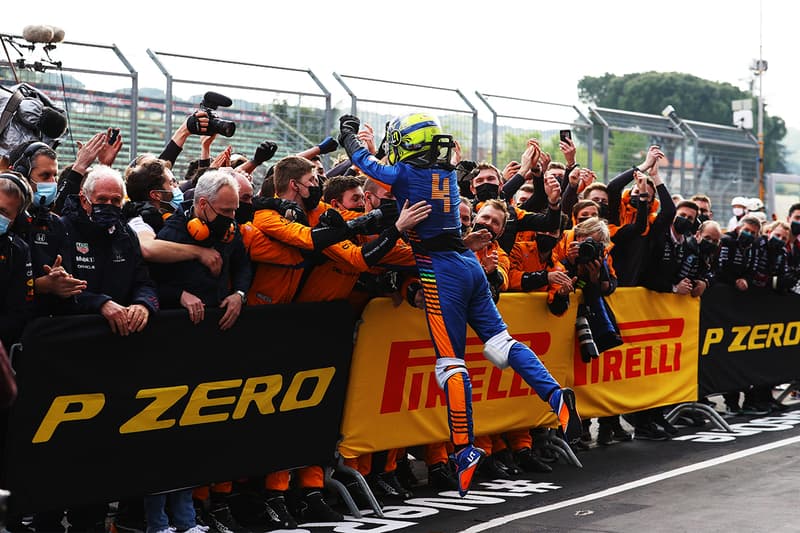 1 of 3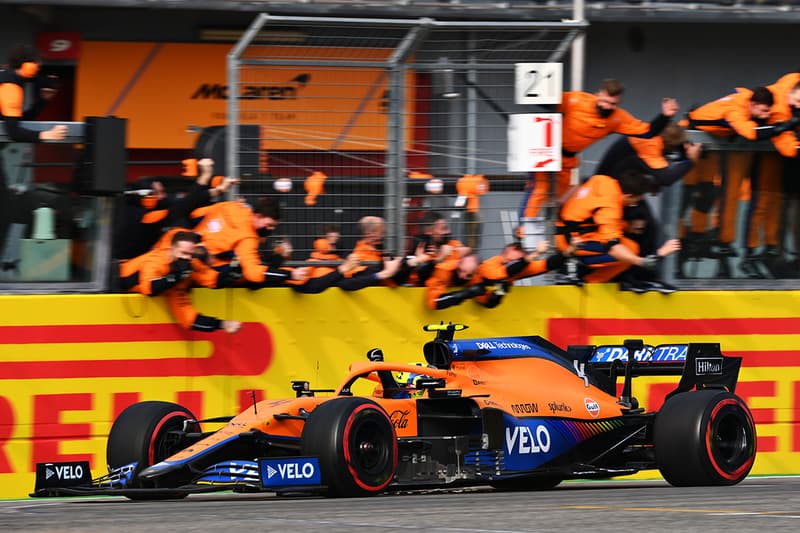 2 of 3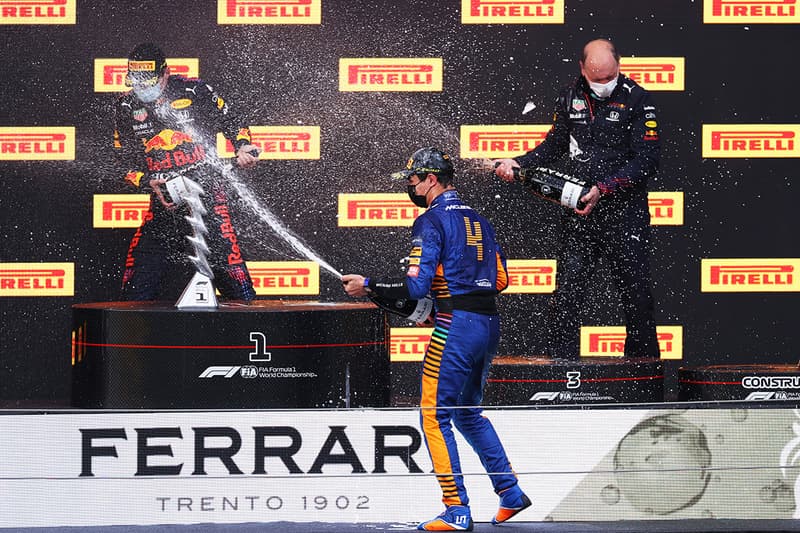 3 of 3
Despite being only three years on the grid, Formula 1 driver Lando Norris has excelled at McLaren, taking home his maiden podium in 2020 and claiming a second one earlier this year while finishing top five in three of the four races so far. And though the young prodigy's success on the track is impressive, there's also much to be said about McLaren as a team over the past few seasons, clinching P3 from the constructors' championship ahead of Racing Point in 2020 and showing even greater pace this season.
After connecting with the team's new driver Daniel Ricciardo pre-season, HYPEBEAST now links up with Norris on his exceptional performance so far, the competitive edge the MCL35M has given him, his relationship with his Australian teammate, his take on the whole track limits controversy, and the new Gulf livery going into Monaco.
2020 was a great year for you, but there's no question that you've really stepped up your game this year. You've finished top 5 in all three races so far, and took home a podium finish at just the second race of the season back in Imola. What do you attribute this leap in performance to? Have you changed the way you approach your racing?
I think there isn't one answer for it, it's not like it's exactly this and that's it. I mean if I want to put it down to that it's just been a lot of work – hard work I would say. A lot of time spent at the factory with my engineers going through things, reviewing last year, trying different driving styles on a simulator to be able to input that into this year. But I also ended 2020 very well, so it's not like everything is completely new – I felt like I was trying things and coming up with new ways of driving that I've been able to implement a lot more into 2021. I feel some added confidence just because it's my third year in Formula 1, so it's just that kind of feeling of being refreshed, renewed, and ready to go for another challenge.
I guess there's also a bit of a different responsibility for me within the team. I'm now the guy with the experience of McLaren and the past few years working with the team. Danny's come in with a lot more experience with Formula 1, because he's been in it for much longer, but from different teams. So we can all add different things in the debriefs. There's more responsibility upon me now to give my knowledge of the last few years and lead the team in different ways and I feel like I've had to step up a little bit more to that and that's helped me do better. It makes me think about racing more.
Aside from your own success, McLaren is also performing exceptionally well so far despite the regulation changes, and the team is quite clearly in an upward momentum. What do you think separates McLaren from the rest of the mid-field pack?
I wish I knew the exact reasons. I guess the things I can think of that could play a part are: I feel like I'm doing a very good job – I want to say without being overconfident – and the teamwork. We're working great together as a team in all the practice sessions. We haven't always started the weekends off very well, or that quick, but we've made a lot of progress and we've performed well throughout the weekends.
Then I feel like I'm doing a good job from my side with qualifying and the races, and doing well with strategy, the tire-saving, the overtakes, learning when to be aggressive, when to be a bit more on the cautious side, and things like that. I think the car as a whole is definitely a bit more competitive this year as well. If we combine my performance with a better car, things can start to look very hopeful and we can have a good, strong weekend. I think that's what we've shown so far, and we just have a good structure and a good plan in place that we're working on, looking at ourselves. You know, we're not thinking "Oh no Ferrari are really close to us this weekend, or a bit ahead, or Renault…" or anything like that. We're not getting distracted by other people – we're focusing on ourselves and doing the best job we can.
Before the season started, a big highlight for fans was the change to a Mercedes power unit. As a driver who now has three years of experience in different iterations of the car, how much has the new power unit improved the car's performance?
It's definitely improved performance in some areas. The actual performance of the engine is slightly better, which means more straight line speed and more power, but it's not all perfect. I want to be positive, but there are some things that we've been working on a lot since the beginning of the season, some things which we had last year that were actually quite good and we can use the experience of working with Honda, with working with Renault, and then giving that feedback to Mercedes. But it's definitely been a part of the improvement from last year. It's a bit of a split between the car being better – me doing slightly better, and the engine also adding to that. Every little 1-2kph you can have at the end of a straight ends up being quite a lot in a race situation, in qualifying, or when defending people, you're a bit further ahead and you can keep the position. Things like these add up, and it may not seem a lot when you look at it, but sometimes it can make or break a podium finish.
Speaking to Daniel Ricciardo before the start of the season, he made it clear that he's at McLaren to race and win, not just for fun and games or what he called a "comedy show." With a few races in now, how has your relationship with your new teammate been so far? Have you been able to learn from each other, and are there more defined roles that the two of you have taken on?
Things are going very well. We're still in the early days and if I remember where Carlos and I were at this point in our first year, we weren't best mates at that time. We were learning from each other, getting to know each other, and I think that's the same with me and Danny at the moment. We're very different characters. Although some people might say we're similar, I think we're very different, and that's a good thing. We both have our strengths and weaknesses and we're both able to push each other a lot on the racetrack. Even though he's had a tough start, he's still been very good in some areas and I've already been able to learn from him. Things are going well between us, we're getting along and working well as teammates which is most important.
But I don't think we have set roles, we just have different experiences which we're able to help each other out, to help the team with. He has a lot more experience with Formula 1 and working with different teams and that's something that I just simply can't add because I've not been with different teams, and I've not had 10 years experience with Formula 1 – he can add things that I simply cannot. And I'm able to contribute things from the McLaren side, since I've been working with them for three or four years. It's just that we come from different directions, so we say different things because of who we've been with over the last few years. It's as simple as that.
Looking back at the three Sundays so far, it seems like Ferrari would be your main opponent this season in the fight for P3 in the constructor's championship. How does it feel to be racing so closely against your old teammate Carlos Sainz, and does your previous experience driving alongside him help with your fight against him now?
For sure, I think if you get to know someone you learn what he's good at and what he's not good at – or what he's not as good at, because I think all drivers in Formula 1 are just good at everything. There are just some better than others. I've been able to learn what he's very strong in and what he maybe isn't quite so strong in, and when you're on track sometimes you can use that against them. You sort of know what they're thinking, and how they want to approach situations.
But it's the same between everyone, not just Carlos and myself. He's going to be thinking of it with me, and I'm sure Danny knows how his previous teammates think and what their approach is and how to try and beat them using that. It's just every advantage you can get from learning from people and you use it against them when you can because at the end of the day, you want to beat everyone on the circuit. So, definitely, but I think it goes both ways: I can use it against him and he can use it against me.
One of the big controversies this season has been track limits. We've seen the debate over Bahrain with Max Verstappen and Lewis Hamilton, and obviously your struggle in qualifying at Imola. Max also had his fastest lap removed at Portimao, and it seemed for a second you also had troubles with track limits after your safety car restart when you overtook Sergio Perez. What's your take on the whole track limits situation?
I don't think it's any different to last year. It's just that Max has gone off a couple times and because they obviously get bigger news, it causes more controversy coming from someone who's going from pole position. But I don't think it's any different. The difficult situation is when you define getting an advantage for an overtake or overtaking someone off the track which is just very hard to judge and sometimes you can't implement certain rules like putting gravel on the exit of a corner. Sometimes that's just not possible because Moto GP or motorbikes have to race there and circuits can't do everything that you want.
But it's no different. The rules are exactly the same as last year. It's just that sometimes the stories are bigger because the people who have exceeded the track limits are going for a pole position or a podium, or a P3 like myself in Imola. And sometimes the fans watching feel sorry for them and that's when the stories get created, but I didn't complain about what happened at Imola. That was just a mistake on my part and that's the way it goes. I had to take it on the chin. But when you see it more from Max in qualifying or Max in the race going for fastest lap, they complained about it a lot, but at the end of the day – and it's the same for me – you just shouldn't have gone off the track, it's as simple as that. There's a rule there and it's the same for everyone.
When McLaren announced the return of its Gulf partnership last year, many fans were delighted to hear that Formula 1 is getting such an iconic pairing back, and now we know that the two brands are planning something special for Monaco to celebrate this heritage. Can you tell us more about this collaboration?
There's been quite a bit of preparation and things building up to it. I think it's one of the first times, apart from Mercedes going to their black livery, that there's been such a big overhaul – or something so big to happen on a Formula 1 car with the livery and the kind of story that it can tell. It's been pretty awesome being part of this and creating the build-up to it all. It's also cool as a driver, being a part of it and knowing the history that McLaren had with Gulf, or just the one Gulf had in the past with racing. Everyone knows of Gulf cars that have competed in Le Mans or other championships, it's such an iconic livery. I think the car looks incredible, and to create something like this – create such a cool story – is something that will be part of the history of Gulf and McLaren. It'll be pretty awesome to look back on in later years.
The partnership between Gulf and McLaren goes back all the way to the late 1960s. As an incredibly young prodigy in Formula 1, how does it feel to bear the names of a pairing with such a strong racing pedigree?
It's difficult to answer. I grew up watching a lot of motorsports and whether it was Formula 1 or just any other kind of race, you always notice when there's a Gulf livery. Not just being part of McLaren or one specific team but kind of creating a story out of it and it having a lot of meaning to the team and to Gulf as well – adding to that is what makes it cool, knowing that's what they had back in the day. And you don't really get to do it that often – it's a one-off – and it's a unique race in Monaco, so to be able to add to that story and to dream of that growing up as a kid, that's what really makes it special.
The Monaco Grand Prix will take place Sunday, May 23.