Best New Tracks: Lil Nas X, Sevdaliza, Vic Mensa
10 projects to round out your week.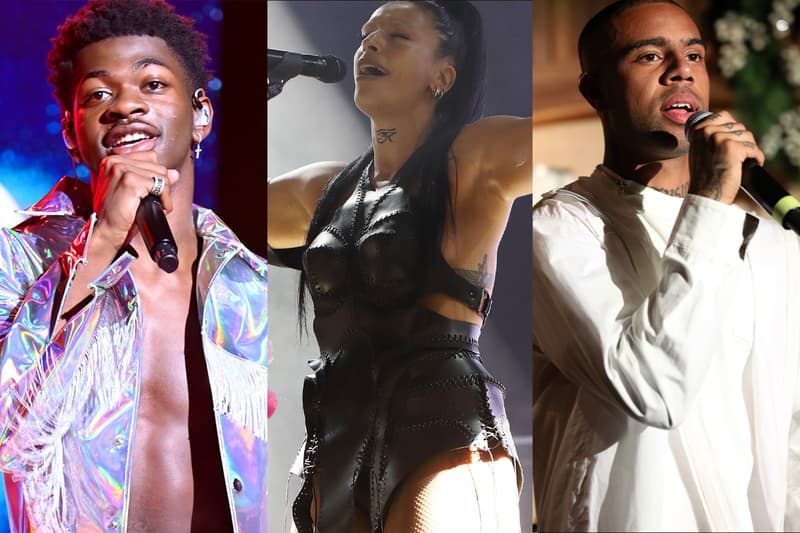 As the week in music comes to a close, HYPEBEAST has rounded up the 10 best projects for the latest installment of Best New Tracks.
This week's list includes Lil Nas X's highly-anticipated single "MONTERO (Call Me By Your Name)," a music video for Women's Month by Sevdaliza and the I TAPE from Vic Mensa. Also joining this selection are serpentwithfeet and Yaw Tog with an album and EP, Blxst with a visual alongside Ty Dolla $ign and Tyga, a cover from Shamir, a collab from LOONY and Mick Jenkins and new cuts from SwaVay and Gareth T.
Lil Nas X – "MONTERO (Call Me By Your Name)"
Lil Nas X finally released his new single "MONTERO (Call Me By Your Name)" after first teasing it in July 2020. Named after his legal name and the LGBTQ-focused film, the artist revealed in a statement that it is about his sexuality and an intimate relationship. "I wrote a song with our name in it. It's about a guy I met last summer. I know we promised to never come out publicly, I know we promised to never be "that" type of gay person, I know we promised to die with the secret, but this will open doors for many other queer people to simply exist," Nas X wrote. "You see this is very scary for me, people will be angry, they will say I'm pushing an agenda. But the truth is, I am. The agenda to make people stay the fuck out of other people's lives and stop dictating who they should be. Sending you love from the future."
Listen: Spotify | Apple Music
Sevdaliza – "Darkest Hour"
Sevdaliza revisited her 2020 album Shabrang with a visual for "Darkest Hour." Commemorating Women's Month, the artist spent months compiling footage of extraordinary women from India to Berlin, Armenia, Jerusalem and New York to celebrates their unique journeys, beauty and strength.
Listen: Spotify | Apple Music
Vic Mensa - I TAPE
Chicago's Vic Mensa released his V TAPE followup I TAPE, enlisting the help of DIXSON in "INTRODUCTION," Tish in "MILLIONAIRES," Zacari in "FR33DOM," Jeremih, Eryn Allen Kane and Wyatt Waddell in "MOOSA" and Chance The Rapper and Wyclef Jean in "SHELTER."
Listen: Spotify | Apple Music
Blxst x Ty Dolla $ign x Tyga – "Chosen"
Blxst shared an accompanying music video for "Chosen," his No Love Lost (Deluxe) cut featuring Ty Dolla $ign and Tyga. Taking inspiration from iconic college films like School Daze, Stomp the Yard and Love & Basketball, the visual captures the quintessential American college experience.
Listen: Spotify | Apple Music
Yaw Tog - TIME
Following his recent linkup with Stormzy and Kwesi Arthur for "Sore (Remix), rising Ghanian rapper Yaw Tog has released his debut EP, TIME. The six-track project puts the 17-year-old artist at the center of the West African drill and hip-hop movement as he reflects on themes of brotherhood, growth and struggle while capturing the true energy of Kumeria.
Listen: Spotify | Apple Music
SwaVay – "5 Minutes"
SwaVay continues to keep his focus as Atlanta's Next up with the brand new single, "5 Minutes." The contemporary R&B cut hears the artist highlight his vocal range and abilities while playing around with smart lyricism and an addictive hook.
Listen: Spotify | Apple Music
LOONY x Mick Jenkins – "royal flush"
Toronto-based artist LOONY, who was named as one of HYPEBEAST's artist to watch out for this Spring 2021, as teamed up with Chicago's Mick Jenkins for "royal flush." The collab is set to appear on her upcoming EP soft thing, with LOONY explaining the song as "the stage before 'be cool.'" She added, "You know that period of time when you're feeling someone, and you're pretty sure they're feeling you too? It's like, I feel like we both have a winning hand here and if we play it, the world could be ours, but we're both not ready yet. There's also an element of okay great, if you're not ready to do it yet with your chest, with your whole heart, it's best that we don't start this brand-new thing yet. Don't play face down with me. When you're serious, you'll show me, and it'll be great."
Listen: Spotify | Apple Music
serpentwithfeet - DEACON
serpentwithfeet has dropped off his newest album, DEACON. The 11-track project is billed as "a study rather than a story," exploring Black, gay love and the tenderness felt in companionships, and was inspired by his move from New York City to Los Angeles. "I originally approached this project wanting to make something that felt very sensuous," serpentwithfeet said in a previous statement. "Something a lot softer, a lot more gentle than my previous work."
Listen: Spotify | Apple Music
Shamir - "Dsharpg"
Shamir delivered his own spin on Sharon Van Etten's "Dsharpg" for her epic Ten, Van Etten's album celebrating the 10th anniversary of epic. "I was drawn to Shamir's music by the immediate authenticity and originality of his voice and instrumentation choices. It felt simultaneously throwback and very here and now. So many genres melting into one another, I couldn't peg it and I loved every minute of the wild ride," she said in a statement. "Not to mention that his vocal range is from another universe and his arrangements are dark and stormy. Self admittedly, I have a harder time keeping up with music today, but Shamir's music stands out as truly original and a force to be reckoned with in his reimagining of a time where I grew up fondly, angsty and dreaming…"
Listen: Spotify | Apple Music
Gareth T – "Boyfriend Material"
Gareth T has released his debut single "Boyfriend Material" under Warner Music Hong Kong. Born and raised in Hong Kong, the artist learned English by listening to Eminem and watching YouTube, and is currently finishing up his final year at the prestigious Berklee Music College in Boston. He uses "Boyfriend Material" to showcase his fused sound of bedroom pop, R&B and bossa nova, and pays homage to classic cinema monsters in the music video.
Listen: Spotify | Apple Music