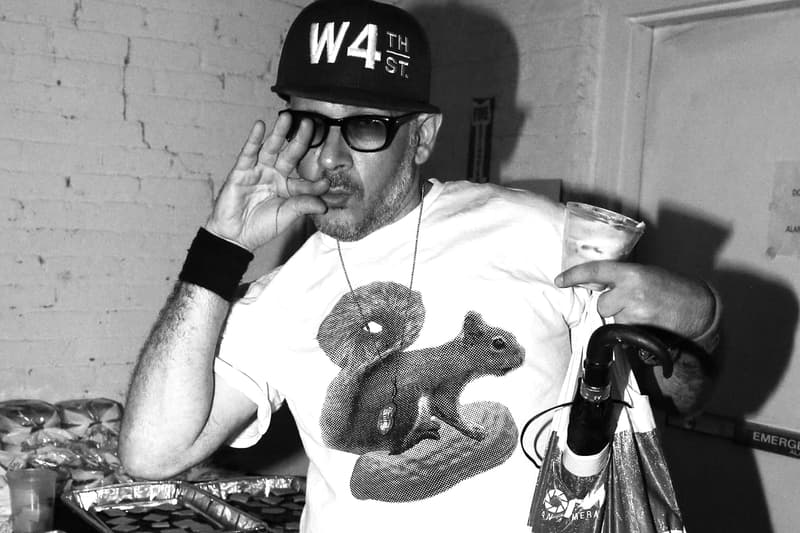 "Fourth Beastie Boy" and Hip-Hop Photographer Ricky Powell Dead at 59
"Homeboy, throw in the towel."
---
Hip-hop photographer and "the fourth Beastie Boy" Ricky Powell has died at 59 years old.
The news was confirmed by his manager and business partner Tono Radvany, "I just want to let everybody know he was a very special man, and he will be sorely missed."
A New York City native, Powell was best known for his work with the Beastie Boys. He joined the group and Run-DMC for their Raising Hell tour in 1986, and a number of the photographs he took became some of the most remembered images in the history of music. He then became the de facto in-house photographer of Def Jam Recordings and went on to collaborate with the two groups and other names such as Public Enemy, LL Cool J, Eric B and Rakim and more. He released a total of four books and even hosted his own Public-access TV show Rappin' With the Rickster where he interviewed the likes of Cypress Hill, Russell Simmons and Doug E Fresh.
Friends and fans of the late artist such as Blockhead, Bobby Hundreds, A-Trak and The Alchemist took to social media to pay tribute, with Questlove quoting the popular Beastie Boys cut "Car Thief" ("Homeboy, throw in the towel / Your girl got d*cked by Ricky Powell") that paid homage to Powell.
Homeboy Throw In The Towel… ? #RIpRickster.

— Director ?uestlove (@questlove) February 1, 2021
RIP to west village legend Ricky Powell. I can't count the times I have run into him in the village, with his camera, and we'd just shoot the shit. He always had jokes and was an original weirdo. pic.twitter.com/clmZ4dAMbc

— Blockhead (@BlockheadNYC) February 2, 2021
I have so many Ricky Powell stories . He used to call me Al-Skadal lol . What a guy. He will be missed. Smoking in your honor . ??

— Alchemist Type Beat (@Alchemist) February 2, 2021
Man. RIP Ricky Powell, my favorite hip hop photographer ever. A year and a half ago I bought a few photo prints of his for my crib. He signed everything and was so cool about it. He always had so much flavor. pic.twitter.com/DWy8CogUNN

— Kibbutzy Collins (@atrak) February 2, 2021
RIP Ricky Powell.

— Bobby Hundreds (@bobbyhundreds) February 2, 2021