'New York Times' Honors the Legacy of Virgil Abloh
Remembering the boundary-breaking multi-hyphenate.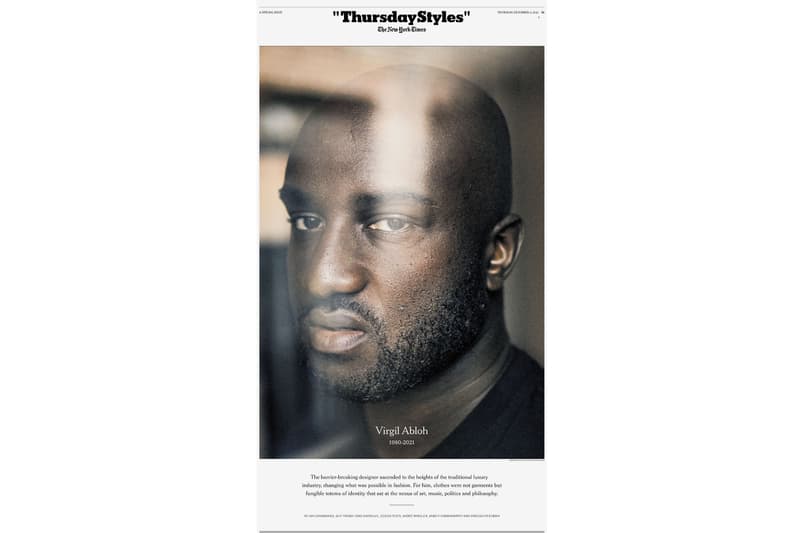 New York Times is the latest to pay tribute to the influential designer, Virgil Abloh. Since the news of his death, fans, peers and the style community have expressed their condolences and shared the impact Abloh had on the world with his contemporary vision to drive culture forward.
The publication has chosen to commemorate the multi-hyphenate artist with a cover feature. Releasing an eight-page special print in honor of the prolific designer, the section cover is a powerful testament to the icon's far-reaching contributions to the fashion, art, music and design genres. The front page implements Abloh's signature quotation marks as seen on "Thursday Styles." A portrait of Abloh sits under the title with the caption,
"The barrier-breaking designer ascended to the heights of the traditional luxury industry, changing what was possible in fashion. For him, clothes were not garments but fungible totems of identity that sat at the nexus of art, music, politics and philosophy."
In the recent days, NYT has compiled a selection of Texts From Virgil. Since his death, many of his friends and colleagues have shared private DMs with the late designer, sharing his profound visions and energetic texts. British designer and one of Abloh's mentees Samuel Ross explained that the DMs "reflect the character and responsibility Virgil took on to lead a global community." Take a look at some of the messages here.
In case you missed it, watch Virgil Abloh's entire posthumous SS22 collection in Miami here.