Dwyane Wade Has Always Been More Than a Basketball Player
The three-time champion reflects on his NBA journey, his game-changing Li-Ning deal and life beyond the court.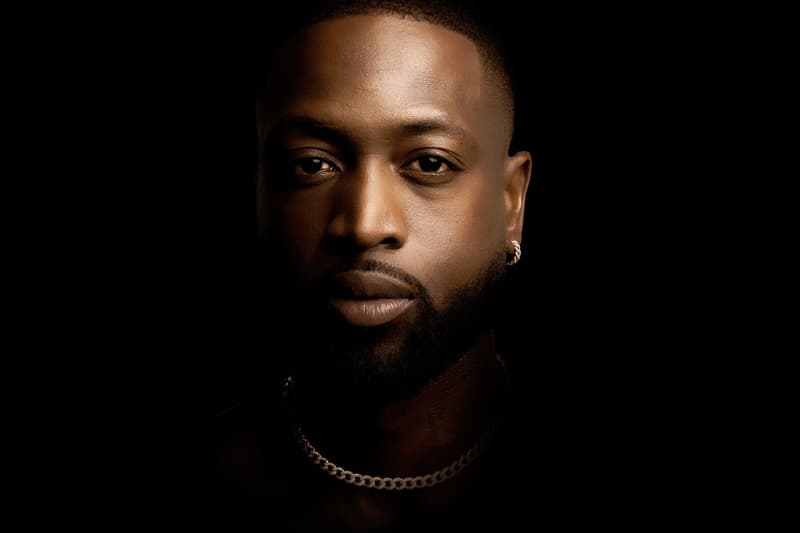 For 16 years, the world knew Dwyane Wade as one of the most prolific basketball players in the history of the NBA, becoming a 13-time All-Star, eight-time member of the All-NBA team and an Olympic gold medalist.
Yet Wade's career has also been defined by major moves outside of the court — as a philanthropist, producer, and an increasingly-watched figure in style, known for his progressive looks from designers including Fear of God, Dior Men, and Thom Browne. He has also had an exclusive partnership with the Chinese sportswear company Li-Ning for almost a decade, collaborating with them on a host of footwear models, apparel collections, and collaborative projects.
Having recently been announced as one of the NBA's 75 greatest players of all time, Wade has proven, conclusively, that he is more than a basketball player: he has become a bona fide pop-cultural icon. It's a fitting time, then for the release of his memoir DWYANE, in which Wade reflects on his journey and talks about inspirations and best lessons learned throughout his life so far.
For the book's launch, Wade sat down with HYPEBEAST to give fans a look into his life on and off the court, while also sharing his take on the current streetwear culture.
"I'm standing here because I've been around greatness and greatness has lifted me up."
HYPEBEAST: Across your 16 NBA seasons, you have played with and against many legendary names. Which of these moments stand out the most?
DWYANE WADE: I didn't get a chance to play against [Michael] Jordan, who is my favorite player of all time, but I got a chance to play against others like Kobe Bryant. I played on the Olympic team in 2004 with Allen Iverson and played in 2008 with Kobe. Playing against these guys was surreal. The thing is growing up you walk like them, chew bubblegum like them, and then you get in the league and they are now your competitors and opponents. But to have those moments with AI, to have those moments with Kobe. They mean even more the further and further I get away from the game.
While playing for the Heat, you've had some incredible teammates. Do you think you would have attained the same level of play and success without them?
No. When I got announced as one of the Top 75 players in the NBA, the one thing I said was, I'm standing here because I've been around greatness and greatness has lifted me up. And so if I don't play with Shaquille O'Neal, I don't play it Alonzo Mourning, Gary Payton, Antoine Walker LeBron James, Chris Bosh and the list goes on, then I'm not as great as is perceived to be. So greatness has lifted me up and I've become better because I've been around greatness. My life is enriched because of it, so I'm super thankful.
Playing with LeBron or playing against LeBron?
I love playing with LeBron for years, the Olympics, the All-Star games, loved playing against that guy. Getting ready for those games in the locker room, putting your shoes on knowing you're about to go against the King. That's special. We had so many iconic moments and so many iconic games against each other. Ultimately, at the end of the day, greatness like that brings the best out of you. So you want to compete against the best and I got a chance out of my 16-year career to compete against him for 11 of those years and five of them I was his teammate.
How do you think your period of Miami Heat compares to the current era of the franchise?
The one thing that you see and you know that there was Alonzo Mourning before me, there was a Tim Hardaway before me, a Rony Seiklay, all these players. I came through and a bar was set and I leaped over that bar. All I did is set the bar a little higher for the next generation to come and leap over as well.
What I did in Miami would never be taken away. I got banners all around that place. But they move on. There will be another Dwyane Wade in a sense like it won't be me but it'll be another player who will challenge me as the greatest player in the organization and that's what you should want. You should want the game to continue to keep going, you should want these players to continue to jump over that bar. So what I did there, I can't add to it anymore. That's all I had, and nothing else. It was good enough to make my grandkids proud because ultimately, that's what it's gonna boil down to. I want my grandkids to be proud of me.
Were you always patient in your career or did you slowly grow into it over your three championship wins?
I don't think I'm patient. I think I'm an impatient human being. But, losing will make you patient. You go through the steps. Even in 2010 when we got together with the Big Three, we couldn't see it. We had to go through the process, we had to go through the steps. My patience comes with the understanding we're all human beings who are imperfect. I got to have patience and understanding to know that I watched you put the work in. I'm coming back to you, to every shot, coming back to the next game. Definitely, as a leader to be able to lead my guys in a way that needs to be.
Fashion and basketball have grown to be synonymous with one another over the years – what have been the greatest influences in your fashion and footwear ventures?
What I've always loved about fashion is creative expression. I love the fact that the shirt I decide to put on, the jewelry I decided to put on, even the socks, is an expression of how I'm feeling that day. My style has changed over the course of time because I feel different in certain moments. It's an expression. I love being a part of the fashion community. I love learning as much as possible.
What is your take on today's street and luxury collaborations we see so many of nowadays?
I love the emergence of streetwear in luxury. To be able to have someone like Virgil who can understand the need for both sides to come together and have a moment together is simply amazing. Personally, as an athlete, I am streetwear first. Luxury comes second. To be able to have brands and individuals to try to take fashion to a place that it hasn't been before and from someone like me who spends a lot of money on fashion, thank you very much. Thank you for pushing the envelope, for not letting it be stale and still in one place. Fashion is moving forward and is moving faster than some people may want it to be. But for me, I think let's just keep going.
You called transitioning from Jordan Brand and Nike to Li-Ning to be a game-changing deal. What was going through your mind when many were trying to advise you against the decision?
I was 30 years old at the time and I'm in my business hat more than I'm in my athlete hat at this point. My best years are all there behind me and in my mind I'm thinking about legacy, thinking about building something. I'm thinking about Michael Jordan. I'm thinking about what he's built and the blueprint that was set and I thought, why not go out and try to do something that was different for an athlete in my position in the game at the time. I was thinking about Zaire, about Kaav, my family when I think about building something that hopefully they can be proud of and can last through many generations.
Reflecting on your entire journey, what are some lessons learned that you would like to pass on to the next generation of up-and-coming athletes and creatives?
What I'm going to say is simple, but it is what I tell myself. It's about the work you put in. In basketball, I understand that God gave me a gift and it was up to me to nurture that gift and to work that gift. I wasn't gonna be great just because He gave me talent. He gave me a gift I had to really work – so, hard work.
Off the court, I always say be authentic to who you are. It makes life easier if you are not wearing a mask. But, I think we all wear masks at times. I think we all are trying to find ourselves no matter what age. But the quicker you can and as much as you can to be authentic to just who the brand is that you're trying to have, then you can just show up and be you. That's the information and the knowledge that I try to pass on to guys that want to be successful away from their sport as well.
Is it your hope for your son Zaire to follow in your same footsteps?
It's really not my hope. I told Zaire many times that this is Zaire's dream. Basketball is a kids' game and a childhood dream. I've already reached my childhood dream and now he's trying to reach his. It just so happens that it is in the same arena as mine. But this is his dream and he's gonna have to go out of it in the way that he wants to see this dream unfold.
The goal for me was to put each day together and hopefully at the end of these days, these hard days, I have put a good life together for my family. That's what my wife and I are doing. We're trying to put a good life together and to give our kids opportunities. It sounds simple, but not everyone gets an opportunity. I want to give them the opportunity to go off and be whoever they want to be.