LeBron James Wraps Up 'Space Jam 2' With Inspiring Speech
Along with a new look at his team kit in the film.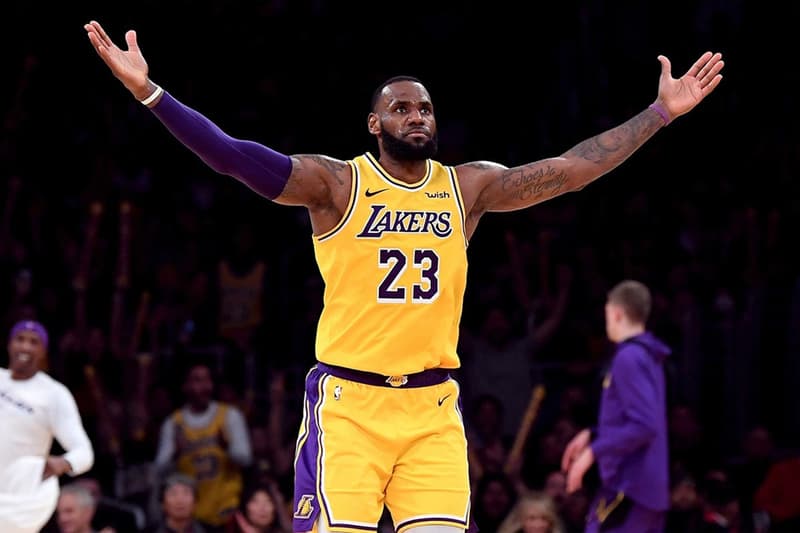 Production for the long-awaited Space Jam sequel has wrapped up, and the movie's lead star LeBron James took the opportunity to give an inspiring speech to his fellow cast and crew, opening up about his childhood and journey to where he is now. The audio was captured and obtained by TMZ, and you can listen to the entire three-minute clip below.
The NBA star began by saying that starring in the upcoming title has been a dream come true for him. "I'm gonna be honest completely with you guys – when I found out about the project, I was like it's Space Jam! It's a movie that I grew up watching," James said. "People in the movie that I idolize. I was like absolutely, I gotta do it. There's no way I can turn down Space Jam!"
Despite his excitement for the project, James says he knows he's not "really supposed to be here" with such great opportunities. "I'm just a small kid from Akron, Ohio – a very small town outside of Cleveland. From a single-parent household, I'm the only child, my mother had absolutely nothing," he told the cast and crew. "She was walking around high school when she was 16 years old and she was pregnant with me as a high school sophomore. So, I'm really not supposed to be here."
"Growing up in the inner city, as an African-American kid, there's no way you're supposed to fucking make it out," he continued. "And, the fact that I'm who I am as an African-American adult now with three kids of my own, and I made it out of the situations that I was in… This shit is like extra credit for me, man."
Aside from the speech, the basketball player's LeBron James Family Foundation also took to Twitter to celebrate the movie with a first look at the new jersey James will be wearing, which you can also view down below.
Space Jam: A New Legacy is scheduled to release July 16, 2021.
Elsewhere in entertainment, Aquaman director James Wan confirms that the sequel will also have a "touch of horror."
Would it be the Family Reunion without a special surprise?! @mavcarter gives our I Promise families the first ever look at @KingJames in his @spacejammovie 'A New Legacy' jersey! ?? pic.twitter.com/XsPYL1dvcU

— LeBron James Family Foundation (@LJFamFoundation) August 18, 2020