How to Wear Neon Without Looking Like a Highlighter
FW20 and SS21 are inspired by your pen pot's color wheel.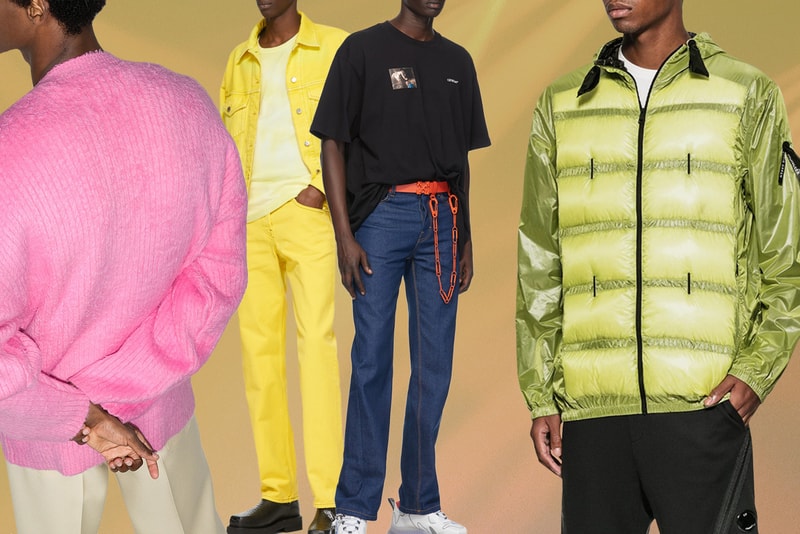 Neon isn't going anywhere. In fact, fluorescent shades of highlighter yellow, fluo green and hot pink popped up once again during Spring/Summer 2021 presentations from Dior, HOMME PLISSÉ Issey Miyake and Louis Vuitton (yes, the one that caused a stir with Walter Van Beirendonck).
In SS19, sportswear brands were obsessed with neon hues — as evidenced by this Wood Wood editorial. For once, high fashion wasn't calling the shots for "what's in," instead luxury followed suit. For FW19, Vetements presented puffer coats, Virgil Abloh and MCA Chicago delivered an entire capsule centered around neon pink and green, and Balenciaga was definitely not afraid of clashing colors for fall. 
They say fashion goes in circles. For FW20 and into SS21, designers have offered plenty of looks inspired by the color palette in your pen pot. Although neon is bold, it doesn't have to be eye-searing. It's easy to avoid looking like a Stabilo Boss highlighter; steer clear of a full neon fit, and you're on your way.
To guide you through one of FW20 and SS21's biggest trends, HYPEBEAST has compiled a list of tops, bottoms, shoes and accessories to cop ahead of the curve (and before SS21 floods stores with phosphorescent light). 
Tops:
Balenciaga Hand-Written Logo Appliqué Sweater
Balenciaga is never one to shy away from extreme color, logos or price points, and this appliqué sweater is no exception. Served in a vivid shade of highlighter pink, the Demna Gvasalia-designed piece is perfect for layering under a light coat (in both color and weight) as the colder months roll in.
Craig Green x Moncler Genius Hiles Down Jacket
Craig Green's Hiles Down jacket for Moncler is genius. Not only does it proudly present itself in a lively shade of highlighter yellow, but it's also futuristic while being approachable. Furthermore, the piece is made from micro ripstop fabric and completely seals up to protect you from the elements. 
HOMME PLISSÉ Issey Miyake Trucker Jacket in "Sapuer Pink"
This trucker jacket from HOMME PLISSÉ Issey Miyake is the perfect transitional piece, ideal for that "what to wear today" moment between seasons. It's light enough to throw over a white T-shirt, practical enough to button up and wear as a shirt and the "Sapuer Pink" hue is great for when you're looking to brighten up an all-black fit. 
Bottoms:
Stüssy x Nike Beach Pant "Bright Cactus"
Fresh from Stüssy and Nike's latest collaboration is this pair of beach pants in "Bright Cactus." This shade is subtler than anything else you might come across in this list and a good choice for those wary of diving too deep into the neon trend.
Helmut Lang Yellow Masc Lo Easy Jeans
For the braver among us, there's Helmut Lang's yellow Masc Low Easy jeans. Sometimes if you're going to wear neon, you might as well go all the way — these jeans do precisely that. And — if you want to go against our rule of never wearing a full neon fit — there is a matching jacket too. If worn with simple sneakers and a plain T-shirt, the look will be less Stabilo and more style boss. 
Acne Studios Sweatpants "Magenta Pink"
Acne Studios knows its neons. As 24S shows, sweatpants don't have to be worn casually — this pair is complemented by a white grandad collar shirt and white sneakers, serving us a clean summer-ready look. Neon pants aren't just for the gym or the rave anymore.
Shoes:
Nike Air Zoom Spiridon Cage 2 "Volt"
Nike's incredibly popular retro of the 2003 Air Zoom Spiridon Cage 2 comes in a number of colorways, including "Volt." It was a wise choice on Nike's part to tone down the luminosity of Nike's signature "Volt" shade, as these sneakers offer an entry point into more daring on-trend footwear choices. Wear with anything.
Balenciaga Tyrex Sneaker "Fluo Yellow"
On the flip side, we have the latest from Balenciaga. The Tyrex is an already divisive sneaker, let alone when they're colored in like your revision book the night before your SATs. However, Balenciaga is all about outlandish early-2000s sportswear when it comes to its sneakers, and this pair would look stellar when paired with cargo pants, a wide leg pant or some lightweight trousers — all in a plain color, of course, so as not to distract from the main attraction. 
Acne Studios N3W Trail Sneakers "White/Yellow"
Our second offering from Acne Studios is this pair of N3W Trail sneakers. They're an ease-in to wearing neon as the base is made from a cloudy ripstop, while color is added in the form of fluorescent trims all around. Aside from being on-trend with its color palette, the Acne Studios Trail Sneaker also offers a timeless silhouette, making this pair a cop that should see you through seasons to come.
Accessories: 
COMME des GARÇONS CDG Wallet "Super Fluo"
Accessories are the easiest way to play with vibrant colors. If you're neither an un-branded cardholder or a Gucci bi-fold kind of person, you might want to check out COMME des GARÇONS' CDG wallet in "Super Fluo." The playful and practical piece says, "I know how to have fun with my money" while not showing off — thanks to the hidden branding found inside only. 
Off-White™ Orange Chain Arrows Belt
If bright sneakers aren't your thing, liven up a classic outfit (everything from a suit to something more off-duty) with the Off-White™ Chain Arrows Belt in orange. This belt doesn't have the luminous shade of other products in this list, as it's made from buffed leather, giving the bold hue a mattifying finish. A house-signature paper clip chain is included for added fun-ctionality.
100% Eyewear Pink and Blue S3 Interchangeable Lens Sunglasses
Technical sports sunglasses are still quite the rage this summer. Couple the shape with neon colors, and you're onto a winning look. 100% Eyewear has a pink and blue pair of its S3 sunglasses, which is just enough neon to show that you know what's going on next season. Let the glasses speak for themselves.