Pusha T and Young Thug Feud Over Drake Diss on Unreleased Pop Smoke Song (UPDATE)
"Paranoia" was ultimately left off of 'Shoot for the Stars, Aim for the Moon.'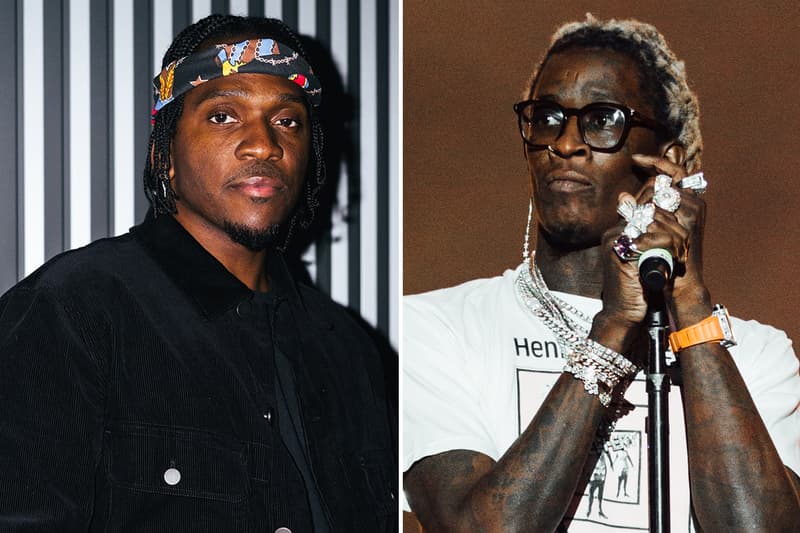 UPDATE (June 7, 2020): Pop Smoke's posthumous album Shoot for the Stars, Aim for the Moon celebrated the late rapper's life and his undeniable talent through 19 tracks and a star-studded guest-list, but we learned recently that a few artists didn't make the final cut including Pusha T, Young Thug and Gunna. Now we have a better understanding of why after the track, tentatively titled "Paranoia" leaked online earlier this week.
Pusha T took some not-so-subtle shots at Drake, continuing their nearly three year feud. (You can read the full lyrics and listen to a snippet of the song below). The bars reference the stage crashing incident during Pusha's Toronto show in 2018, which he accused Drake of inciting. Once Young Thug found out about Pusha's subject matter in his verse, he wanted to be left off of the song entirely as he didn't want to be caught in their crosshairs and further add to the feud.
"I don't respect the Pusha T verse on the song with me and Gunna cause I don't have nun to do with y'all beef nor does Gunna. And if I knew that was about him I would've made changes on our behalf… This rapper sh*t so gay," Young Thug wrote in his Instagram story last night.
In Pusha T's response to Young Thug, he focused on Drake's industry standing and labeled him a snitch. "Aye Young Thug, a couple things: 1. Don't feel bad, NOBODY knew what the verse was about. The label heads that stopped it didn't even know. They ONLY ASSUME because HE TOLD them! The same way HE TOLD about the Ross 'Maybach 6′ verse. And if HE'LL TELL record executives about rap verses, God only knows what else HE'LL TELL! I don't deal in Police Work, Police Rappers, or Police N*GGAS!!!" Pusha T continued in a separate Instagram story post, "2. Young Thug, you were the last verse added to the song and that's ONLY because I requested you! 3. And most important Young Thug, just so we are clear… I WOULD NEVER look or need your respect for what it is I bring to this rap game!!"
Pusha then publicly reached out to Pop Smoke's manager Steven Victor with his next message. "Steven Victor I demand you take me off the deluxe Pop Smoke album to void any confusion that may take away from this amazing volume of work!"
It's noteworthy that Pusha T referenced Rick Ross's "Maybach Music VI" as that song follows a similar trajectory to "Paranoia." The song featured both Pusha T and Lil Wayne, two artists whose own feud sparked the current Drake and King Push situation. Ross eventually explained that he didn't feel as if the track would organically bring Push and Wayne to reconcile. Pusha notably rapped, "What a hell of a year, true colors exposed/ crowns on these clowns, it's like you colored their nose."
Stay tuned for more updates on the Pusha T and Young Thug situation as the story is developing. In the meantime, revisit Pop Smoke's Shoot for the Stars, Aim for the Moon
---
ORIGINAL STORY (June 5, 2020): Shortly after the release of Shoot for the Stars, Aim for the Moon, a Pusha T, Young Thug, Gunna and Pop Smoke collaboration has now surfaced.
On the track titled "Paranoia," the Virginia rapper seems to be reigniting his beef with Drake. On his verse, Pusha T throws a few jabs at the Canadian artist in a move that recalls a saga of diss tracks that arrived back in 2018 and dictated their very public feud.
"You know reality bites/It's chess not checkers/Those empty threats only sound good on your records/If the patois is not followed by blocka/It's like marked for death Screwface, without the choppa/Let 'em rush the stage when you made like Sinatra," Pusha begins, potentially referencing Drake's use of the dialect and a 2018 incident when several men rushed the stage during Pusha's Daytona Tour show in Toronto. Adding, "Only to find the blade, flyin' back through LaGuardia/I might even buy a home out in Mississauga," in a clear reference to a city near Drake's hometown of Toronto.
Catch a snippet of Pusha T, Young Thug, Gunna and Pop Smoke's collaboration "Paranoia" below.
Pusha T's verse on Pop Smoke's "Paranoia" pic.twitter.com/OLhoiRyfXe

— HipHipArchives33 (@archives33) July 4, 2020
In case you missed it, Pop Smoke's girlfriend recently shared a 14k white gold tribute chain.