University of Kentucky Sued Over Plans to Remove Mural Depicting Slavery
A Black artist's work that accompanies the original piece also faces removal.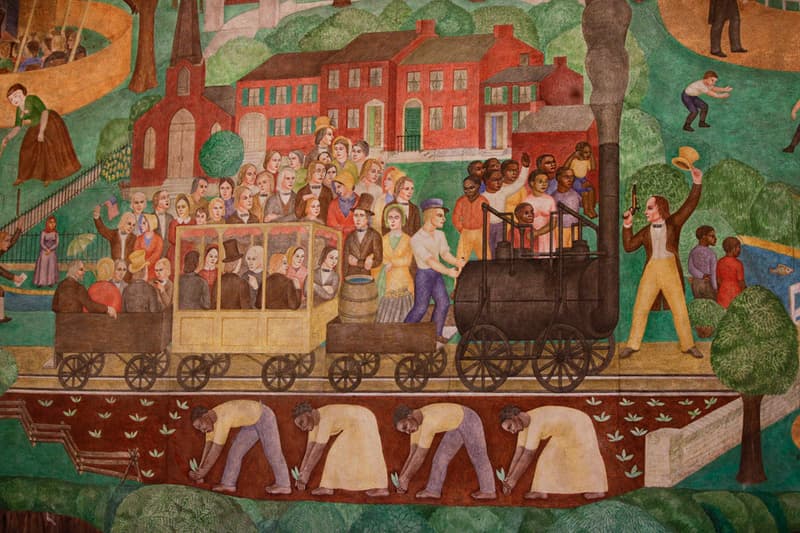 Over the past few years, a wall-length mural created by Ann Rice O'Hanlon in 1934 has been a subject of controversy. The mural, which is located at the University of Kentucky in Lexington, is intended to illustrate Kentucky's history. At the center of the fresco are images of enslaved people tending to tobacco plants, while at the bottom is a Native American man peering out from behind a tree as if ready for an attack. Last month, amid the Black Lives Matter protests that followed the death of George Floyd, the university announced it would take the mural down.
Now, Wendell Berry — a writer and farmer who knew the artist of the mural through his wife — is suing the university over its decision to remove the mural. He argues that the mural was created through a government program during the New Deal era and is thus owned by the people of Kentucky and cannot be removed by the university.
If the mural is to be removed, another work by a Black artist, Karyn Olivier, will also face removal. Called Witness, the work reproduces the likenesses of the Black and Native American people in the original mural and places them on a dome covered in gold leaf in order to highlight their divinity. "My work is dependent on that history," Ms. Olivier said. If the 1934 work was to be "censored," that would mean the same for her own work. In a statement responding to the lawsuit, however, a spokesman for the University of Kentucky, Jay Blanton, said that moving art is "not erasing history." "It is, rather, creating context to further dialogue as well as space for healing," he added.
Back in 2015, the mural was covered in a cloth after students of color at the university raised objections to its presentation. The following year, the mural was uncovered with the demand that "other works of art from a variety of perspectives" were installed to "provide a larger narrative of our history." Oliver's work was chosen to cover the inside of the dome at the entry of Memorial Hall. Still, students have continued to object to the original mural. Just last year, students with the Black Student Advisory Council staged a sit-in to demand the mural be taken down.
Stay tuned for further developments in the story.
In other news, a new exhibition in London is commemorating a victim of the Grenfell fire disaster, Khadija Saye.