Art for Your Home: Virgil Abloh Chair, Joy Yamusangie Mixed Media Piece & More
Artwork to purchase from both established and emerging Black artists on Blackout Day 2020.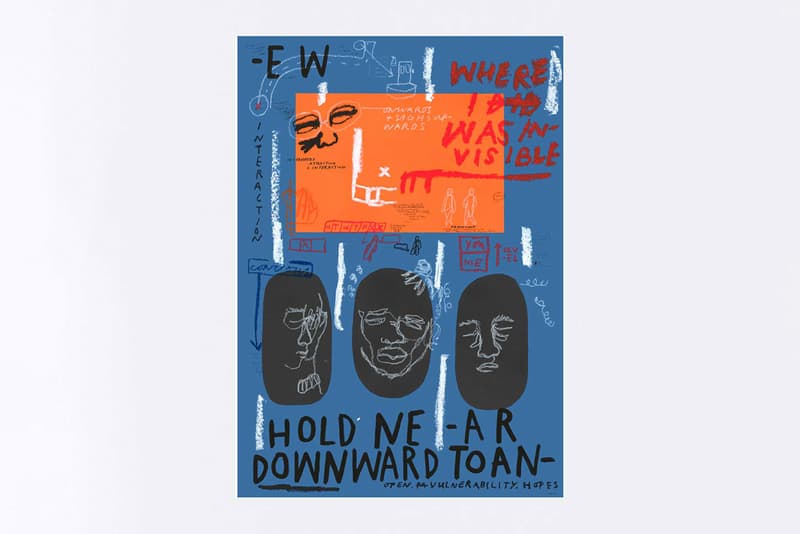 Every week we curate notable art releases by diverse artists, studios, and art platforms across the globe. Listed items typically encompass limited edition artworks, books, collectible figures and more. Amid the ongoing COVID-19 pandemic and nationwide protests following the death of George Floyd, we are highlighting the work of Black artists as a way to support and give visibility to the Black creative community. We hope these pieces will add visual interest to your space, while bringing awareness to works that evoke themes that are both universal and specific to the Black community.
Tuesday, July 7, has been designated Blackout Day, a day of economic solidarity with the Black community. We support the purpose and mission behind this day and encourage those who wish to buy something to spend their money at a Black-owned business.
For this week's installment: Virgil Abloh is auctioning off a one-of-a-kind MARKERAD IKEA chair to benefit two racial justice organizations, ArtSpace has released two archival editions of Kehinde Wiley's work, Joy Yamusangie recently unveiled their limited edition Where I Was Invisible mixed media work, Uzo Njoku is selling a print titled Ghana Must Go, and Elan Byrd will relaunch her Shapes at Play collage series soon.
View the full list below.
Virgil Abloh MARKERAD IKEA Chair
Release Date: Bid now on Design Yard's website
Release Price: Bidding begins at $1 USD
In support of the Black Lives Matter movement, Virgil Abloh is joining several artists and designers in an auction held by Design Yard Sale to raise money for the Bail Project and Colloqate Design, organizations fighting anti-Black racism. Abloh is offering a custom MARKERAD chair from his 2019 collaboration with IKEA. The chair will feature illustrations in the creative's signature black marker style, along with both his name and the winner's name signed on it. The one-of-a-kind collector's item is currently out-of-stock and is taken from his personal archive.
Kehinde Wiley Tomb of Pope Alexander VII Study I Print Edition
Release Date: Available on ArtSpace's website
Release Price: $10,000 to $15,000 USD
Contemporary art seller ArtSpace has unveiled two archival editions featuring original artworks by LA-based African-American painter Kehinde Wiley. One of the works for sale includes Wiley's Tomb of Pope Alexander VII Study I print from 2016. The subject was inspired by the artist's candid encounters of young men from the streets of Harlem in New York City. His work draws from traditional portraiture; however, he subverts the context and portrayals of Old Master paintings with his pieces that predominantly display people of color. Measuring 21 by 14.5 inches, the highly-detailed portrait portrays the African American man in a heroic light against a densely patterned background.
Joy Yamusangie Where I Was Invisible Mixed Media Piece
Release Date: Available on United80 Brixton's website
Release Price: £495 GBP (approx. $618 USD)
Mixed media artist Joy Yamusangie has released a series of limited edition prints, including their piece titled Where I Was Invisible. Available in an edition of 20, the mixed media work is a translation of all the feelings Yamusangie felt after returning back to work and reflects the pattern of 9 to 5 work and getting lost in that routine. The print boasts faces and scrawled text, layered over each other in the artist's distinct style. Measuring 33.1 by 23.4 inches, Where I Was Invisible arrives signed, numbered and printed on hahnemühle photo rag 308gsm paper.
Uzo Njoku Ghana Must Go Print
Release Date: Available on Uzo Njoku's website
Release Price: Approx. $19.95 USD
Nigerian artist Uzo Njoku has dropped a print titled Ghana Must Go. "My bag holds the mesh of 1983, and palm oil, kente fibers, some Naira to soon be converted into Cedis," Njoku wrote about the piece. "It carries two million feet, two ego-blind borders, shea butter and a mother's jollof recipe. More importantly, I'm holding it. So save yourself the trouble—just make way." Measuring 8.5 by 11 inches, the vibrant print features a Black woman with an arrangement of shapes — featuring the designs on Ankara fabrics — in the background. Drawing upon her Nigerian, West African culture, she explores topics like race, gender, social media and love.
Elan Byrd Shapes at Play Collage Series
Release Date: Available July 14 at 7 p.m. EDT on Elan Byrd's website
Release Price: Approx. $125 USD
Miami-based artist and designer Elan Byrd is launching a new series of her anticipated Shapes at Play works next week. The natural fiber collages were first created during the artist's time in quarantine. Made from repurposed vintage grass cloths from the 1980s, the abstract compositions will arrive in colors like sand and palm. Each works varies in texture and color due the plant fibers that make up each piece, including arrowroot grass, raffia and jute.