LABRUM Uses Fashion to Celebrate the Value of Immigrants
A conversation with the brand's founder, Foday Dumbuya.
1 of 2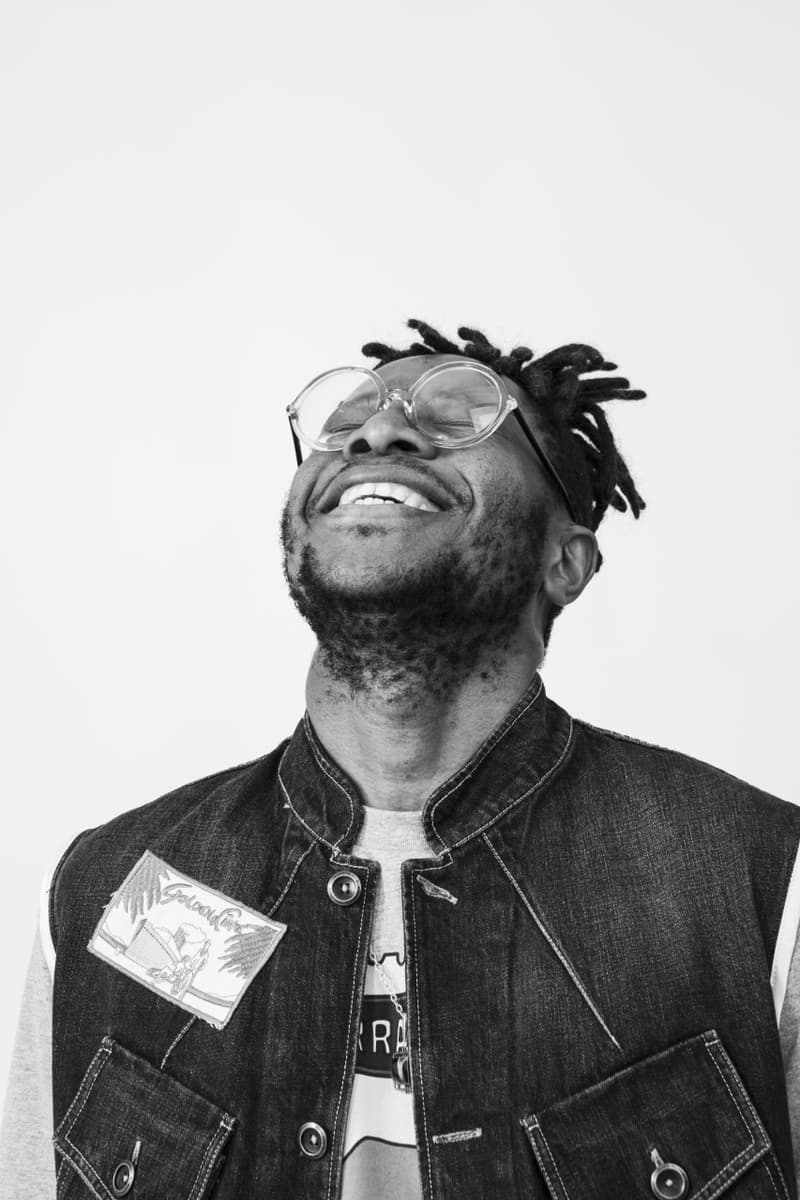 2 of 2
"Designed by an immigrant" has become the de facto slogan of the British label LABRUM London. The phrase appears on the brand's T-shirts, hoodies, and as labels on many of their garments. In doing so, the brand's founder, Foday Dumbaya, hopes to reposition the discussion around immigrants in the West.
Founded by Dumbuya in 2015, the label was born out of a passion for British tailoring and West African design, and aims to bridge the gap between Western and West African culture. By focussing on sustainable production methods and "clean, sophisticated and unique" clothing, Dumbuya hopes his brand will push against short-term fashion trends by creating timeless built-to-last garments.
Dumbuya is set on making an impact with the clothes he creates, helping communities and making a difference. In a recent collaboration with Converse and National Sports Authority Sierra Leone (NSASL), Dumbuya journeyed back to his birthplace of Freetown, Sierra Leone, for a collection that honed in on the power of sport and design, with all proceeds going towards youth and sports development in the West African republic. The resulting campaign, created in collaboration with the stylist Ib Kamara, is a resonant statement of the brand's values.
HYPEBEAST sat down with Foday Dumbuya to discuss how it all started, what drives him and how he found himself in the world of fashion, striving to make a difference.
What is the meaning of Labrum and how did it start?
The word "labrum" is a Latin word for having the edge. I started LABRUM to inspire and impact people of my generation and beyond around the world. Most importantly, I wanted to leave a legacy for people in West Africa where in 50 years or so they will have something to look back at as a reference. African fashion and culture wasn't represented the right way in mainstream media, so I thought I'd set something up and tell the untold African story the right way – rich heritage, culture and music. I wanted LABRUM to rebel against short-term trends and to create timeless fashion.
What inspires your work?
I gain inspiration from life, which for me is a journey. From growing up in Sierra Leone, to Cyprus, and now in London. The concept of travel and exploration has been constant throughout my life and I apply things that I have seen and learned to the Labrum design ethos. LABRUM is a product of experience and heritage with my own personal interpretation.
How did you get into fashion?
I always wanted to do fashion, I loved clothes and storytelling growing up. However, fashion was not on the table in my African home; my parents were determined I chose a more stable career, as immigrants themselves they recognized we faced an uphill battle as it was. This influences the 'Designed by an Immigrant' story that runs throughout LABRUM collections. I studied information design at university and looked at how humans interact with computer interfaces. Fashion isn't so different. I create stories within fashion that humans respond to. I am largely self-taught which has its pros and cons. Cons: I learn by doing, sometimes that is trial and error. Pros: I don't have any preconceived ideas about what LABRUM should or should not be; instead I am driven by how my designs can tell stories.
Community is at the heart of LABRUM – what does community mean to the brand?
Community is everything to me; it encompasses everything I do. I have not only strived towards building a legacy for West African design but I am driven to create real impact in people's lives in Sierra Leone. Be that through LABRUM Athletic or through a charity I founded that benefitted from masks we made in the pandemic.
Tell us a little more about the collaboration with NSASL. How did it come about? What did it mean for you to work on a project like that?
The project derived from me setting up LABRUM Athletic in Freetown, supporting the grassroots community through running. The Minister of Sports heard about the work we were doing and found out a bit more about me. Once he discovered I was a designer by trade they approached me to design and produce the kit for the Olympic and other sports in the country. I immediately accepted and started working on a few ideas. The first one that stuck with me was how could I represent all 16 tribes into the designs. Also I wanted to showcase the power sport has in uniting people together.
I decided to go with two prints and pay homage to the tribes of Sierra Leone where the colors used are representative of those featured on the Sierra Leonean flag. The new national Olympic home kit features an interlocked graphic combining the L (LABRUM) and S (Sierra Leone) to form a bold repeating pattern. I utilized the iconic LABRUM triangle logo by flipping it 180 degrees to create 16 zigzags that represent each tribe. I believe tribes build a nation and a nation builds its people.
The line "Designed by an Immigrant" appears on your products. Tell us about this…
It's a celebration of immigrants around the world. I wanted to turn the negative connotations of being an immigrant that is sold by the media into a positive. Immigrants are the fabric of our society and I want to celebrate that. A lot of us are either immigrants or know someone who is one. In the wake of ongoing injustice and prejudice faced by immigrants, we created this t-shirt as a nod towards the censorship regarding the word "Immigrant". LABRUM is here to empower and overcome immigrant prejudice by wearing the word as a badge of honor.
Keep up-to-date with all LABRUM releases and news on its web store.
In other news, HYPEBEAST sat down with the founder of Copson to discuss the brand's message and collaboration with Vans.