Copson Takes Skateboarding Higher
Founder Maria Falbo discusses the brand's spiritual message and Vans collaboration.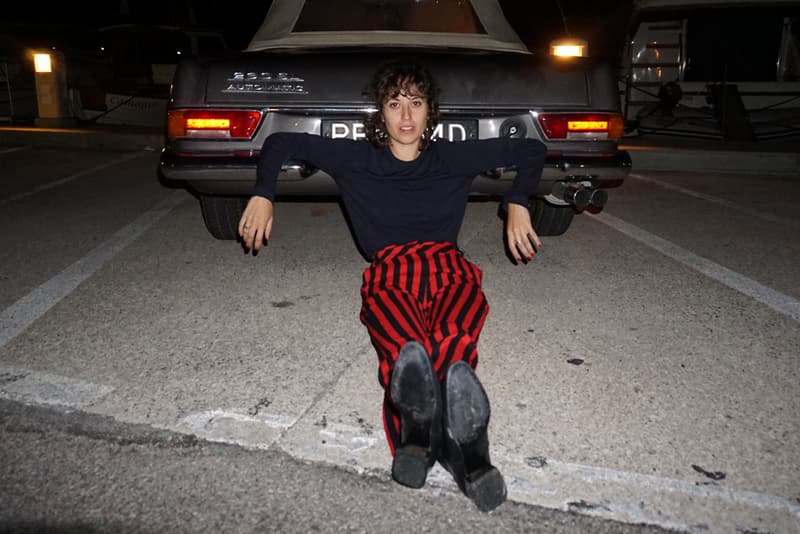 Copson has taken an unexpected path for a skating brand. Since starting in 2009 as a blog about house music, the label has gained a cult following for mixing traditional skate products with southern European aesthetics, including skate videos shot in Italy, colorfully patterned shirts and an Ibiza-inspired collaboration with New Balance. Over the years though, Copson has become something else; in 2019 it partnered with Converse to deliver a "blissful space for connection" through friends-and-family releases alongside community-focused events, and released an Italian-inspired ceramics collection with Kana London in 2019.
Even as Copson's direction has evolved, spirituality has been a constant thread. Although the focus has changed from skating products to a wider culture around the sport, the brand has stayed true to a consistent idea that runs from its origins as a blog about house music and skateboarding to now. "It's always been about living a good life," explains founder Maria Falbo. "That's evolved with age, but ultimately Copson is a community of creators with a taste for the good life."
"It's about providing the good life, not just selling it but giving people the experiences."
As Copson has grown up, Falbo's vision for how to achieve a good life has changed. Originally, Falbo explains, this was all about "beers and skateboarding in Barcelona, having a great time." Now, the label represents something more, frequently referencing spirituality and community in its output. This evolving focus also means that the brand has expanded its own definition. As well as branching out into new product categories alongside clothing — like the ceramics collaboration — Copson also curates a range of experiences including dinners and events, and works with brands to deliver the good life to their consumers.
This approach sets Copson apart from pervasive stereotypes of the skating world. Falbo describes the central pillars of the brand as consciousness, queer identity, counterculture and wellbeing, a contrast with the image many still have of skate culture: one that's overwhelmingly straight and, despite its bohemian reputation, frequently rooted in a rigid idea of masculinity. Falbo also pays tribute to other skaters who are pushing against this stereotype — including Alex Olson and Brian Anderson — as evidence that skating is finally changing.
The latest evolution of the brand is a new collaboration with Vault by Vans. The collection continues to tell Copson's key messages, with slogans such as "working on harmony" and "what's your fantasy" appearing across classic Vault silhouettes.
With the collection available now, we caught up with Maria Falbo to look back on working with Vans and bringing spirituality to the skating world.
HYPEBEAST: How has Copson changed over recent years?
Maria Falbo: I've always been trying to define what Copson is, it's always evolved. It started 10 years ago now as a blogspot which was house music and skateboarding, the good life I was living then when I was skateboarding in Barcelona, and that core thing still remains.
The community is the core. We've got product — which is what most people know us for — and we're opening up to more experiences, we did a dinner party with Converse. It's about providing the good life, not just selling it but giving people the experiences. We also work with a lot of brands on injecting them with the good life, into their brand positioning, or if they want help with experiences or future insights.
The core of the Copson philosophy is to live and share a good life. Now, spirituality has come into it naturally because I think spirituality and wellbeing are an instrumental part to living a life with purpose and meaning. The core of what Copson is hasn't changed, but its expression has just evolved. Copson is my creative expression, it's an abstract space that feels good, a place for people to escape into.
"The expectation of what it is to be a skateboarder is evolving, in a really good way, finally."
Why are spirituality and wellbeing so important to the brand?
Spirituality is defined as being concerned with the human spirit or soul as opposed to material things. This is what we're all about across all parts of the business. When we do make objects, we want them to be beautifully made and special, a classic to keep and love. When we work with brands, they come to us because they want a bit of soul. We help brands find their essence and connect with their audiences.
To live a truly good life people have to discover themselves, all parts of themselves which is tough. It is this collective healing that will slowly allow more unity in the world and less separation. Once we come to realize we are all connected and all of our actions build up a bigger picture. This links to all of our choices as a business, always with this holistic view of the bigger picture.
How has it been moving in this direction within skating?
People used to live a lot differently, especially skateboarders, to how they live now. The expectation of what it is to be a skateboarder is evolving, in a really good way, finally. There's a real stereotype but it's just one part of your life. There are certain skateboarders, like Alex Olsen promoting consciousness and wellbeing and Brian Anderson coming out as gay, that are pushing. Slowly it's being seen as more acceptable.
For some reason the subculture is slow to catching up with everything else that's going on. I think it's because it is still such a strong subculture. They're still so wrapped up in skateboarding that they might not be so aware. If you're a skateboarder you tend to hang out with skateboarders, read skate mags, watch skate films. It's its own little micro bubble.
How important are experiences to what Copson is?
I think clothing is great, but it's something I was more into when I was younger. As I get older, it's becoming less important, especially because of how the world is and fashion being a polluter. We've pulled back from wholesale in that big way and now just work with small factories. We're also interested in homeware, travel, all of the other things that I would spend my money on. It felt natural to inject a bit of Copson into those items so people could live the Copson way of life.
The experiences are based on how London can be quite isolating. I come from an Italian background, I love Sundays when everyone would get together and have dinner and chat for hours. That's what we did with Converse, slow Sunday dining with friends. Just getting like-minded people together, sitting around a long table and eating great food in one of our favorite restaurants.
We're looking to do more of these community-focused hangouts for people who probably live very close to each other but don't get together.
How have you changed the clothing side of the brand?
We're going to drop something new on the website every couple of weeks, rather than doing collections, and each thing will have a bit of a story. We're just going to keep fine tuning, improving the T-shirts, making the long sleeves better, finding better fabrics etc.
We'll also offer them to a few retailers down the line, but not in the traditional collectional and seasonal way. Just working on projects. I think you need to talk to people and ask them what they want and create something a bit special with them.
How do you bring spirituality into the clothing?
There were lots of graphic references last year, taken from old philosophy books and spiritual teachers. It was using T-shirts as a form of messaging to share what I'd personally discovered. It's a massive inspiration because I feel like it's the same feeling; skateboarding, falling in love, raving under a sunset, doing yoga, ultimately they all create a certain feeling, a freedom. It's that feeling that drives Copson. I think that's where spirituality comes in as an inspiration.
With Vans, we came up with the concept a while ago: "What's your fantasy? The great unknown." Originally, the great unknown is a magical, mystical place that intrigues. The timing of the launch was when the whole world stopped and there was suddenly this great unknown which created a panic. We've managed to turn the messaging into a story of hope. Yes we're in these really crazy times but usually these are the times when transformation occurs. Skateboarding was born out of the droughts of California. There was poverty and droughts and the surfers ended up skating these new bowls.
We're looking to bring some of the Copson experiences to Italy, where most of our inspiration comes from, and a place called Calabria. It's a very untouched region of Italy, it's totally unknown, it's the bit that no one visits. There's a raw, untouched magic there, a rare place full of connection.
"Spirituality or consciousness is one of many aspects that make up a good and meaningful life."
For a lot of brands, spirituality is just a part of the message to sell more clothes.
A core value of Copson's is meaning. Everything has to have a meaning. We'll never put something on a T-shirt because it's trendy, it has to stay true to who we are as people. It drives me to always make sure that it's true to us. We will alway evolve and keep creating what has meaning and what inspires us. We'll never just put things on a T-shirt because it's cool, that's the absolute opposite of what we're about.
I think this wisdom and deeper understanding is an important quality that puts Copson apart from brands putting spiritual slogans on T-shirts to make money. For us spirituality or consciousness is one of many aspects that make up a good and meaningful life, it is a tool that can be accessed by all. We talk about it because we feel it's important to share.