What Will a YEEZY Gap Store Look Like?
Judging by Kanye's past design forays, it'll be ambitious, chaotic and sparse.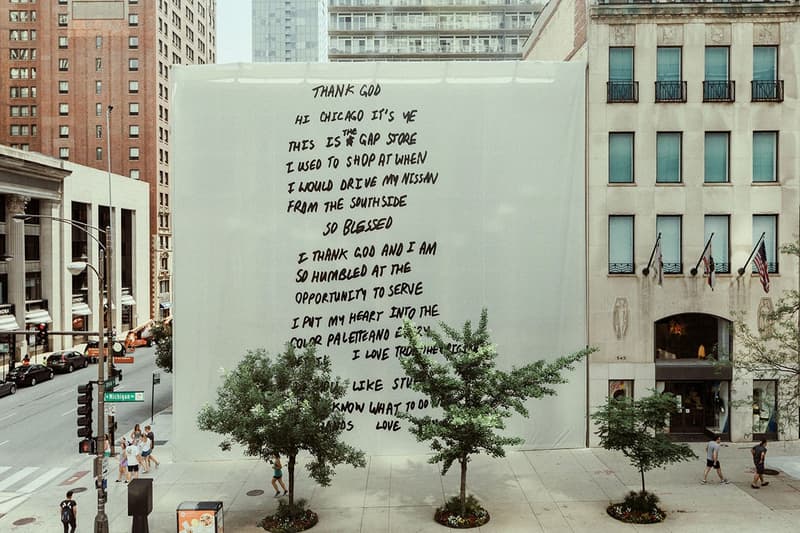 Last Friday's rapid-fire #WestDayEver announcements continued on Sunday, when Kanye West indicated that he would remodel one of Gap's Chicago outposts as a part of the YEEZY Gap partnership. Details are few on exactly what the store—much less what the clothes inside—might look like, but as always, Kanye is making big, vague promises. But he did drop a hint via a hand-written note on Chicago's Michigan avenue store, which raises as many questions as it answers: "I put my heart into/the color palette and every/detail I love Tron the original/Do you like stuff."
With little but this note and Kanye's interview regarding Gap in Cody Enterprise to go on, we turned to Kanye's past forays into set and interior design, and even Tron, to try to forecast what will happen when Kanye's sparse-meets-eclectic taste converges with the famed, struggling mall brand. While it's always hard to predict his next move, even Kanye has his design main-stays.
YEEZY Gap won't be Kanye's first dip into retail. Nondescript Life of Pablo pop-up shops cropped up in 21 cities in 2016, but his 2019 Jesus is King pop-up in Los Angeles is likely a better barometer for what Kanye might try to pull off for Gap. Tall, wispy plants guided the pathway to the merchandise, which was tacked up on an otherwise blank wall — and don't forget the armored truck positioned wheels-deep in a puddle of water atop a pile of dirt. It had the touch of what you might call chaotic minimalism, where the combination of large-scale organic shapes and materials, low lighting and dramatic centerpieces makes for a sparse yet disorienting environment.
Kanye's runway shows and set design on tour also seem to hit similar markers: minimal but extreme. His ambitions for the infamous YEEZY Season 4 runway show even surpassed the human threshold for sun exposure and dehydration. The more recent Season 8 runway show featured similar elements to the Jesus is King pop-up, with another appearance from the armored truck and tall, wheaty vegetation. The show was also hosted at Paris' vaguely Tron-like Espace Niemeyer, where curved rectangular entryways feed into a palatial auditorium. The domed building features thousands of white metal plates which serve acoustic purposes and bounce fluorescent lamp light about the room to produce that eerily-even, sci-fi glow.
The terrifying minimalism of Kanye's Calabasas mansion with Kim Kardashian is also worth mentioning for its disturbing absence of signs of life — with the notable exception of seasonal displays of green Halloween pumpkins and vaguely phallic Christmas decor. But, assuming Kanye had at least some hand in the bare-bones design direction, the house provides a clue that Kanye's taste might have a headstart on the post-COVID 19 learning curve.
As retailers prepare for reopening, new social-distancing requirements and sanitation guidelines necessitate a new approach to store layout. The National Retail Association recommends limiting occupancy levels to avoid congestion, using smoother materials like metals and finishes in place of wood to discourage bacterial growth, keeping displays minimal and leaving the bulk of the product to the stockroom. Given Kanye's taste, past retail layouts and the massive queues he should now be used to, these principles are already a part of his playbook.
Kanye's largest hurdle may ultimately be budget. His meticulousness and over-sized ambitions for his performances and runway shows have served him well for the most part, but he's likely used to working up a bigger tab than Gap might be able to foot. Gap's stocks are surging following the YEEZY announcement and shouldn't let up anytime soon. But considering Gap has promised to "make whole" on its payment to Telfar Clemens despite the cancellation of their collaboration and stopped rent payments in late April, it's possible there may not be enough in the tank for a remodel to Kanye's satisfaction.
In short, we could expect Kanye to want an overhaul of the retail experience, bringing it closer to a runway show or stage production. His mention of Tron might move the needle closer to YEEZY Season 8 than the Abercrombie & Fitch-esque low-lit ambiance he cultivated for the Jesus is King pop-up. But again, Kanye's no longer just YEEZY, he's YEEZY Gap. The company has given him the creative direction, but can they give him the money?