'The Life of Pablo': Here's The Complete List of Kanye West's Temporary Pop-Up Shops
A total of 21 cities.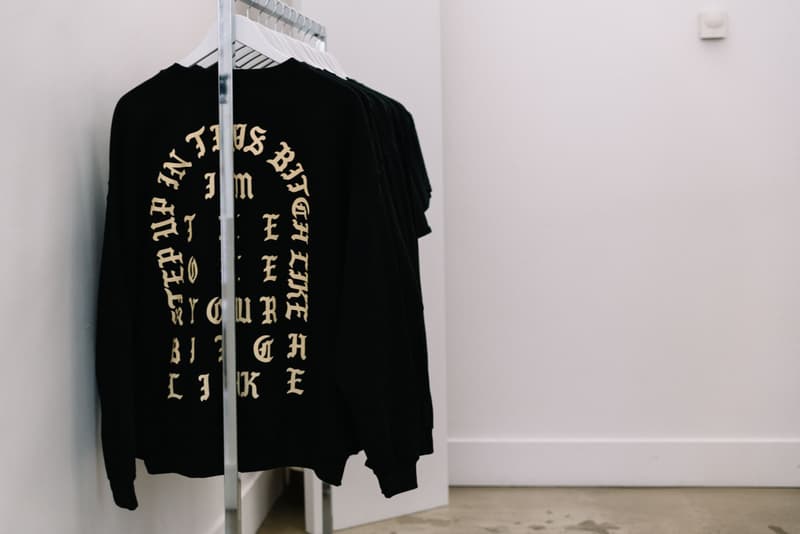 In a series of recent tweets, Kanye West's elusive creative agency DONDA unleashed the exact locations of multiple pop-up shops to hold Life of Pablo merchandise. The Seventh Letter Flagship and Gallery in Los Angeles, The Supermarket in New York City and Trader Joe's in Boston, to name a few, will offer customized soft goods that inscribe the city's name in Cali Thornhill DeWitt's gothic script.
All shops are slated to open their doors to the public starting August 19. Check out the full list of store addresses below.
North America
The Seventh Letter Flagship and Gallery
346 N Fairfax Ave
Los Angeles, CA
Hours: Friday to Sunday, 12 p.m. – 8p.m. PDT
The Supermarket
393 Broadway
New York, NY
Hours: Friday to Saturday, 10 a.m. – 9 p.m. EDT,
Sunday 11 a.m. – 6 p.m. EDT
Trader Joe's
899 Boylston St.
Boston, MA
Hours: Friday to Saturday 10 a.m. – 9 p.m. EDT,
Sunday 11 a.m. – 6 p.m. EDT
Cosplay S F
45 Wentworth Pl
San Francisco, CA
Hours: Friday to Saturday 10 a.m. – 9 p.m. PDT,
Sunday 11 a.m. – 6 p.m. PDT
Rally
12 Ossington Ave
Toronto, Ontario
Hours: Friday to Sunday 10 a.m. – 7 p.m. EDT
Clackamas Town Center
12000 SE 82nd Ave
Happy Valley, OR
Hours: Friday and Saturday 10 a.m. – 9 p.m. PDT,
Sunday 11 a.m. – 7 p.m. PDT
Fashion Show
3200 S Las Vegas Boulevard South
Las Vegas, NV
Hours: Friday and Saturday 10 a.m. – 9 p.m. PDT,
Sunday 11 a.m. – 7 p.m. PDT
Stonebriar Center
2601 Preston Road
Frisco, TX
Hours: Friday and Saturday 10 a.m. – 9 p.m. CDT,
Sunday 12 p.m. – 6 p.m. CDT
Houston Galleria
5085 Westheimer
Houston, TX
Hours: Friday and Saturday 10 a.m. – 9 p.m. CDT,
Sunday 11 a.m. – 7 p.m. CDT
Lakeside
14000 Lakeside Circle
Sterling Heights, MI
Hours: Friday and Saturday 10 a.m. – 9 p.m. EDT,
Sunday 12 p.m. – 6 p.m. EDT
Northbrook Court
2171 Northbrook Court
Northbrook, IL
Hours: Friday and Saturday 10 a.m. – 9 p.m. CDT,
Sunday 11 a.m. – 6 p.m. CDT
King of Prussia
160 N Gulph RD
King of Prussia, PA
Hours: Friday and Saturday 10 a.m. – 9 p.m. EDT,
Sunday 11 a.m. – 6 p.m. EDT
Miami Design District
160 NE 40th St
Miami, FL
Hours: Friday and Saturday 11 a.m. – 7 p.m. EDT,
Sunday 12p.m. – 6 p.m. EDT
Lenox Square
3393 Peachtree Road
Atlanta, GA
Hours: Friday and Saturday 10 a.m. – 9 p.m. EDT,
Sunday 11 a.m. – 7 p.m. EDT
Europe
Kachette
347 Old Street
London, UK
Hours: Friday to Sunday, 10 a.m. – 7 p.m. BST
Rozengracht
191 1016 LZ
Amsterdam, Netherlands
Hours: Friday 12 p.m. – 8 p.m. CEST,
Saturday 10 a.m. – 8 p.m. CEST,
Sunday 10 a.m. – 6 p.m. CEST
032C Gallery
118-121 St. Agnes Alexandrinenstr
Berlin, Germany
Hours: Friday 12 p.m. – 8 p.m. CEST,
Saturday 10 a.m. – 8 p.m. CEST
Asia
Suntec City Tower 1
3 Temasek Boulevard
Singapore
Hours: Friday to Sunday 12 p.m. – 8 p.m. SGT
Australia
Pacific Bondi Beach
180 Campbell Parade
Bondi Beach, AUS
Hours: Friday 10 a.m. – 8 p.m. AEST
Australian College of the Arts
209 Brunswick Street
Fitzroy, Victoria, AUS
Hours: Friday 10 p.m. – 8 p.m. AEST,
Saturday 10 a.m. – 6 p.m. AEST,
Sunday 11 a.m. – 5 p.m. AEST
Africa
La Parada
107 Bree St.
Cape Town, 8000, South Africa
Friday 10 a.m.-10 p.m. SAST,
Saturday 10 a.m.-10 p.m. SAST,
Sunday 10 a.m.-5 p.m. SAST