Grace Wales Bonner Ushers in a Modern Renaissance
An introduction to the London designer's cross-disciplinary fashion sensibility.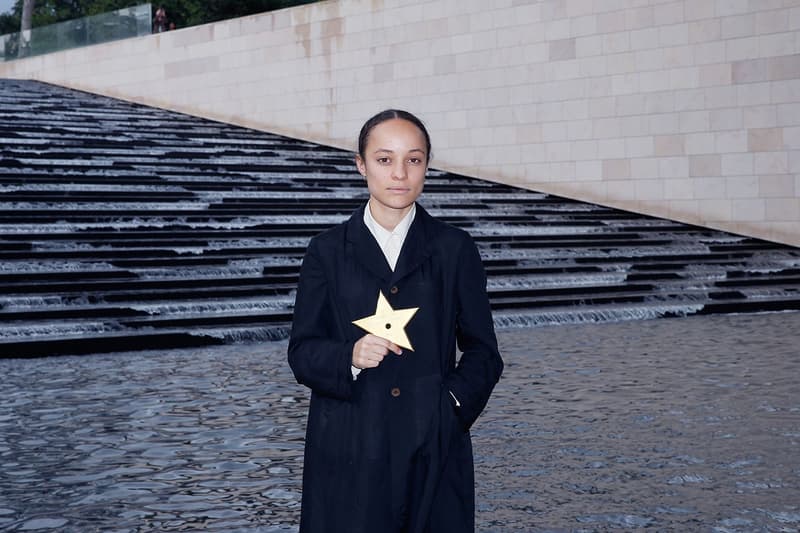 As established as Grace Wales Bonner has become in fashion since she began her eponymous line in 2014, her work — and her embodiment of its ethos — are still a relative anomaly. Similar to contemporaries like Simon Porte Jacquemus, Wales Bonner creates sensual, evocative menswear, upending the hypermasculine norms which have long governed both the garments and the public personas of their makers. But her clothing synthesizes deeper personal and ancestral dimensions, spanning literary influences, spiritual practices and an anthropological exploration of her Afro-Caribbean and British heritage.
Wales Bonner was born in South East London to a Jamaican father and a white English mother. She studied at Central Saint Martins where her graduate collection "Afrique" won the L'Oréal Professionnel Talent Award. Wales Bonner later spent time at various talent incubators and won several additional awards, including the LVMH prize for young designers in 2016 by a panel which included Phoebe Philo, Marc Jacobs, Jonathan Anderson and Karl Lagerfeld — all before her first solo show for Spring 2017. The collection, dedicated to the crowning of Ethopian Emperor Haile Selassie in 1930, drew heavily upon ceremonial attire and displayed her now signature aptitude for tailoring in frock coats, slim fitted trousers and double-button jackets.
"I am quite specific and I like to have very specific frameworks which is one of the reasons I started doing menswear: being attracted to tailoring and having restrictions," she told MatchesFashion. "Menswear as a format is something that has rules that have to be followed and within that I kind of disrupt those things."
In the years since, Wales Bonner's inspirations have spanned a wide range of cultural influences: Renaissance and Middle Ages, James Baldwin and male sexuality, oracles and shamans. As disparate and complex as her research is, she synthesizes these ideas with finesse — and without diluting their punch.
Her Fall/Winter 2019 collection "Mumbo Jumbo" was the culmination of the extensive research that produced A Time For New Dreams at London's Serpentine Gallery in 2019: an artistic tribute to how Black cultural and aesthetic lineage carries spiritual practices across the world. Wales Bonner has also brought her creative eye to a variety of other projects outside of her collections. In the same year, Solange, Standing on the Corner and Sampha performed at Wales Bonner's "Devotional Sound" event as a part of Frieze New York, and Maria Grazia Chiuri invited her to collaborate for Dior Cruise 2020 alongside artist Mickalene Thomas. Wales Bonner has also helped to nurture the next wave of designers; Mowalola started as an intern at Wales Bonner and stayed on for three years.
"I was so amazed, when we met, by her almost-renaissance practice," Serpentine artistic director Hans-Ulrich Obrist told Vogue. "Grace is a fashion designer, but she's also a thinker, a writer, an editor. She makes connections between different fields, from music to art."
As her star rises, Wales Bonner has also managed to skirt the binary norm of how designers often navigate their fame: either as larger-than-life emblems of their brand, à la Virgil Abloh and Karl Lagerfeld or, like Raf Simons and Martin Margiela, as detached, elusive masterminds.
Across all her projects, Grace Wales Bonner has made it impossible to parse her work from her research, injecting herself into the narrative around the collections while keeping their deeply intellectual origins, not herself, as the entry point to understanding them. Wales Bonner forces the audience to grapple with the beauty and contradictions of multicultural identity, and in doing so carved out a space where she, as well as the artists she gathers, can create without compromise.