How Jacquemus Quietly Rebuilt Menswear in His Own Image
The French designer explores the line between femininity and masculinity.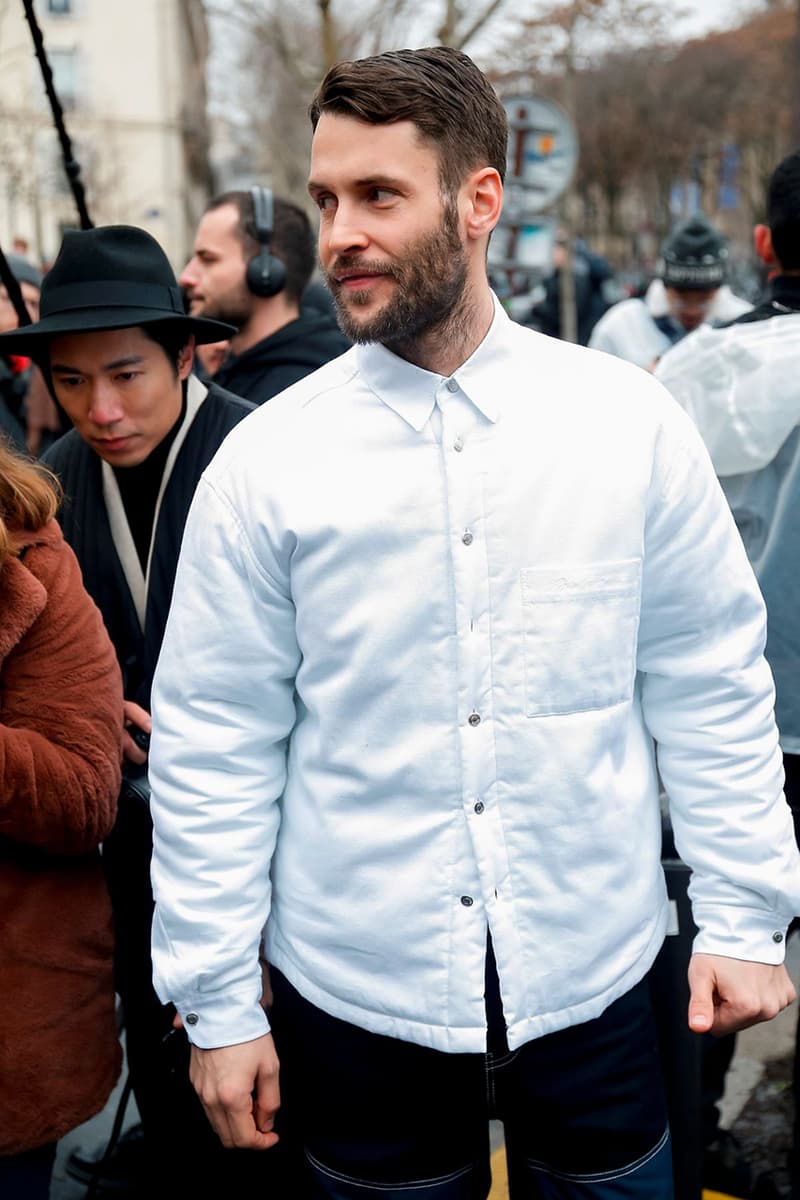 How Jacquemus Quietly Rebuilt Menswear in His Own Image
The French designer explores the line between femininity and masculinity.
When Simon Porte Jacquemus launched his womenswear line in 2011, he put everything into the line — even his meager savings — leaving no room for accessories, footwear or men's clothing. When he finally did introduce a menswear line seven years later, the designer asserted that it finally "felt right … because of something that happened in my life." Though Jacquemus hardly admitted as much, the ethos behind the garments didn't come entirely from the imagined European iconoclast who influenced his womenswear; instead, it came from within Jacquemus himself.
This sounds like a given, considering his label's eponymous branding. However, menswear designers often create a barrier between themselves and their clothing line. For instance, Raf Simons, JW Anderson and Craig Green are responsible for some of today's most dynamic menswear collections, but their founders retain a muted, versatile uniform. Even more outré auteurs like Rick Owens and Yohji Yamamoto prefer a muted capsule of their own wares to the more idiosyncratic items they showcase on the runway.
Jacquemus takes a different tact. Though Jacquemus' womenswear has always been storybook bohemian, full of editorial-friendly clothing that refute convention with dramatic silhouettes and proportions, Jacquemus Homme is approachable. Men "buy differently [than women], I feel," he told WWD. "There is the same market for streetwear, but for the rest, it's not the same market. We don't have the same bodies."
This distinction carries over to his own style, far more uncomplicated than the giant hats and fanciful dresses he creates for Jacquemus Femme; it's ingrained in the workwear he sported on his family's farm as a boy in southeastern France. Unbuttoned shirts, worn-out hoodies, baggy shorts and clunky sneakers have remained Jacquemus' personal identifiers for years. When he eventually produced a menswear line, it was no surprise that Jacquemus elected to skirt glamour and instead draw from his own uncomplicated wardrobe, creating items that neatly align with what he wants to wear.
"Jacquemus has "built a community around himself and the brand."
Take "Le Gadjo," Spring/Summer 2019's debut menswear presentation, as an example. Shown in his hometown of Marseille, Jacquemus' menswear line was modeled by men with beefy arms, toned abs and lean legs — a physicality not too far from his own. Furthermore, the clothing, with loose, rolled-up shirts, boxy hoodies and knee-ruffling shorts, was seemingly ripped from his own wardrobe. "I am not going to be the designer with the ruffled shirt and the super-experimental pieces," he told Vogue. "But I will try to put my signature on everyday looks."
It's no wonder that he bristled at the suggestion that the presentation was "'more gay' than a lot of shows," as he explained to Front Row Edit. "I am gay, my environment is as well … Why don't we just be more open-minded? Let's try to think out of the box." Jacquemus' sexuality relates to his menswear only because the designer is so intertwined with the line. This direct connection is distinct, shunning challenging runway fare for practicality while keeping fashion at the forefront.
The dense layering, floral shirts and jackets are equal parts "accessible and simple," the designer himself admitted. Crucially, these adjectives are natural descriptors for typically masculine clothing. Before dipping their toe into a more advanced style, an average male-identifying shopper is drawn to wearable garments built to last; consider the raw denim craze of the 2010s, which introduced hordes of fashion-averse men to covetable Japanese denim. Though plenty of those men likely never ventured much further into fashion, for many it was a gateway to caring about clothing, made agreeable by the style's rugged masculinity.
What even is masculinity? "Masculinity is a really empty term," contends retired textile and gender scholar Dr. Jo Paoletti. "It only means what the speaker imagines masculinity to be, the definition you've temporarily thrown in there. [For example,] men tend to wear uniforms. They tend to wear [safe] colors. It isn't sloppy but well-made, well-maintained but subtle."
Equal parts functional and simple, workwear and military design have guided menswear for years, illustrating why men turn to trucker jackets, hardwearing denim and roomy slacks as wardrobe staples. The magic in Jacquemus Homme comes from the designer's genius for infusing these recognizable clothes with panache; these are almost soberly wearable clothes that channel capital-F Fashion with punchy accents.
Tempting colors are especially crucial to the sensation that is Jacquemus menswear. "There was a study in the '50s and '60s that when men were selecting clothing, they were motivated by fear of ridicule," says Dr. Paoletti. "For men, fear of ridicule was a really, really strong demotivator [to try something different]. I think there is something to [the concept of] toxic masculinity, that masculinity is something that needs to be protected against femininity. Now you have younger men who are starting to question this fear that's [core to traditional masculinity]." These men are likely part of Jacquemus' swelling clientele.
"Masculinity is a really empty term."
"For a relatively young men's brand — Fall/Winter 2020 will be the fourth season — growth has been alarmingly consistent with [growing] sell-through each season," exclaims Browns' Junior Buyer, Joe Brunner. "It's definitely a testament to the [prices] and minimal designs. It's timeless beyond the standard fashion definition."
Though it's seated within conventional masculine tropes, Jacquemus' menswear undercuts these rigid norms with color-drenched zeal. Pastel-tinged suits, illustrative floral shirts and breathable, semi-sheer knit tops tear down the stoicness of classic male silhouettes. There's a willingness to make menswear sexy again, like Tom Ford once did; deep necklines give polo shirts an edge while leather chaps speak for themselves. Even the ultimate anti-fashion statement receives a saucy upgrade, transforming clunky knee-length cargo shorts with sailor-inspired thigh buttons, clever three-dimensional pockets and textured organic fabrics.
"The silhouettes are appealing [because] they're not wild and have workwear foundations," confirms Brunner. "The shirts in particular do well… The colors draw you in like a moth to a flame. Generally speaking, color intimidates most [customers]. However, Jacquemus makes color approachable and less threatening."
"Now you have younger men who are starting to question this [masculine] fear."
To challenge the dormant fear hidden within color-curious men, Jacquemus infuses lush hues and vivid all-over prints into garments that never stray from wearability. Sure, guys could unbutton the shirts and jackets to the navel with baggy slacks worn low to reveal Jacquemus-designed boxers, like the runway models. But his dyed outerwear and pattern-drenched shirts are equally friendly to the men who would rather keep it to one statement piece per outfit, please.
This is Jacquemus' quiet invitation to try something new without stepping entirely out of the comfort zone: behold these alluring colors, these gender-fluid florals, these gorgeous textiles and indulge in masculine comfort by way of chunky hoodies, oversized shirts and cargo shorts.
Jacquemus apparently hit upon a winning combination, as his menswear line has "been performing very well," says Federico Barassi, Vice President of Menswear Buying for SSENSE. "We've seen an above-average sell through for Jacquemus menswear across all categories. He's built a community around him and the brand, by offering an authentic, youthful, and positive point of view in his storytelling every season."
Not to suggest that Jacquemus is single-handedly upending gender roles, but his menswear line does play an important role in the mainstreaming of boundary-crossing. One of the core items introduced by Jacquemus for SS19 was the minute Le Gadjo and Le Pitchou pouches. Each small leather circle or square has been spotted strung by a lanyard around the neck, shoulders or arms of dozens of style-conscious Fashion Week attendees, on the street or Instagram. Though men might be more open to carrying handbags now than they were a decade ago, some will yet find tiny purses too feminine; Jacquemus' timeless carrying cases provides a middle ground.
Executed in a slew of striking colors, the tiny bags are a middle ground between fanny pack, sling bag and wristlet. Le Gadjo bags have enjoyed crossover appeal with women, while some of his womens' bags have been picked up by fashion-forward men. Jacquemus isn't the first designer to create a tiny bag coveted by all genders, but his bright pouches are a balm to the hefty leather carrying cases that straight, masculine-leaning designers prescribed to men for generations. These pouches are so popular that SSENSE requested exclusive black iterations for Fall/Winter 2020, just in case some guys still aren't comfortable delving into brighter colors.
"The colors draw you in like a moth to a flame."
"Every season, the best selling Jacquemus items have been the shirts and accessories," underscores Barassi. "The patterns and motifs—especially on T-shirts and swimwear—have done phenomenally on SSENSE. The bracelets, necklaces and rings are all performing well, and the sunglasses have completely sold out this season."
Furthermore, Barassi cites "accessible price points" that bolster the appeal of testing out a cream jacket or marmalade trouser, further creating that dialogue between Jacquemus' menswear and proper workwear. Garments designed for labor are always affordable; likewise, Jacquemus blue collar-inspired duds are more attainable than fashion brands of a similar stripe.
"There was this general mindset that gender-neutral clothing can't be in any way interesting, decorative, attractive, funny," Paoletti notes. "People asked, 'what clothing is unisex?' Men wearing flowered shirts, is that unisex? … Once it's no longer remarkable it becomes okay for people to wear those things."
These disparate flavors of menswear challenge typical masculinity because Jacquemus himself challenges typical masculinity. He's proud to wear a dress and go pantless, why can't all men do the same? Sure, heteronormative fear is a tall hurdle to leap but change has to start somewhere. As usual, it begins with those unafraid to venture outside of the safety of convention.
This hearkens back to the pioneer of genderless design, Paoletti explains. "Rudi Gernreich's thong swimsuit was originally a unisex item," she says. "You can find old photographs of men and women both wearing thongs on the beach." When Jacquemus reclaims the thong, the handbag, the cargo short, he alone won't create a new era of genderless clothing, but he does infuse menswear with a more open-minded perspective.
What Jacquemus Homme proposes isn't yet another collection of menswear for dudes by a dude. Instead, it's a thoughtful representation of the French creative's personal taste, filtered through the lens of his sexuality, open-mindedness and desire to be comfortable. Jacquemus' ethical and eco-conscious initiatives, plus his line's relative affordability, provide extra allure. Unusually, for a business so predicated on product, however, the designer himself is the true draw.