How the UltraBOOST Saved adidas Lifestyle
Looking back on adi's flagship runner five years after it first made waves.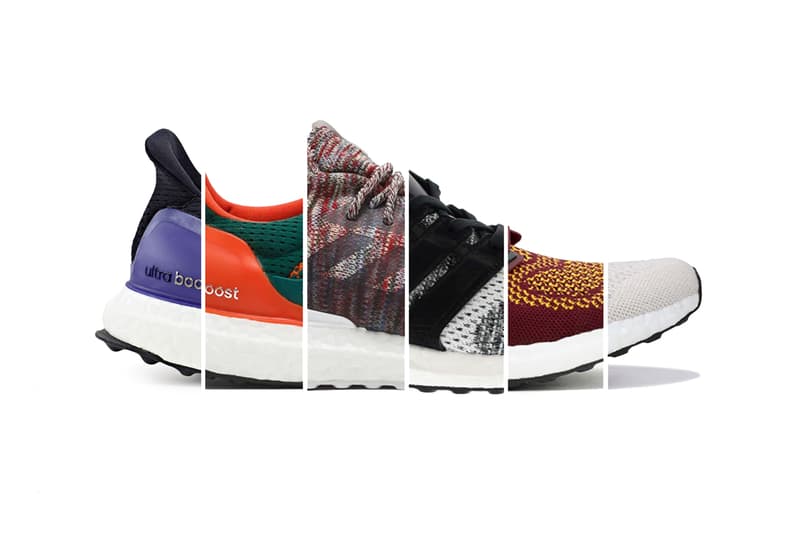 The year was 2015, and the world of footwear was in flux. The retro runner craze of the early '10s had begun to lose steam, old-school basketball sneakers were seemingly mired in mediocrity and Kanye West, fresh off a frustrating deal with Nike and in a new partnership with adidas, was evolving into the omnipotent footwear deity he is today. Amid these shifting tides, a high-performance running shoe dubbed the adidas UltraBOOST quietly made its debut.
Featuring a soft, springy BOOST foam footbed designed to provide excellent energy return, the UltraBOOST's capabilities were backed by the research of adidas's top minds. Proven through rigorous wear testing, the model was ready to lead adidas Running through the second half of the decade.
The UltraBOOST was initially released to little fanfare outside the hardcore running community in February 2015. BOOST technology had first appeared on 2013's Energy BOOST, but at the time it was strictly the providence of performance geeks, with no ends on making an impact in the lifestyle sphere outside of 2014's cult classic Y-3 Yohji BOOST. Yet when the influential Mr. West was photographed rocking a UltraBOOST "Triple White" in May 2015 and subsequently performed in the pair on multiple occasions, the UltraBOOST — which at the time was readily available at every run-of-the-mill retailer — flew off shelves worldwide.
Since that fateful day, the UltraBOOST has transcended its original performance purpose to become a lauded lifestyle favorite — that once could easily be resold for as much as three times its already-handsome $180 USD price point. It's now on its fifth yearly model, the UltraBOOST 20, with plenty of alternate takes as well like 2016's UltraBOOST Uncaged and 2019's UltraBOOST DNA.
But how did a sneaker created strictly for performance rapidly morph into a hyped behemoth? How did it later transform into a beloved daily wearer, spotted everywhere after a half decade on the market? How did a running shoe reinvigorate the adidas brand image, which in years prior was intrinsically linked to lifestyle silhouettes like the Stan Smith and Superstar?
The UltraBOOST's meteoric rise can be understood from four angles: its founding brand, its retailers, its collaborators and its resellers. By exploring the UltraBOOST's importance from multiple angles, you can truly see how the "World's Best Running Shoe" earned its title.
"BOOST is the pinnacle expression of the adidas brand." — Sam Handy, Creative Director, adidas Running
adidas
When the Three Stripes readied the UltraBOOST for its retail debut, the brand presented it as a top-tier running shoe. "We had no plans for a lifestyle sneaker aesthetic when we were concepting UltraBOOST," says Sam Handy, Creative Director of adidas Running. "When we began the project, we had a brand-new midsole material that nobody had ever [truly experienced] before."
Looking back, it's easy to see why BOOST became so popular. Anyone who's worn an UltraBOOST knows it offers long-lasting comfort unlike anything else on the market. However, part of the reason customers took to the shoe on its launch was that it was so different. Squishy yet sturdy, pockmarked but pristine, the white midsole just flat-out looked interesting among all the other, more familiar running shoe tech that dominated the market at the time.
It wasn't just BOOST either: the original UB was the first shoe to fully adopt sock-like Primeknit technology, now another staple of modern-day adidas footwear. "If you design a brilliant running shoe, you'll get a great sneaker," says Handy, riffing on street culture's adaptation of the design. "Icons of the footwear industry only happen when you start with an awesome performance experience, and that's been proven time and time again. UltraBOOST was a huge departure [from other running product] for the adidas brand."
This departure paid undeniable dividends, paving the way for a new generation of adidas casual and running footwear alike. After Nike's influential Flyknit Racer arrived in 2012, the UltraBOOST's initial success in early 2015 further opened the eyes, and wallets, of a new generation to the possibility of wearing futuristic performance running footwear strictly for lifestyle purposes. BOOST was quickly placed on a rarified level of ubiquity only afforded to technologies like Nike's Air Max or Vans' patent vulcanized soles. This amorphic use of pure athletic styles also helped create a new market for lifestyle-geared, performance-inspired hybrid silhouettes like the popular adidas NMD series.
Nowadays, BOOST is everywhere in the world of adidas. It's used on new adidas YEEZYs like the YEEZY BOOST 380 and YEEZY BOOST 700 MNVN, provides hybrid tooling for dozens of homage-inspired adidas Originals releases and much more.
Although the UltraBOOST's exclusivity may have decreased vastly from its mid-decade salad days, that's certainly not due to decreased affection. In 2020, BOOST is a quintessential piece of the Trefoil's lifestyle and performance product, thanks to its use in the wide variety of aforementioned silhouettes. Handy puts it simply yet effectively, stating "BOOST is the pinnacle expression of the adidas brand."
"When we saw the UltraBOOST coming, we were like 'oh, it's a nice shoe,' but we didn't think it would be the beginning of adidas doubling their business." — Erik Fagerlind, Co-Founder, Sneakersnstuff
Retailers
While consumers have the final say in anointing a product as either "cool" or relegating it to the vestiges of relevancy, retailers play an important part in the proverbial food chain as well. After all, they're the ones who put the product in front of the customer — and even if the brand is able to mastermind a spectacular marketing campaign, it's still on the retailers to push the product to its final destination: your closet.
When it comes to the UltraBOOST, the ability to gradually move units was never a question. However, the astounding growth in its early days on the market certainly took some stockists by surprise.
Sneaker lovers can be a notoriously fickle bunch, with defined tastes and set ways. On the other end of the spectrum, the general public is waiting to be told what sneakers are "cool," but also want to feel as if they've discovered the "cool" product themselves. There's no easy way to win the hearts of either side over, but allowing each to come around to a product organically is a fine way to start — and one that can establish a performance product as a lifestyle favorite in mere months.
"When we saw the UltraBOOST coming, we were like 'oh, it's is a nice shoe,' but we didn't think it would be the beginning of adidas doubling their business," says Erik Fagerlind, co-founder of Sneakersnstuff.
This sudden explosion of popularity was a welcomed surprise for the brand and retailers alike. Fagerlind attributes this explosion of success in part to the UltraBOOST's organic rise and timely Kanye co-sign. "Ultraboost worked in a lifestyle sense because it wasn't forced," he said. "That led the market to discover the shoe organically instead of adidas telling people 'this is what you need now,' and Kanye's [co-sign] was tough to overlook too."
These ringing endorsements of the shoe from celebrities and industry veterans alike bring deep meaning to the UltraBOOST for its fans, Fagerlind among them. "I like the organic feeling of the original UltraBOOST. I think that it's now got a true OG kinda vibe to it. It should be used or treated as a classic already," he says.
However, Fagerlind also acknowledges the challenges it may face in the forthcoming years as well, now that it's seemingly reached a Stan Smith-esque level of ubiquity and is no longer the new, unknown kid on the block. "How do you renew [the excitement around the UltraBOOST]? I think that's the challenge over the next few years?" he wonders.
"Any kind of lifestyle wave today needs validation. There's a ton of great product out there that never sees any kind of success." — Erik Fagerlind, Co-Founder, Sneakersnstuff
Collaborators
Although the UltraBOOST was carried by retailers ranging from mom-and-pop running shops in Minnesota to elite Tokyo boutiques, only select partners were able to embellish it. After the in-line models sunk their hooks into the general populace with looks, tech and co-signs, adidas's finest co-conspirators like Sneakersnstuff, UNDEFEATED, Nice Kicks, KITH and (of course) HYPEBEAST began unveiling collaborative iterations, stoking the smoldering embers of hype into a raging fire that boosted BOOST even higher.
Why is the co-sign so crucial? According to SNS's Fagerlind, it's simple: validation from a trusted arbiter of taste serves as a guarantee of authenticity. "Any kind of lifestyle wave today needs validation. There's a ton of great product out there that never sees any kind of success."
Retailers serve as outlets for brands to tell their story. However, a collaborative project takes that story that these retailers tell to a deeper, more personal level. It's an opportunity to evolve a product's DNA, to build a story around a shoe that can't be told by an in-line release. "It's our way of telling the world, 'We love this product, we stand behind this product, you guys should check it out.' Without that wave, that validation, it would have just ended up being a great product — not making that difference that it made," says Fagerlind.
For example, the HYPEBEAST UltraBOOST was the first direct acknowledgement of "uncaging" — a process in which crafty sneakerheads took a blade to the shoe's midfoot cage, removing it completely to amplify the UB's sock-like feel. This tact, timely collaborative acknowledgement of the UltraBOOST's ever-growing presence in the lifestyle market furthered its narrative and lore in an authentic fashion.
Since the heyday of UltraBOOST hype in 2016-2017, adidas has seemingly moved its collaborative efforts towards other products, ranging from re-works of the ZX series to sportswear-themed takes on adidas Originals styles. The last notable UltraBOOST collaborations were February 2019's duo of Super Bowl-adjacent BAPE makeups — which made HYPEBEAST's Top 10 Sneakers of 2019 list — and an extensive slate of IP collabs, from Game of Thrones to Toy Story. The UltraBOOST 2020 also debuted in two NASA-themed iterations; however they lacked the same cultural cachet as their predecessors.
With the UltraBOOST line settling into a comfortable place as a widely-available lifestyle favorite, its peak collaborative days may be a thing of the past. However, this may speak well to its status as a modern-day favorite and bolster its lore for future generations.
"The UltraBOOST really opened the door more than any other sneaker for the modern-day resell market." — Jesse Einhorn, Senior Economist, StockX
Aftermarket
When a hot product is cleared from retail shelves, its life span is far from over — it finds another level of relevance in the aftermarket. In fact, some would argue that a shoe's second act is more important than its first; that the stamp of "validation" provided by sky-high prices on sites like StockX or retailers like Stadium Goods is a true marker of success. Selling out in stores is one thing, while selling for two, three or four times the retail price is an entirely different ballgame.
Here, the UltraBOOST continued to bolster its success. "It's pretty hard to overstate how big UltraBOOSTs were in those early days of StockX, and most were in-line, simple colorways," says Jesse Einhorn, senior economist at StockX. "[In 2015] the aftermarket was dominated and monopolized by Jordan Brand. There just wasn't the same kind of brand diversity and competition you see now, and the UltraBOOST really opened the door more than any other sneaker for the modern-day resell market, where you have a variety of different power players and focal points all competing for people's attention and money."
The proof is in the numbers. "Campless [a secondary market tracking platform created by StockX founder Josh Luber] data from 2014-2015 showed that adidas' entire aftermarket share in 2014 was less than one percent. By 2015, when the UltraBOOST launched it was at 20%, and when StockX launched in 2016, over half of the secondary sneaker market was adidas" says Einhorn. "Ten of StockX's top 100 best-selling sneakers in 2016 were UltraBOOSTS. More than 90 percent of all UltraBOOSTS on StockX sold for more than retail. There were more UltraBOOSTS than Air Jordan 1s on the list in 2016."
These stats are striking in a secondary market that was dominated by Jordan Brand only a year earlier, and the premiums commanded by the UltraBOOST are almost as astonishing as its share. "The average premium for UltraBOOSTs in 2016 was over 50 percent. The average resale price was $290. As a subcategory where you've got dozens of [in-line] sneakers and the average for those is more than 50 percent, that's really high," finishes Einhorn.
However, the star — or the shoe — that burns the brightest often flames out the fastest. From 2018 onward, simple supply and demand economics have lowered the UltraBOOST's aftermarket value. According to StockX's 2019 data, just one of its top 100 best-selling sneakers was an UltraBOOST (the 4.0 "Running White"), and it sold for 17 percent below retail on average. The average price premium for all UltraBOOSTs on StockX was negative 22 percent, and the average resale price was a measly $146 USD. That's $34 USD under retail, and half as much as the high point of $290 USD in 2016.
Although this precipitous decrease may seem dire, it can likely be attributed to a proliferation of new styles every year, the overall ubiquity of the UltraBOOST, and the ever-shifting tides of the secondary market. Currently, the UltraBOOST's aftermarket supply significantly outweighs demand, but for an in-line product that's far from the death knell it would be for a limited collaboration.
When access to something expands, its prestige often decreases — a formula that the sneaker market has proven time and time again through its countless product life cycles. As Einhorn so aptly says, "The sneaker market is cyclical and I'd never count out a sneaker or tech with the same historical prestige as the UltraBOOST."
---
The UltraBOOST's success in its first five years begets the question: where does the line go in the future? Fagerlind acknowledged the uncharted territory that the UltraBOOST is in by contrasting it with another of the athletic footwear world's most recognizable cushioning technologies: Nike Air Max. "Air started on the inside of shoes [unlike BOOST]. It was eight years before Air Max was visible [on 1987's Air Max 1]. The bubbles gradually got bigger and bigger before Nike fully embraced the light of visible Air on the Air Max 97."
Essentially, BOOST is a signature technology that's been revealed fully in five years — unlike Air Max, which didn't reach full-foot proportions for almost two decades. BOOST may need to find new ways to evolve, and with silhouettes like updated Parley iterations, the UltraBOOST 20 and UltraBOOST S&L, adidas has the tools to do just that. Thanks to these new silhouettes and technical innovations like LIGHTSTRIKE, which adidas has recently started to combine with BOOST, there's plenty to be excited about as the UB enters the latter half of its first decade on the market.