Dana White Confirms UFC 249 Has Been Delayed Due to COVID-19 (UPDATE)
Just days after the UFC set up a fight between Tony Ferguson and Justin Gaethje.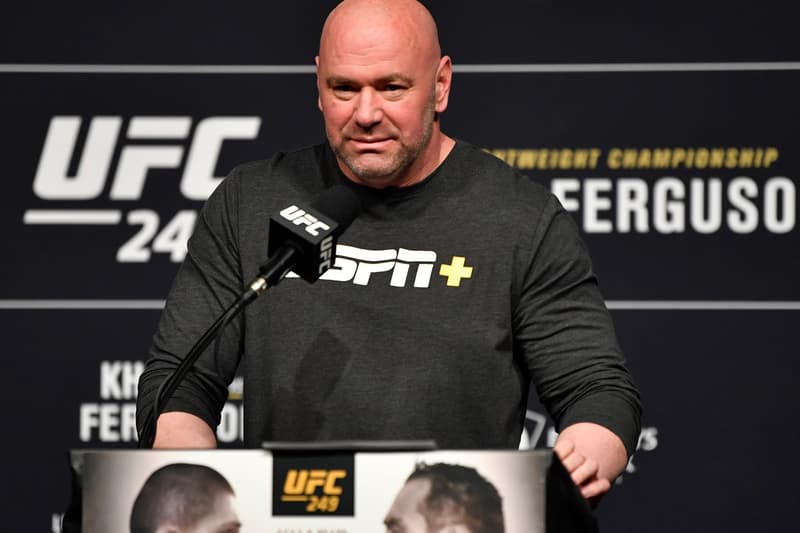 UPDATE (April 9, 2020): Just days after Dana White announced he had acquired a location on tribal land for the new UFC 249 fight between Tony Ferguson and Justin Gaethje, the UFC has now confirmed that the event has been postponed due to the ongoing COVID-19 pandemic. Sharing the news to ESPN, White confirmed that the fight would be delayed until further notice. He also noted that he was forced to cancel the event after speaking with Disney and ESPN.
"Today, we got a call from the highest level you can go at Disney, and the highest level at ESPN … and the powers that be there asked me to stand down and not do this event on Saturday," White shared with ESPN's Brett Okamoto.
UFC President Dana White spoke to Brett Okamoto about #UFC249 no longer taking place on April 18.

(via @bokamotoESPN) pic.twitter.com/VRP5jL3k9J

— ESPN MMA (@espnmma) April 9, 2020
Dana White (@danawhite) delivered this message to his fighters in the interview. "Don't worry about the financial part of this. You're going to get the fights on your contract. I'm going to make things right for the people who were willing to fight next weekend."

— Brett Okamoto (@bokamotoESPN) April 9, 2020
White noted however that despite being forced to postpone UFC 249, the location, Tachi Palace Casino Resort, will be rewarded for having "[The UFC's] back this whole time," and will be given a future event after the pandemic is handled.
---
ORIGINAL STORTY (April 7, 2020): Following rumors that the Tony Ferguson vs. Khabib Nurmagomedov bout scheduled for UFC 249 was set to be canceled for the fifth time, UFC president Dana White has now confirmed that Justin Gaethje will be stepping in for the lightweight champion April 18. Travel bans due to the Coronavirus (COVID-19) pandemic have closed borders in Russia making impossible for Nurmagomedov to leave Dagestan. The new main event will see number one contender Tony Ferguson face off against Gaethje who is currently ranked number four in the lightweight standings for the interim lightweight belt.
In an interview with ESPN MMA's Brett Okamoto, White noted that getting the UFC 249 card together during the Coronavirus pandemic was "the hardest thing he's ever done." For weeks now White has been tirelessly pushing for the full card to carry on despite postponing three other cards.
The mixed martial arts organization has been under fire for continuing operations despite other sports halting all activities in the face of the outbreak. In the interview, White notes all the limited personnel measures and consultation with the organization's medical professionals that has gone into ensuring that UFC 249 comes together smoothly and safely. Despite constant questioning by Okamoto, the UFC president kept the location of UFC 249 under wraps to shield the event from any potential tampering by the media.
But White did reveal that a state-sanctioned athletic commission will be overlooking officiating at the event, hinting that UFC 249 could still be happening in the United States. Fighters and all accompanying personnel will not know where the location is and reportedly be asked to report to a specified destination where they will be transported by the UFC.
Also looking forward and pushing through the limitations brought on by the Coronavirus, the UFC is now in the process of securing an island to hold fights internationally. White notes that the deal should be done within the week and that infrastructure is already being built. If all goes according to plan, the UFC will continue to deliver fights at the location it is using April 18 and will hold international fights at the island being secured.
UFC 249 is now set to air live on ESPN Pay-Per-View April 18.
The fight is signed and is 100% ON LIVE on ESPN somewhere on EARTH!!!! ?@TonyFergusonXT vs @Justin_Gaethje is LIVE on @espn+ PPV April 18th for the interim lightweight belt! pic.twitter.com/aH44zg5K30

— danawhite (@danawhite) April 6, 2020
Gaethje was in over a week ago, but Ferguson, as he told me last week, wanted to see if a location was be found. They are close enough now, it seems.

— Ariel Helwani (@arielhelwani) April 6, 2020
For more sports news, the 2020 NFL Draft is set to proceed virtually.