25 International Films to Stream Right Now
Add these films from around the globe to your next movie night.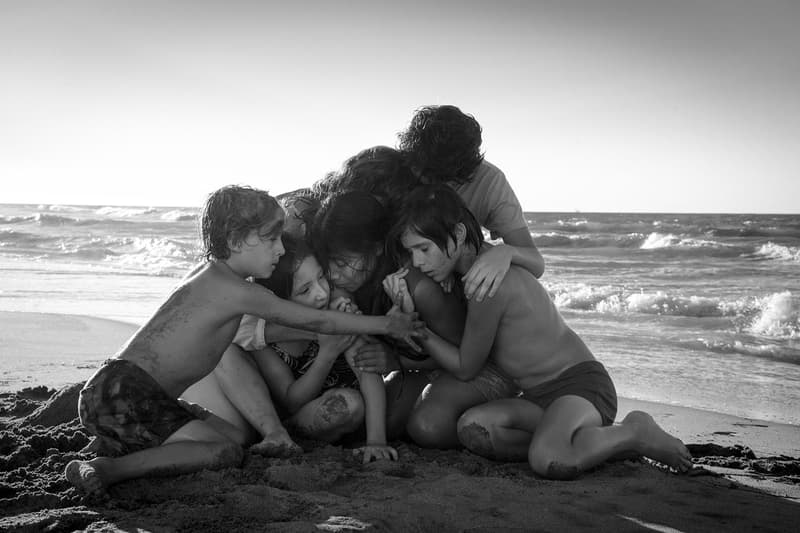 With social distancing in full force, many are restricted to staying at home for prolonged periods, and streaming new films from a different language and culture is a great way to spend your time.
In light of Parasite's success this year at the Academy Awards and its recent debut on Hulu, we here at HYPEBEAST have put together a list of 25 non-English language movies you can stream right now in the comfort of your home, including drama, romance, horror, comedy and thriller films. Across streaming platforms like Netflix and Amazon Prime, you'll find Roma, In the Mood for Love, Let the Right One In, Kung Fu Hustle, Battle Royale and many more.
Read on for our picks for international movies to watch right now. And if you're looking for some tips on what to make to eat while you watch, learn how to upgrade your home cooking with Sketch's Johannes Nuding and BAO's Erchen Chang.
Drama
Roma
Where to Stream: Netflix
Directed by Alfonso Cuarón, Roma is a semi-autobiographical film based around the Mexican director's childhood and upbringing in the Colonia Roma area of Mexico City. It premiered at 75th Venice International Film Festival and won the Golden Lion, subsequently going on to earn 10 nominations at the 91st Academy Awards, where it became the first Mexican title to win Best Foreign Language Film.
The Salesman
Where to Stream: Amazon Prime
Written and directed by Iranian filmmaker Asghar Farhadi, The Salesman follows the story of a married couple who both participate in the stage production of Death of a Salesman. Unfortunately, the wife is assaulted in her new home, causing the husband to become determined in finding the perpetrator whilst dealing with his wife's trauma.
Cinema Paradiso
Where to Stream: Hulu
Originally released in 1988, the Italian drama Cinema Paradiso looks into the childhood of a famous filmmaker in Rome who returns to his village to attend the funeral of a film projectionist named Alfredo. In those flashbacks, Alfredo becomes the filmmaker's father and best friend.
Tokyo Story
Where to Stream: Amazon Prime
Tokyo Story is a Japanese drama from 1953, showing the relationship between an old retired couple and their grandchildren who pay little attention to them. The film contrasts that relationship with that between the elderly couple and their more loving widowed daughter-in-law.
City of God
Where to Stream: Amazon Prime
Co-directed by Fernando Meirelles and Katia Lind, City of God, a.k.a. Cidade de Deus, is a Brazilian film based on the 1997 book of the same title by Paulo Lins. It revolves around the growth of organized crime in the Cidade de Deus suburb of Rio de Janeiro between the '60s and '80s, depicting various drug wars and gang clashes.
Romance
In the Mood for Love
Where to Stream: Criterion Channel
Written, produced and directed by Hong Kong director Wong Kar-Wai, In the Mood for Love focuses on two couples living in adjacent apartments in a Shanghainese enclave in Hong Kong, during the '60s. Learning that their spouses are having an affair together, a man and woman slowly develop feelings for each other.
Amélie
Where to Stream: Amazon Prime
A romantic comedy directed and co-written by Jean-Pierre Jeunet, Amélie is a depiction of contemporary Parisian life, following a shy waitress who is determined to better the lives of those around her while dealing with her own isolation. The film would take home two BAFTAs and earn five nominations at the Academy Awards.
Blue is the Warmest Color
Where to Stream: Netflix
Blue is the Warmest Colour is a French romantic film following the life of Adèle, who as a teenager meets a blue-haired girl named Emma. Through Emma, Adèle discovers herself and learns of freedom and desire as she develops into adulthood.
Cold War
Where to Stream: Amazon Prime
Co-produced by Poland, France and the UK, Cold War explores the romantic relationship between a musical director and a young singer during the Cold War period from the '40s to '60s. The film premiered at the 2018 Cannes Film Festival and earned three nominations at the 91st Academy Awards.
Portrait of a Lady on Fire
Where to Stream: Hulu
Based in 18th century France, Portrait of a Lady on Fire is a historical romantic drama telling the story of a forbidden affair between an aristocratic woman and the painter commissioned to paint her portrait. In 2019, it became the first film directed by a woman to win the Queer Palm at Cannes.
Horror
Let the Right One In
Where to Stream: Netflix
Let the Right One In is a Swedish romantic horror revolving around a bullied 12-year-old boy living in the Blackeberg suburb in Stockholm. After meeting his new neighbor, the boy soon becomes friends with a little girl, who eventually turns out to be a vampire and the cause of several murders.
The Ring
Where to Stream: Netflix
Directed by Hideo Nakata in 1998 and based on the 1991 novel by Koji Suzuki, The Ring is a classic Japanese horror film following a reporter who investigates a videotape which kills its viewer after seven days. The movie went to inspire a franchise as well as various Western remakes.
The Host
Where to Stream: Hulu
A South Korean film directed by Oscar-winning Parasite director Bong Joon-ho, The Host tells the story of a monster that arises from Seoul's Han River and kidnaps a girl. Determined to rescue her, the girl's family sets off to find the monster and does whatever it takes to bring her back.
REC
Where to Stream: Amazon Prime
Co-written and directed by Jaume Balaguero and Paco Plaza, REC is a Spanish found-footage horror film following a reporter and her cameraman investigating a firefighter intervention in an apartment building in Barcelona. As more and more occupants show murderous intent, the two find themselves trapped in the building, unable to escape.
Pulse
Where to Stream: Amazon Prime
Originally released in 2001 in Japan, Pulse depicts two separate but parallel storylines revolving around the idea of ghosts coming back to haunt people through the internet. It went on to inspire an American remake as well as two sequels and a novel.
Comedy
Kung Fu Hustle
Where to Stream: Netflix
Directed and starring Hong Kong's Stephen Chow, Kung Fu Hustle follows an aspiring gangster and his friend as the duo tries to join the infamous Axe Gang, only to end up faking their way into a village full of martial arts experts. The film won six Hong Kong Film Awards and five Golden Horse Awards.
La Dolce Vita
Where to Stream: Amazon Prime
An Italian comedy from 1960, La Dolce Vita tells the story of Marcello Rubini, a journalist for a gossip magazine who spends seven days and nights in the beautiful city of Rome on a fruitless search for love and happiness. The film won the Palme d'Or at the 1960 Cannes Film Festival and an Oscar for Best Costumes.
Boccaccio '70
Where to Stream: Amazon Prime
Inspired by Boccaccio's novellas and co-directed by some of Italy's most prominent directors at the time, including Federico Fellini and Vittorio De Sica, Boccaccio '70 explores the ideas of sex, love and seduction in a '60s Italy where cultural changes abound.
Toni Erdmann
Where to Stream: Amazon Prime
A German-Austrian comedy, Toni Erdmann follows a father who, as a practical joker, creates an alter ego and becomes his daughter's CEO's life coach in order to reconnect with her. The film premiered at the Cannes Film Festival and won five awards at the 29th European Film Awards, and was nominated for Best Foreign Language Film at the 89th Academy Awards.
Life is Beautiful
Where to Stream: Hulu
Directed by and starring Roberto Benigni, Life is Beautiful is a 1997 Italian comedy that tells the story of a Jewish Italian bookshop owner who uses his creative imagination to shield his son from the horrors and tragedies of Nazi concentration camps. The film was partially inspired by the book In the end, I beat Hitler, co-written by Benigni's father, who spent two years at a German labor camp during the Second World War.
Thriller
Battle Royale
Where to Stream: Amazon Prime
Battle Royale is a Japanese dystopian action thriller based on the 1999 novel of the same name by Koushun Takami. It tells the story of a group of junior high school students forced to fight to the death by a Japanese totalitarian government. Director Quentin Tarantino has called Battle Royale the best film of the past two decades.
Infernal Affairs
Where to Stream: Amazon Prime
The first of a trilogy, Infernal Affairs follows two spies that infiltrate each other's camps: an undercover cop embedded in the Triad and a Triad member hidden among the police. In 2006, four years after the release of Infernal Affairs, Martin Scorsese remade it into The Departed, which won Best Picture at the Academy Awards.
M
Where to Stream: Amazon Prime
M is a German thriller from 1931, directed and co-written by Fritz Lang and his wife Thea von Harbou, and starring Peter Lorre. It depicts a serial killer who targets children and the subsequent manhunt for him by both the authorities and criminal organizations. Lang would later hail this film as his magnum opus.
The Platform
Where to Stream: Netflix
A Spanish sci-fi horror-thriller directed by Galder Gaztelu-Urrutia, The Platform imagines a large vertical prison where its prisoners are split into groups of two per cell, with the upper levels filled with food while the lower levels are left to starve. Each month, its residents are randomly shuffled and put into new levels.
Amores Perros
Where to Stream: Amazon Prime
The first installment of Alejandro González Iñárritu's "Trilogy of Death," Amores Perros is a crime thriller shot in a triptych, containing three stories based around a car accident in Mexico City. It was nominated for Best Foreign Language Film at the Academy Awards in 2000 and won the Ariel Award for Best Picture from the Mexican Academy of Film.