Hajime Sorayama & NANZUKA Release Print to Benefit Doctors Without Borders
Accepting applications to secure a print starting April 18.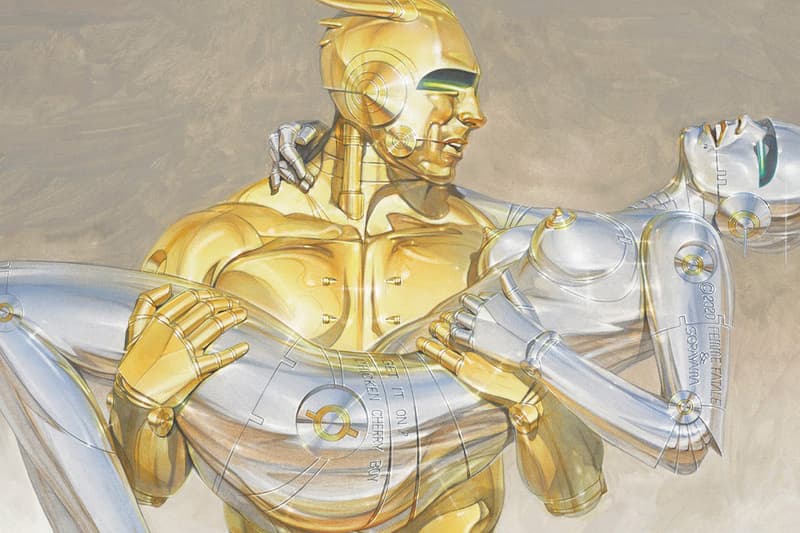 Hajime Sorayama and the artist's gallery, NANZUKA, are teaming up with humanitarian organization, Doctors Without Borders, to release a new print edition. Fifty percent of proceeds from the sale of the prints will go to medical personnel to combat the COVID-19 pandemic across the globe.
The print is inspired by an original work by Sorayama titled Sex Matter (A) — it was part of an eponymous exhibition that recently took place at NANZUKA Gallery and its other Tokyo outpost, 2G Studio. The composition of the piece features an erotic portrayal of a male and female robot. With these futuristic subjects, the artist challenges social taboos and subverts the traditional ideas of robots.
Those looking to purchase a print will need to follow the instructions below:
1, We will accept the application ‪from 18th April to 20th April 2020‬.
2, If you would like to participate in the lottery, please go to the following URL and submit your application: lottery.nug.jp/hs. You will receive an auto-reply message soon after accepting your application. *We do not accept applications via Instagram DM.
3, The purchase of this artwork is subject to a three(3) year resale ban.
4, Application is allowed only once per customer(family). Please apply one person per address. If your shipping information (name, address, zip code, phone number, and e-mail address) is used redundantly, the application will be invalid.
5, Results of the lottery will be informed by email (to the winners only) until end of April 2020.
6, Notification will not be sent to those who have been unsuccessful.
7, Since this edition is under production, its delivery is estimated in mid-May 2020.
Each signed and numbered print measures 59 by 42 inches. Priced at $5,000 USD each, only 10 prints have been made for the edition that arrives in a bespoke frame. Visit NANZUKA's website to learn more about Hajime Sorayama's practice and then check out the print below.
Elsewhere in art, Shepard Fairey has released his latest artwork Guts not Glory, honoring the medical staff on the frontlines during the COVID-19 epidemic and also kickstarting Adobe's latest project: Honor Heroes.