Shepard Fairey Kickstarts Adobe's Digital Art Program to Honor COVID-19 Heroes
Adobe also pledged an additional $250,000 USD to Direct Relief.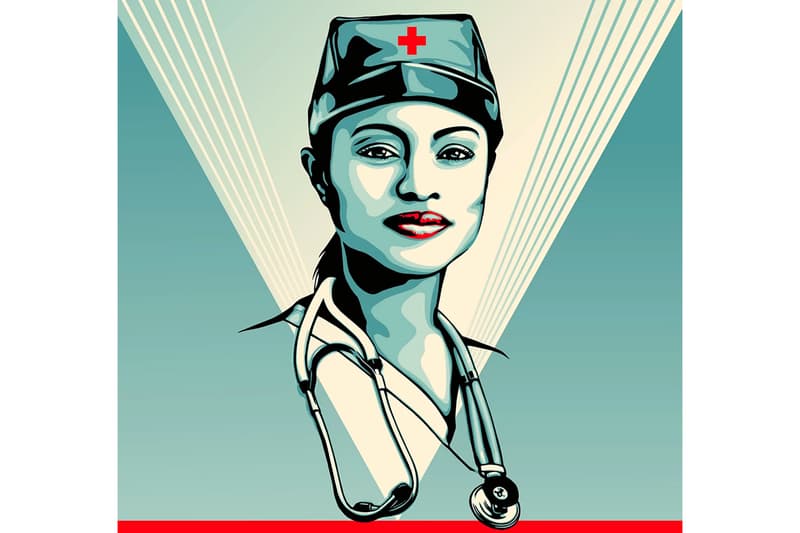 OBEY founder and famed artist Shepard Fairey has released his latest artwork Guts not Glory, honoring the medical staff on the frontlines during this coronavirus epidemic and also kickstarting Adobe's latest project: Honor Heroes. The initiative will see the company collaborate with more artists including Aaron Draplin, Donna Adi, Jessica Walsh, and Ignasi Monreal, who will all be releasing original digital artworks celebrating the heroism of those combating the virus.
"Guts not Glory is an illustration of one of the many healthcare workers whose selfless acts of compassion and service are always meaningful, but at this moment are especially heroic," Fairey says. "I'm inspired to glorify those who don't seek glory, but rather to serve humanity when it is most challenged. I want the portrait to emanate the comforting warmth and empathy healthcare workers provide in the midst of anxiety and crisis."
"At Adobe, we are so grateful to those who are on the frontlines every day keeping us safe. They are heroes, every single one of them. And so, we are inviting our amazing community to produce their own original creative tributes honoring their heroes," said Ann Lewnes, CMO at Adobe. "Creativity has the power to bring us all together even in the most challenging times."
On top of the $3 million USD commitment Adobe has already made with various organizations supporting communities all across the globe, the company is now pledging an additional $250,000 to Direct Relief as part of this campaign.
For those hoping to participate, head over to Adobe's Honor Heroes page to learn more now.
In more coronavirus-related news, Arc'teryx has designed reusable medical gowns for healthcare workers.