Farfetch's Q1 Results Yield Losses but CEO Asserts Good Fortunes
José Neves contends that the fashion company is well-positioned.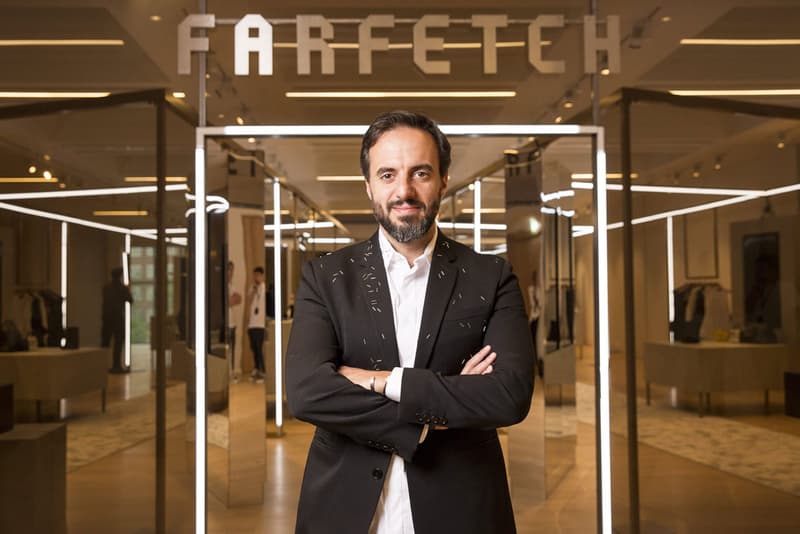 Many luxury players have announced disappointing Q1 2020 results in the face of the COVID-19 pandemic, including Farfetch. However, CEO José Neves is quick to point out its shifting fortunes, emphasizing that the company's future is secure, as Footwear News reports.
Last year, Farfetch shares surged thanks to a host of major acquisitions, but the company still ended the year at a loss, posting a $373 million USD post-tax shortcoming for the 2019 fiscal year. Q1 2020 continues that trend, with the company forecasting losses of anywhere from $70 million USD to $125 million USD and suspending its full-year guidance. With that in mind, Neves' optimism may not be entirely unfounded, as the company has thus far seen a steady rise in its stock thus far in April, rising from $6.84 USD per share on April 2 to $12.02 on April 12.
In a letter to shareholders, Neves asserted that Farfetch has "not seen any material impact" from the outbreak thus far, attributed to its "very resilient business model from a supply and logistics perspective." Because Farfetch products are available from a variety of sellers, Neves believes "our model [to be] more durable than physical retail … it also means we are well prepared to operate in this environment, in contrast to other luxury e-tailers."
Farfetch expects a gross merchandise value for its brand platform of $105 million USD in Q1 2020, which will be bolstered by digital platform growth that the company estimates is in the range of 17-19%. Farfetch's few physical stores are temporarily closed (and employees are working from home), but the company's sturdy digital presence is the key factor for Neves' upbeat attitude. "We are the only direct-to-consumer platform that can connect physical inventories the brands currently have trapped in their vast store networks across Europe, the United States and Japan, to a global consumer base at scale, together with localized operations in China and key emerging markets," he said.
"Consistent demand" in the APAC region remains the wind in Farfetch's sails, but slacking European and North American expansion is the company's prime fear. Neves admitted that he's not sure how "consumer behavior will rebound" post-lockdown, but he was certain that "in the long-term, once the world overcomes this extremely painful moment, luxury will reemerge transformed in a variety of ways."
Another factor anchoring the e-commerce site is funding sourced from a bevy of investors earlier this year.