Casablanca Wants to Bring Beauty Back to Fashion
Creative director Charaf Tajer discusses the brand's search for elegance and upcoming New Balance collaboration.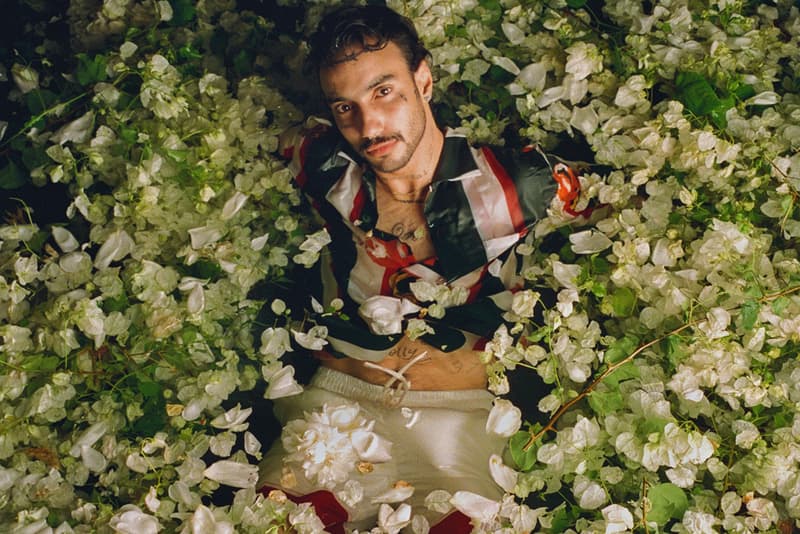 Casablanca had a good start to 2020. The year kicked off with the label's Fall/Winter 2020 show in Paris, before the brand was named an LVMH Prize finalist in March. Later this week, Casablanca's long-awaited New Balance 327 collaboration will also release, capping the brand's ascent to new heights.
A lot has changed since the brand's successful first quarter, though. The spread of coronavirus and the resulting lockdown measures across the world have meant that the entire fashion industry has been disrupted, while the LVMH Prize was canceled and the prize money evenly distributed. "I'm disappointed not to have the chance to go all the way," says Casablanca founder and creative director Charaf Tajer. "But during these uncertain times, we must all take stock of our priorities. First and foremost, looking after ourselves and our loved ones is the most important thing."
Speaking about the success that Casablanca achieved at the start of this year, Tajer puts it down to the brand's evolution since it was established. "Our aesthetic is more and more defined," he explains. "We've spent a lot of time in our studio thinking about how the brand should express itself. The brand is getting more and more defined the further we go, but this collection is probably our most professional and most advanced collection to date. But it's only going to get better."
The label has its roots in Paris, where Tajer was born and raised. The designer got his start in fashion by collaborating with Stephane Ashpool, with whom he co-founded Pigalle and affiliated nightclub Le Pompon, before consulting for brands including Nike, Supreme and Off-White™. Eventually, Tajer decided to go it alone and establish Casablanca, translating his conception of beauty and elegance into the new label.
"Casablanca stayed in my mind for many years because I wanted this aesthetic and I couldn't find it anywhere else," Tajer says. "The aesthetic is quite classic, but always with a twist to it. It's on the light side of things, we have a view on life from a happier place. I come from Paris where many things are quite grey, everybody is looking for the 'cool' in their brands. But I am looking for beauty."
As Tajer prepares to release the Casablanca x New Balance 327, we caught up with the designer to discuss the brand's search for beauty and how he created "the perfect grandpa shoe."
HYPEBEAST: How did your time in Paris and your time with Pigalle shape Casablanca?
Charaf Tajer: Paris shaped Casablanca in terms of proportions and aesthetics. Being born in Paris and being raised in Paris definitely helped me looking at the proportions in a very particular way. Once I started travelling a lot, I started noticing how Paris was a school aesthetically for me. The ornamentation and the buildings, the trees, how everything is organized in Paris. Also, Casablanca is always a mix between nature and architecture in its inspiration, and architecture is very strong in Paris.
Also, when it comes to Le Pompon and Pigalle I would say that it was my schooling in the fashion world. It was a project that we started in our early 20s, so I had time to learn how business works
Where does the nature influence come from?
For Paris I was talking about architecture and the proportion, nature comes from the rest of the world. I travel and I'm very inspired by Italy, I'm very inspired by Brazil, I'm very inspired by nature in general. I love to mix nature and architecture, [it's] really how I see and imagine how we can respect nature and how we can live with it. This is why it's very important to me to always use those two elements. We need to integrate ourselves into nature in a more respectful way.
"I want people to recognize that beauty can also be deep."
How do your designs reflect that?
For me, this relationship is very important because it's also the only way that we can be friends with nature. So this is what I want to show in my work. You can be modern, you can be cool, you can be a man of the world, but you can also respect nature and be happy. You don't need to be dark, you don't need to look sad, you don't need that to be cool. You can also be on the side of beauty. It's not tacky to be in beautiful things, but recently we've made it tacky. This kind of mentality and way of thinking is like a teenager.
So you're showing that it can be cool to surround yourself with beauty?
It can be cool. When you look at the greatest Brazilian singers, the greatest architects in the world, they are aware of this. You don't need to be a punk, you don't need to be always revolted. What I'm trying to say is the difference between being revolted for a reason and being revolted just to be cool, it's very different. But just being revolted to look cool is like a teenager.
I want to place my aesthetic as a bit more adult, which is aware that it's very important we appropriate for ourselves beauty and nature and still think it's cool. Now, when you think happy, when you think happy music, it can sound a bit tacky because we are used to the idea that being dark is being deep. You can be deep and be happy as well.
Has your Moroccan heritage influenced the brand at all?
It's more in the colors, but to be honest Casablanca is not about Morocco, it's just a dedication to where my parents met and fell in love. I wouldn't say that Casablanca has a Moroccan aesthetic, I would say it has a Parisian, Italian aesthetic. Also the name Casablanca is an invitation to travel. It sounds exotic, it says poetry, it references the multiple layers of architecture in the city of Casablanca.
When you go to Casablanca, you can see classic Moroccan buildings, colonial buildings, modern buildings. You can see that successively it has had different influences in the city, that is what I care more about. I think it's very important to notice that humans with different experiences come into the city and build something.
It's the same for the brand, I am inspired by many different inspirations. European inspirations, architecture, modern design, 1950s, mid century, French designers, colors from Morocco, hand painted silk, French classic houses, colors in womenswear in Paris. All that mixed, that's why I love the name Casablanca.
How do you bring those influences together?
It's a real pleasure to do it, it's a pleasure to share a vision of the world. I want people to recognize that beauty can also be deep. We also tend to forget the beauty of fruit, or the beauty of a tree, or the beauty of a piece of architecture. We are living in a very beautiful world, and today we need to take notice of that. We need to remember that we are living in something that is fantastic, that is so beautiful that we have to remember that this world has been given to us and we need to protect it.
I don't struggle to do it, I love sharing this vision. In the world of monochromatism, it's important that we bring more color, that we bring more beauty.
"It's the ultimate grandpa shoe — not a dad shoe but a grandpa shoe."
A lot of your pieces have a real vintage influence, particularly the Casablanca Tennis Club items.
We are very inspired by vintage, but also modern aesthetics. We love to create a new classic. That's why we like to play with certain vintage clothes but adapt them to modern fashion in terms of proportion. This vision is also a bit structured by tennis. I love the aesthetic of tennis and I think it has something quite unique to it. Maybe because I grew up loving tennis courts and tennis tournaments.
Growing up in Paris, we were heavily into luxury sport brands in Paris. We were heavily in Lacoste, those kinds of French classic brands. It's been very present in our aesthetic. In sport you have a certain discipline, and I think it's super cool to mix that with the hotel lifestyle, travel lifestyle, hand painted silk, après-sport garments, it's all kind of an elegance in a relaxed way.
You've mentioned elegance and beauty a few times, what does luxury mean to you?
I think luxury is not necessarily about the price, it's also in the philosophy. Some brands are expensive but they're not luxury, people sometimes mistake the price for luxury. I think comfort and elegance are both very important, I don't see any men being elegant without being comfortable. You cannot be elegant in a suit if the suit is not comfortable for you. When you look at the grandpas in Italy, they're super elegant but it's super relaxed and that's something that I really love.
What does it mean to be an LVMH Prize finalist?
Growing up in Paris, fashion is very present there. It's very strong. Being nominated for the LVMH Prize is a victory on its own, being linked to LVMH is already a great honor and I hope I will win. For me, coming from where I'm from and doing what I do, it's already something unusual. Our demographic is not necessarily the most represented in fashion, so I felt so lucky to be a finalist.
You've also got your New Balance collaboration coming up, what were you trying to do with that?
The inspiration for the shoe has a straight connection to tennis, and again to Italy. It's the ultimate grandpa shoe — not a dad shoe but a grandpa shoe. I want to create a new classic and I think this shoe really encapsulated my idea of a new classic sneaker, it is very modern and it is very classic at the same time I think. I feel very lucky to be able to do this.