Does Prada Need Raf Simons?
The luxury label is already profitable and well-respected, but Simons may help it tap into a new demographic.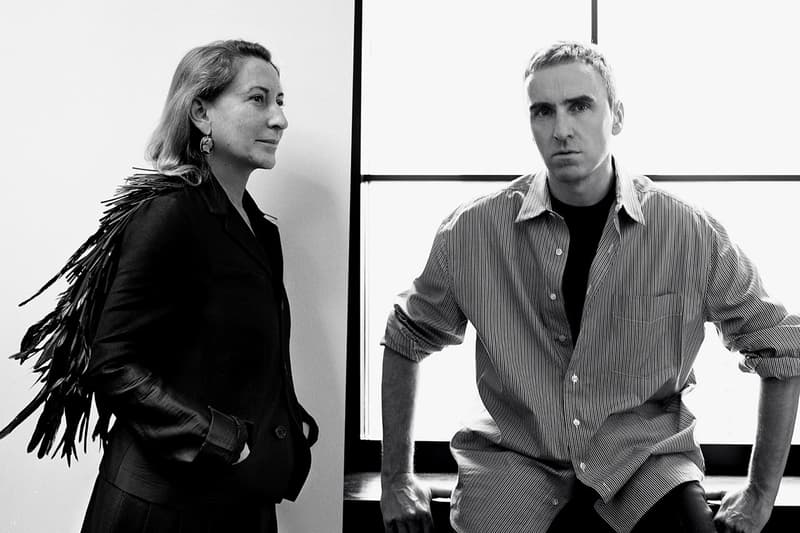 Though the rumors weren't entirely true — wouldn't it have been exciting to see a revived Miu Miu menswear line? — the core prediction was pretty much dead on: Raf Simons is joining Prada. Specifically, he's partnering with Miuccia Prada as co-creative director of her family's eponymous house. The unique partnership is certainly a crowning achievement in Simons' storied career, as the designer looks to bounce back from his rocky residence at Calvin Klein. However, Prada's motivation is somewhat murkier — what does the Italian house, which already has a celebrated director at its helm, gain from recruiting the Belgian wunderkind?
The announcement of Prada and Simons' union may or may not be a surprise, depending on how closely one has followed the 52-year-old designer's career. Simons, a lifelong Prada fan, chatted with Prada herself in Issue 8 of System, explaining that "the reason I wear Prada is not just because I like the clothes; it's also because Miuccia has a mindset that I can relate to." The duo's well-documented acquaintanceship, appreciation and comparable design ethos — a penchant for trend-setting originality and modernism — makes the pairing a natural fit, at least on paper.
Not only will Simons aid in overseeing Prada's menswear and various sub-labels, but he'll return to womenswear, a market skirted by his eponymous brand. In 2005, Prada Group CEO and Miuccia's husband Patrizio Bertelli brought on Simons to direct both Jil Sander's men's and women's collections for seven critically-adored years. Next, he guided Dior's women's offerings for three equally acclaimed years. Simons' co-ed work for Calvin Klein from 2016 to 2018 was similarly well-received by critics, but therein lies the rub: praise doesn't always translate to sales, as Klein parent company PVH found out during Simons' two-year tenure.
Calvin Klein posted a minimal growth in revenue during Simons' time with the brand, best reflected in parent company PVH's well-documented third-quarter 2018 business report. The report revealed an overall growth of 2% to $963 million USD in the Calvin Klein business, prompting CEO Emanuel Chirico to emphasize disappointment from "the lack of return on our investments in our Calvin Klein 205W39NYC halo business."
Furthermore, Calvin Klein's earnings declined from $142 million USD to $121 million USD in the same timeframe, reflecting both "design issues" and "an approximately $10 million increase in creative and marketing expenditures," underscoring Chirico's fears about 205W39NYC and Simons' renewed Calvin Klein Jeans, the latter of which Chirico believed was "too elevated and too fashion-forward for our core consumer."
Perhaps Simons can't convey the "halo" effect to a non-luxury brand like Calvin Klein, so his star power is likely to be a better fit for the Pradasphere. Prada has spent recent seasons courting young, wealthy customers with the relaunched Linea Rossa line, limited drops and statement-making graphic items — a summertime favorite for certified style icons Pusha T, Kanye West and Jeff Goldblum. In late 2019, Prada even partnered with adidas for a headline-busting collaboration, courting the StockX set with ultra-exclusive, plush Superstar sneakers and handbags. Simons may be part of Prada's scheme to dive deep into the male-leaning streetwear market.
With head designer and right hand man Pieter Miuler — who will not join Simons at Prada — Simons' eponymous label has never inherently catered to the streetwear set. Simon's penchant for tailoring and austere artistic references rarely align with contemporary tastes, and yet the creative director is known for drawing from the generalized "youth culture." Simons' design cues range from post-punk musicians to school uniforms, innately tying his creative id to a new generation of collectors, creators and consumers.
In particular, graphic gear — including collaborations with artists like Sterling Ruby and Peter Saville — oversized layers and adidas sneakers have drawn in celebrities from A$AP Rocky to Kanye West, cementing Simons' sphere of influence. Simons' earnest approach to design and statement pieces appeal to consumers familiar with streetwear's unspoken "cool," a perceived authenticity that grants covetable status to a label.
Prada enjoys a "cool" factor simply by virtue of being both exclusive and worn by influential personalities, but Simons lends the luxury label an additional air of in-the-know allure. His presence may help the brand lure a younger male demographic, a growing market that has begun to take notice of Prada's comparably affordable bags and nylon accessories. Prada already has an unmistakable logo, its presence just needs a gentle touch.
Simons' efforts at Klein may not have delivered desirable sales but they did prove immensely influential, predating the high-vis, animal print and "Yeehaw" trends. His first designs for the brand launched in 2017 at the cusp of menswear's shift to deconstructed dressing, heralded by progressive young brands like GmbH and Namacheko. Klein's lagging sales could be traced to the brand's unfamiliarity with the luxury market — its biggest sales can be traced to underwear and denim, rather than ready-to-wear — or perhaps Simons' unwavering vision of inverted Americana proved too intimidating for the general consumer. However, the Prada customer is attuned to premium price points and progressive shapes.
Since Prada introduced mainline menswear in 1993, it has scarcely strayed from its winning formula: trim, timeless tailoring updated with playful artwork-inspired graphics and sporty accent. Menswear staples — including blazers, bombers, insouciant sweaters and technical textiles — re-emerge each season, but the magic comes from Miuccia's cultural awareness and deep love of fashion history. Prada's designs don't parlay to trends; they define trends.
Prada's menswear offerings have much in common with Simons' design ethos, though each brand's output is wholly distinct. Consider their most recent collections: Simons and Prada both tinkered with tailoring, a well-trodden route for the two. Simons added a level of bombast to the presentation with his new RUNNER footwear line and slouchier shapes, but the two collections shared several distinctive commonalities beyond the suits: unexpected furry trims, clean lines, patterned knitwear, a flair for the dramatic. These aren't signs that the designers copy or even share ideas, of course, but rather that they have two world-views that harmonize well.
With reported revenue of approximately $3.4 billion USD in 2018, Prada is sitting comfortably. However, Simons' sterling reputation and global fan base could bode well for Miuccia, who, at 70-years-old, still refutes rumors of retirement. Like Virgil Abloh did for Louis Vuitton and Kim Jones for Dior, a new creative director could bring both a new perspective and younger admirers to Miuccia's Prada — essential upgrades for a brand that has garnered respect, influence and financial stability over the past 100 years.