Real Estate Juggles the Existential Crisis of Growing Older With 'The Main Thing'
A worldwide tour is on the way, too.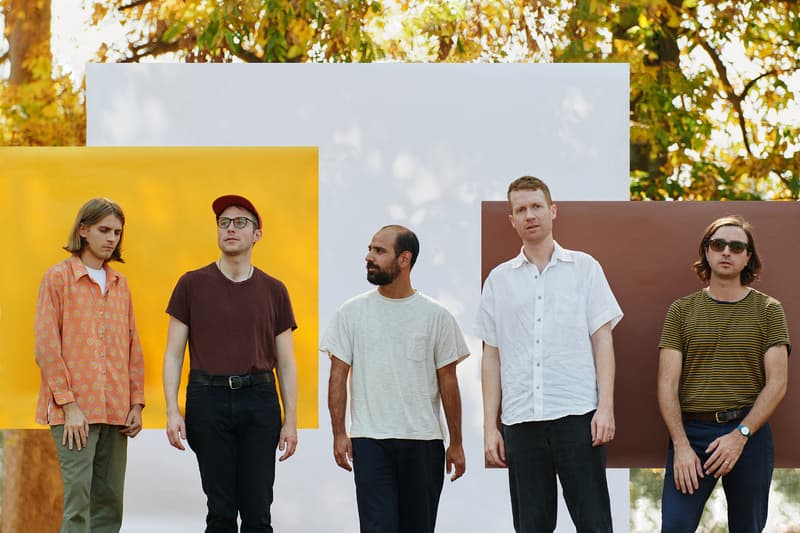 It's been a full, overwhelming and hectic decade since Real Estate burst onto the scene with 2009's self-titled debut and their seminal Days providing a generation of listeners a sense of serenity. With their latest record, The Main Thing out today via Domino Records, bandmates Martin Courtney, Alex Bleeker, Julian Lynch, Matt Kallman and Jackson Pollis deal with the existential dread of growing older, becoming new parents and dealing with life on the road.
"The Main Thing is my attempt at writing an inspirational anthem for anyone who's ever been in an existential crisis… specifically, me," lead singer-songwriter Martin Courtney explained. "I was asking myself a lot of uncomfortable questions throughout the process of making this album. Wondering if being an artist is irresponsible or selfish, particularly with the world in the state that it's in, particularly as a parent of young kids."
The project was introduced with a notable change of pace in "Paper Cup", a smooth single paired with a surprisingly surreal and somewhat terrifying Chuck E. Cheese-inspired visual. The trippy malfunctioning of the anthropomorphic mouse served to parallel the band's decade long run and was about, "watching the people around me change and evolve, take on new challenges, and feeling sort of stuck in a rut, in a way," according to Courtney.
The title song, "The Main Thing", was the band refining and not re-inventing their collective sound. It managed to be inspirational and tongue-in-cheek at the same time. "Basically… when life gets tough, when the stresses start piling up, when you start second guessing every decision you've made, what do you do? You double down on the thing that makes you happy, the thing that feeds your soul," Martin Courtney revealed.
Listen to Real Estate's fifth studio album below and check out their upcoming tour, starting this April 9 in Detroit, Michigan and running through Europe for through June.
In more music news, Bad Bunny has announced his new album YHLQMDLG will release in honor of the Leap Year with an array of eclectic, multi-genre tracks.
Real Estate Tour Dates
04/09 – El Club – Detroit, MI
04/10 – Thalia Hall – Chicago, IL
04/11 – First Avenue – Minneapolis, MN
04/13 – Slowdown – Omaha, NE
04/14 – The Truman – Kansas City, MO
04/15 – The Ready Room – St. Louis, MO
04/16 – The Vogue – Indianapolis, IN
04/17 – Brooklyn Bowl Nashville – Nashville, TN
04/18 – Variety Playhouse – Atlanta, GA
04/20 – Cat's Cradle – Carrboro, NC
04/21 – 9:30 Club – Washington, DC
04/22 – Union Transfer – Philadelphia, PA
04/23 – Royale – Boston, MA
05/07 – Fox Theater – Oakland, CA
05/08 – The Fonda Theatre – Los Angeles, CA
05/09 – Belly Up Tavern – Solana Beach, CA
05/10 – Crescent Ballroom – Phoenix, AZ
05/12 – Granada Theater – Dallas, TX
05/13 – Stubb's Waller Creek Amphitheater – Austin, TX
05/14 – White Oak Music Hall – Houston, TX
05/16 – Corona Capital – Guadalajara, MX
05/18 – Gothic Theatre – Englewood, CO
05/19 – Urban Lounge – Salt Lake City, UT
05/21 – Neptune Theatre – Seattle, WA
05/22 – Revolution Hall – Portland, OR
06/11 – Brudenell Social Club – Leeds, UK
06/12 – Brudenell Social Club – Leeds, UK
06/13 – Vicar Street – Dublin, IE
06/14 – Queen Margaret Union – Glasgow, UK
06/16 – Orangerie at Botanique – Brussels, BE
06/17 – Luxor – Koln, DE
06/18 – Le Trabendo – Paris, FR
06/20 – Roundhouse – London, UK
06/21 – Tivolivredenburg Pandora Hall – Utrecht, NL
06/22 – Festsaal Kreuzberg – Berlin, DE
06/24 – Pumpehuset – Copenhagen, DK
07/29 – SummerStage (Central Park Garden State Party) – New York, NY