Which 'My Hero Academia' Film Is Better, 'Two Heroes' or 'Heroes Rising'?
Both films share the same basic premise, but one comes out on top.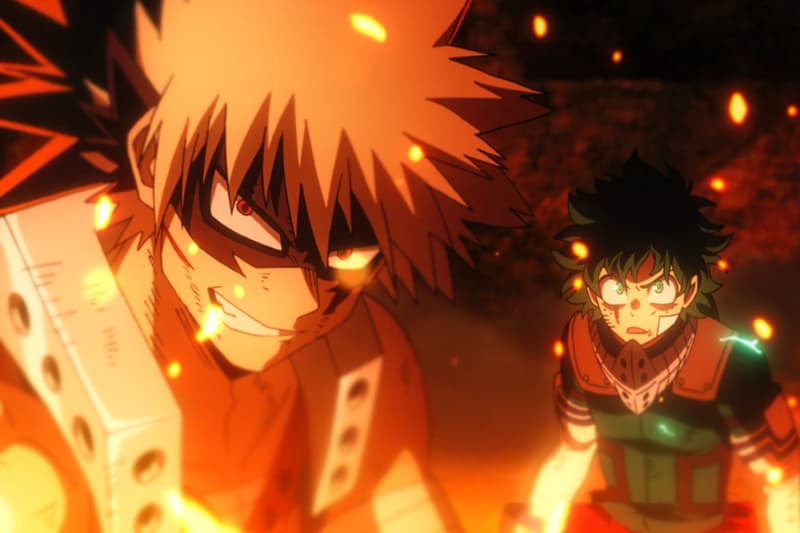 Although it's a relatively new franchise, My Hero Academia is taking the anime community by storm and shows no sign of slowing down. The manga series debuted in 2014, with the first season of the anime arriving in 2016 to instant acclaim. Its first film My Hero Academia: Two Heroes was released in 2018 and grossed a worldwide revenue of $19,531,472 USD. In the midst of the show's fourth season, My Hero Academia's second movie, Heroes Rising, is set to premiere in the United States this week following its debut in Japan last December.
Despite all the love My Hero gets from its fanbase, many have criticized the newer film of sharing the same set up as its predecessor. And it's true both movies see our young heroes from Class 1-A whisked away to a remote island with little to no adult hero supervision and finding villains in the midst of an active, diabolical plan. As a result of the similarities, many fans will inevitably pit the quality of both films together more-so than usual.
We at HYPEBEAST have decided to judge each film on the basis of four key aspects to determine which is the stronger film.
Story
Winner: Two Heroes
As we mentioned above, both films share essentially the same set-up. However, that's where the plot similarities. Both films take the time to explore protagonist Izuku Midoriya's (Deku) relationships with his hero mentor All Might and lifelong rival Katsuki Bakugo, but in different ways.
As its title suggests, Two Heroes sees Deku and All Might take down a terrorist villain named Wolfram, who wants to steal a Quirk Amplification Device in order to make superpowers stronger, and mass-produce more to sell on the black market. Heroes Rising showcases Deku and Bakugo coming into their own to take on a villain named Nine, who has the ability to steal Quirks from other people and has several of those stolen super abilities himself. The broader group of villains in Two Heroes are given a bit more depth than the ones in Heroes Rising. Also, the moral motivation for Wolfram's actions far surpasses the usual cookie-cutter rationality we get from Nine, who just wants to tear the world down and rebuild society the way he sees fit.
Two Heroes makes an effort to highlight supporting characters from Class 1-A such as Iida, Todoroki, Yaoyorozu, Uraraka, Jirō, Mineta, and Kaminari. However, they're given a pretty convenient reason as to why they're all in the same location. On the other hand, Heroes Rising fully explores every one of Deku's classmates, including the aforementioned characters, without losing sight of the plot or its main characters. It also handles the reason all these heroes-in-training are gathered together better than Two Heroes did.
Although both films feature all the essential hallmarks that make My Hero Academia great, like developed character interaction and stellar action, we found the story in Two Heroes to resonate more strongly. It also demands a moral conundrum for Deku where little to none is to be found in Heroes Rising. Its newly introduced point-of-view character Melissa also goes through some growing pains throughout the duration of the film as well, which makes the audience immediately invested in the character.
Animation
Winner: Heroes Rising
Both films were produced by Bones, who are known for producing some of the best-looking animations in the medium, such as Soul Eater, both Full Metal Alchemist series and Eureka Seven, to name a few. As the two My Hero films came out a little over a year apart from each other, there aren't any overall enhancements to the character models or environments outside of better implementation of 3D CGI in some spots.
However, the action in Heroes Rising is some of the best My Hero Academia has seen, whether it be in comparison to Two Heroes or the television series. Although, that may be because of the action in the early stages of the franchise, when the first movie was released, had more grounded battles in comparison to the series' current fourth season, where the action is on Dragon Ball Super levels of high-octane. Everything is just flashier in Heroes Rising, and that's why it outclasses Two Heroes in this category.
Final Battle
Winner: Heroes Rising
Without giving away any spoilers, we will say Heroes Rising features the superior final battle. Even though both films featured the expected spectacle, the animation and the fact the newer film takes place later in the series allows us to see the main characters' abilities at the next level in cinematic form. They're able to perform flashier techniques and happen to be battling their strongest foe yet, allowing them to go all out and then some. As a result, the stakes are higher here when compared to Two Heroes, where we know All Might, the greatest hero in the world, is in the back pocket and able to bail Deku out of a critical situation.
Fan Service
Winner: Two Heroes
To that point, however, we may never see Deku team up with his mentor All Might ever again. Comparatively speaking, we're bound to see Deku and his rival Bakugo team up as their story continues to unfold in the manga and anime by extension. There's also All Might's health to consider, he could die at any moment in the future of the series. His days as a hero are assuredly over, which, while considering those factors, will make revisiting this moment in the film much more meaningful as time goes on. Meanwhile, this isn't the first, or last time Deku and Bakugo will get the spotlight.
Although Two Heroes has its fan service moments, a lot of them are for manga readers, as many of those moments haven't been introduced or explained in the anime and could be seen as spoilers.
Heart
Winner: Heroes Rising
Lastly, this brings us to the driving force of My Hero Academia as a franchise, and that is its ability to put heart at the forefront of its protagonist and its storytelling. Watching the timid Deku gaining the confidence to become a hero and his admiration to be a true hero helps elevate the show because you want to see him win. The series itself pushes a "Plus Ultra" mantra, a phrase everyone in the series lives by in order to do their best.
Both Two Heroes and Heroes Rising use these elements to amazing effect, even mirroring certain action moments during their respective climaxes. But at the end of the day, the ending of Two Heroes drives home those elements the best. The relationship between Deku and All Might is mirrored in a different light here and Deku's self-sacrificing personality is pushed to its limit in the third act, especially given all the unknown consequences based on his actions. However, it results in one of the most gratifying moments in the entire series.